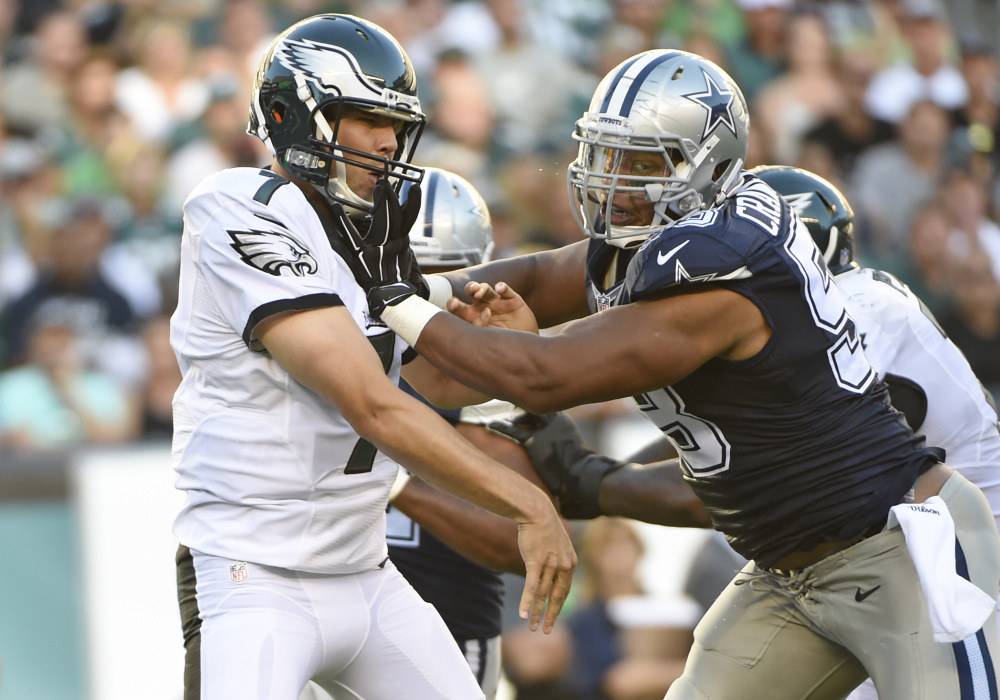 Sep 20, 2015; Philadelphia, PA, USA; Philadelphia Eagles quarterback Sam Bradford (7) is hit after throwing a pass by Dallas Cowboys defensive tackle Jack Crawford (58) during the first half at Lincoln Financial Field. Mandatory Credit: Eric Hartline-USA TODAY Sports ORG XMIT: USATSI-224506 ORIG FILE ID: 20150920_ggw_se7_100.JPG
If you think the Eagles offense looked bad against the Dallas Cowboys, wait until you see how good they look against the New York Jets, who have an outstanding defense.  The Jets beat the Colts Monday night 20-7 to make their record 2-0 this season.
The Eagles wide receivers had better make a big change on their way up to the Meadowlands to play Darrelle Revis and the Jets.  Todd Bowles has his  team playing some outstanding football right now.
The Jets have a front seven, which consists of Pro Bowler Muhammad Wilkerson and rookie Leonard Williams that will be coming after the passer.   Their secondary may be the best in the NFL.  They pounded Andrew Luck all Monday night and they wouldn't let him get comfortable in the pocket. These guys locked down the Indianapolis Colts receivers and picked off Luck three times.
Did you hear that Sam Bradford?  Yes, they picked off Luck three times and forced him to fumble as well.  The young quarterback had pressure in his face and no open receivers to throw the ball to.  Revis had two fumble recoveries and an interception.
The Eagles offensive line had better wake up.  This Jets defense is better than both the Falcons and the Cowboys, so things aren't going to get easier for the Birds.  This team needs to get tougher and more professional.
All those smoothies and nutritious foods don't help if you're not prepared for the game.  You've got to be a professional, which means doing your job.
The offensive linemen should spend more time working together and get their communication in sync.  If they go into this game and aren't on the same page, the Jets defense will embarrass them again.  Somebody must make sure everybody is on the same page.  Right now the Eagles offensive line is good enough for the NFL.  A team that can only run for two yards is incompetent.
Bradford had better get his game together and maybe he needs to spend more time making sure he know where his receivers are on each play.   He needs to be ready to make good decisions when under pressure because he's probably going to be under pressure on Sunday.  He's got to know where all those receivers will be on each play and he can't be too eager to just get the ball out of his hands for the sake of getting it out of his hands.
The Eagles receivers must also get their act together.  They've got to catch the football consistently.  They had far too many drops against the Cowboys. Jordan Matthews, Nelson Agholor, Josh Huff, and Zach Ertz have got to step things up, get open, then catch the football when it hits their hands.  Bradford needs these guys to go out and compete on each play for every pass.