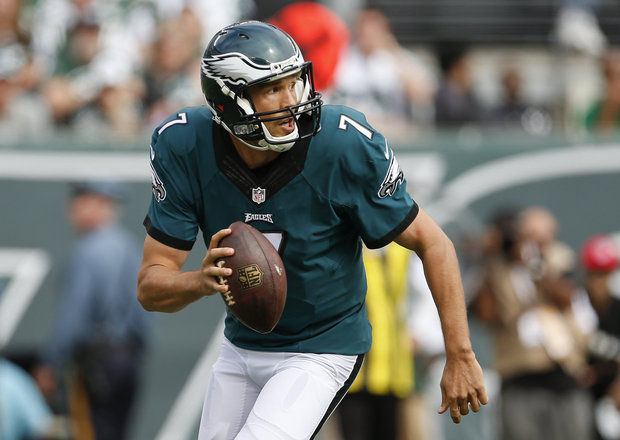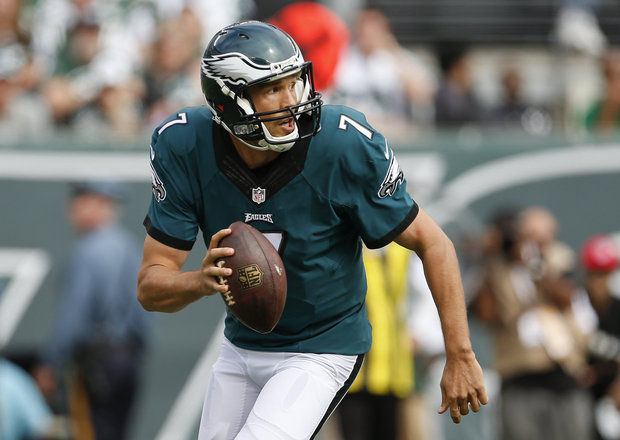 Three games into the regular season, the Philadelphia Eagles have been a major disappointment on the offensive side of the ball.
While the running game showed some signs of life last weekend thanks to a solid performance from Ryan Mathews, the Eagles' aerial attack was feeble, with Sam Bradford managing just 118 passing yards.
Sure, the Eagles went up a against a very good defensive secondary, but this is the third straight week that Bradford and company have displayed similar struggles through the air.
The Birds are averaging just 221 yards, putting them at 22nd in the league. There are several problems with the passing offense right now, and they start with quarterback Sam Bradford.
With the exception of his wheel routes, Bradford has not been accurate with his passes. He's also been locking on to one receiver, and if the primary read isn't there, he's quick to turn to a check down instead of going through his progressions. The former Ram has also avoided taking shots down the field, sticking primarily to short and intermediate routes. The Eagles' receivers haven't done much (an issue we'll get to below) but Bradford has to stop playing so conservatively, take a shot down the field, and give his receivers a chance to make plays on the ball.
Its amazing how the wide receivers have barely been involved through the first three games. Jordan Matthews seems to be the team's lone threat with 22 receptions through three weeks, but the numbers for the rest of the wideouts are frightening.
No other wide receiver has more than four receptions this year. That's inexcusable.
The Eagles need to find a way to get Nelson Agholor involved in this attack. The first-round pick flashed a lot of potential in the preseason, but he's disappeared and has barely been targeted by Bradford.
The depth behind Matthews and Agholor is really scary. The combination of Josh Huff, Riley Cooper, Miles Austin, and Seyi Ajirotutu has very little upside. Huff is the one guy in that group that has a chance to carve out a role in this offense, but I don't know that he can get his head screwed on right and cut out the mental mistakes. Austin has been responsible for some of the team's early season drops, and doesn't look like he has much to offer at this point in his career. Cooper has all but disappeared from the offense, while Ajirotutu is strictly here for special teams.
But what I find most egregious about the Eagles' passing offense is the complete and utter lack of involvement of the tight ends, which is squarely on the shoulders of Chip Kelly.
I don't want to hear that the Eagles need to use the tight ends to help the struggling offensive line block, that's not a valid excuse. While the wide receivers may be lacking in talent, the Eagles have an abundance of it within their tight ends. There's no good reason why a supposed offensive genius can't figure out how to make guys like Zach Ertz or Trey Burton big parts of his offense.
Ertz's talents have been completely wasted by Kelly throughout his first few years with the Eagles. We've gotten teases of what he could be here and there, with his big games against the Colts and Redskins a year ago, but those games are too few and far between. The Eagles don't make nearly enough of an effort to feature him like they should.
This is the mess that Chip made. When he decided not to franchise Jeremy Maclin, and allowed him to walk in free agency, he created an 85 catch, 1,300 yard, 10 touchdown hole that he's finding out will be very difficult to fill.
Follow Denny Basens on Twitter @DennyBasens