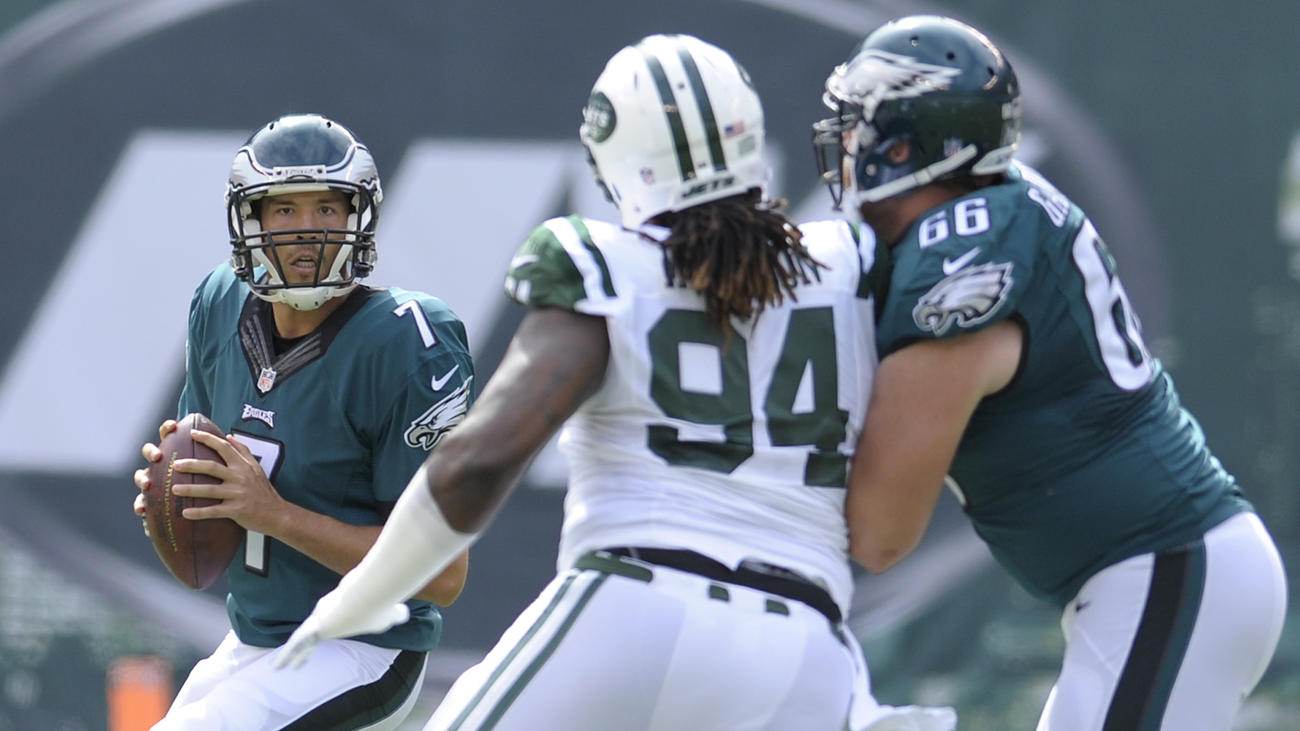 The phrase "Check Down Charlie" is used for quarterbacks who always throw the football to the underneath receiver and rarely throw the ball deep or to intermediate routes.
Before Sam Bradford came to Philadelphia, I heard a couple of former NFL quarterbacks Kurt Warner and Ron Jaworski say he needs to show he has confidence in his ability to make plays throwing the football down the field.  Warner said Bradford may have lost some of his confidence in his ability to do that because of the problems he endured in St. Louis.  He and Jaworski said the beating which Bradford took in St. Louis behind that bad Rams offensive line may have made him nervous about holding the ball and throwing the ball down the field in Philadelphia. In other words, he may be nothing but a "Check Down Charlie".
After three games, Eagles fans are wondering when the Eagles big-play passing game is going to arrive.   Bradford was supposedly brought in here by Chip Kelly because he has a "Franchise Quarterback's" skill set.  He's supposed to be better than Nick Foles and therefore able to make the players around him better, which therefore makes the Eagles offense better.  Something is wrong with that equation so far because the Eagles pass offense hasn't been better.  It hasn't been as good as it was with Foles at the controls.
The Eagles have played three games in the 2015 season and Bradford has been playing like "Check Down Charlie".  He's been accused of being "skittish" in the pocket. The longest pass he has completed went for 32 yards.  He is zero for 5 in passes that have traveled 20 yards or more.  He's averaging only 5.8 yards per pass attempt, which is 37th in the league among 41 passers documented.
The Eagles downfield passing game have struggled to produce.  The question is why.
Bradford says it's not his fault and he wants to start throwing the ball down the field, but he's doing what he's being coached to do.
"It would be nice to be able to get the deep ball going, it would be nice to be able to push the ball down the field," Bradford said yesterday after practice. "Hopefully, that's something that we can get to this week."
"I don't think we've called a lot of deep balls," Bradford said. "Hopefully, that's something that we can get to. I think it just depends kind of what we see as our best matchups, what we see is favorable that week. They present it to us this week then we're going to take advantage of it.
Chip Kelly said somewhat of the same thing about the game against the Jets, in that they didn't want to attack Jets Pro Bowl cornerbacks Darrelle Revis and Antonio Cromartie. Instead, their plan was to get the ball to the slot receivers, running backs and tight ends who were working against the Jets nickel back, safeties and linebackers."
"Obviously, we feel really good with the matchups that we have inside with (tight end Zach) Ertz, and Jordan and (running back Darren) Sproles.
"We feel any time we can get those guys matched up inside with a safety or a back or in nickel, those are matchups we like."
Bradford says he refuses to try to force the ball deep or to a specific receiver as opposed to attacking the best matchup or the vulnerable area of the defense.
"Listen to the play call. Take what's there. You can't try to force anything," Bradford said. "When you try to force it to someone, and you make an extra effort to get someone the football, sometimes you run yourself into problems, because you skip over progressions trying to get . . . someone the ball. I think you've just got to stay disciplined in your reads. The ball goes where it's supposed to go."
"I think a lot of it is just the way that we're trying to attack defenses right now. The ball goes where it's supposed to go. … That's where the ball's been going, that's what we've been calling, that's what's been given to us."
Bradford has all the explanations for why the Eagles have been unable to get the ball to their wide receivers downfield, but something is going to need to change as the season continues or there are going to be problems for everyone involved from Chip to Bradford to the receivers.  Every player can find an excuse.  In the NFL,  it's all about production.
So far Bradford has played more like "Charlie Check Down", than a Franchise Quarterback.  Hopefully that will change in the near future.  In fairness to him, the Eagles have dropped quite a few passes.  Some of them would have been big plays, so Bradford needs his teammates to play better.