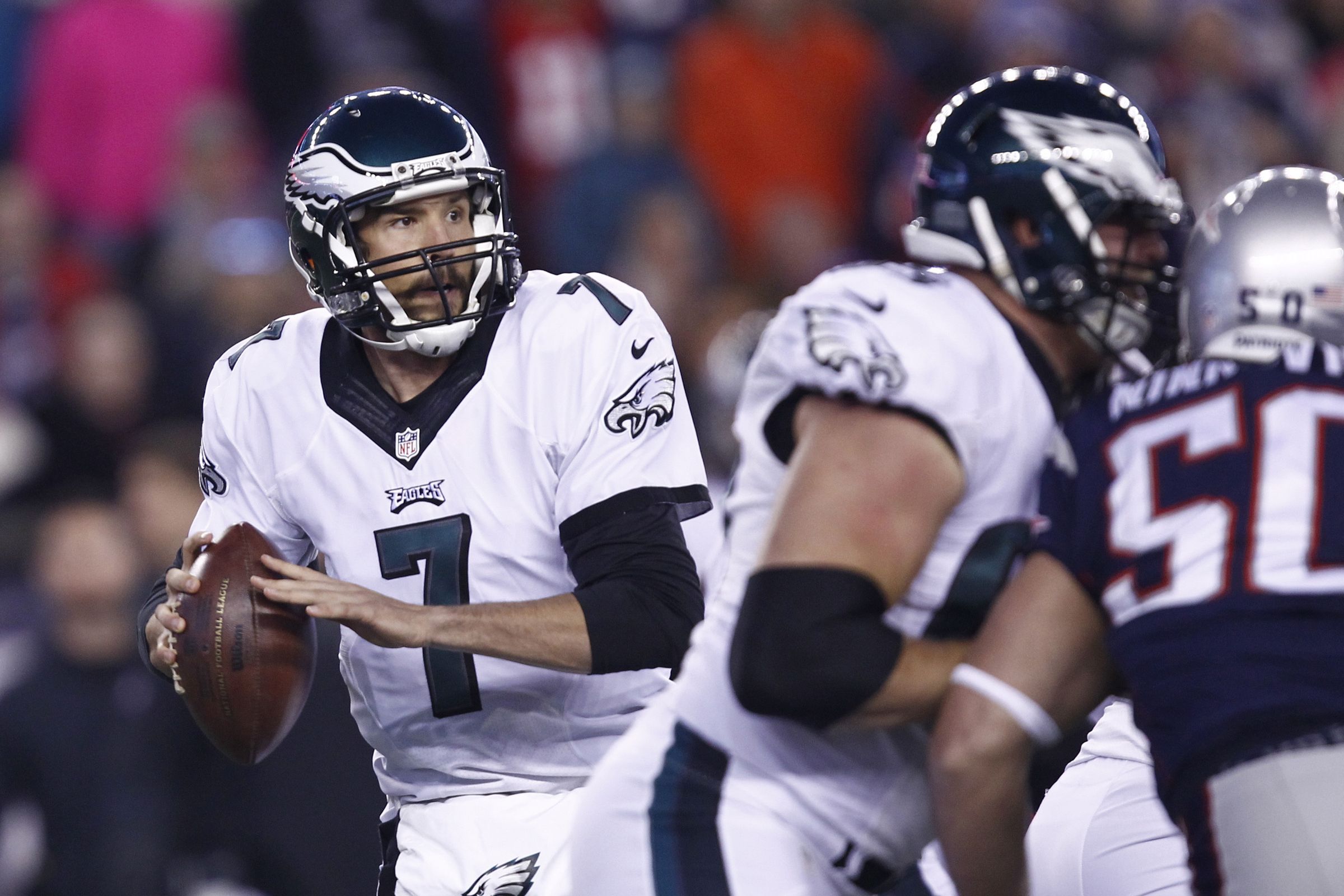 Fluke Plays, Patriot Mistakes Give Eagles Fraudulent Victory
A shocker of shockers.
The miserable Philadelphia Eagles escaped with a victory over the heavily favored New England Patriots on Sunday afternoon.
So how did the Eagles manage success against the AFC superpower?
It certainly wasn't the still-miserable offense of Chip Kelly.
Kelly's hand-picked quarterback Sam Bradford managed just a miserable 120 yards on 12 of 24 passes. DeMarco Murray carried just eight times for 24 yards. None of the wide receivers managed more than 36 yards.
Of the 35 points scored, only 14 of them came from Kelly's offense.
The Eagles won this game on flukey plays from the defense and special teams. They managed to block a punt and run it back for a score in the second quarter. Malcolm Jenkins finally hung onto an interception, and returned it 99 yards for a touchdown. Then Darren Sproles capped it all off with a punt return for a touchdown to give the Eagles a two-score lead in the second half.
Mix in some horrendous coaching decisions from Bill Belichick and some uncharacteristic mistakes from Tom Brady, and you have the perfect formula for a fraudulent upset, which is exactly what this game was.
Quick Thoughts
Offense
What in the world was Chip Kelly doing handing the ball to Kenjon Barner on the final drive of the game? Barner made some plays earlier in the game, but Darren Sproles is the guy you go to in that situation to close it out.
Barner fumbled the ball away, giving the Patriots one more chance to tie the game.
How much of a joke is it that DeMarco Murray is a complete non-factor on this offense?
First-round pick Nelson Agholor was shut out, with no catches.
Jordan Matthews was the team's leading receiver with a whopping four catches for 36 yards.
Miles Austin was deactivated. Why is he is still on this roster?
Defense
The defense made a couple of big plays, but still let up over 400 yards of offense.
Connor Barwin and Brandon Graham each recorded two sacks.
Byron Maxwell came down with his second interception of the year.
Walter Thurmond registered 10 tackles.
Another no-show for Kiko Alonso.
Ed Reynolds played a lot of snaps, and registered five tackles.
Final Thoughts
Well, Chip Kelly most likely secured his job with the win today.
A win over Jeffrey Lurie's hometown team the mighty New England Patriots will go a long way towards blinding the ever hopeful owner of the Eagles into believing that Kelly can still turn things around.
The reality is that the defense and special teams combined to outscore Kelly's miserable, pathetic offense today. And on a day where the Patriots were more prone to mistakes than normal, the stars aligned for the Eagles to come away with an upset.
Make no mistake, the Eagles are not "fixed".
On the contrary, the offense continues to generate into a more of a joke every week.
Expect things to come crashing back to reality before long.
Follow Denny Basens on Twitter, @DennyBasens