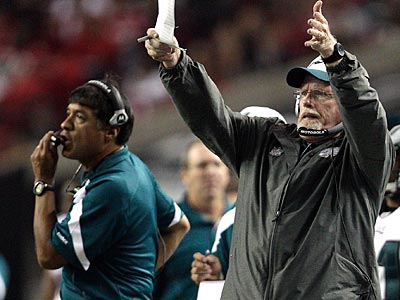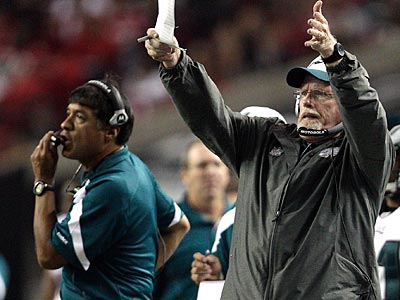 Well, the uninspiring and depressing entity that is the 2016 Philadelphia Eagles' coaching search has taken another sad turn with the team's third option saying "thanks, but no thanks" as Tom Coughlin withdrew his name from the Eagles' search this afternoon.
Circumstances Behind Coughlin's Withdrawal Mirrors Jim Washburn/Juan Castillo Situation
After it was learned that Ben McAdoo would be staying in New York, the Eagles turned their attention to 69-year old coach Tom Coughlin, making a push on Thursday afternoon to get the two-time Super Bowl champion to come to Philadelphia.
While Coughlin was interested in the position, he ultimately decided against it. Part of the reason had to do with who the offensive coordinator would turn out to be, with Coughlin likely preferring to have his own guy in place, and the Eagles likely telling him he'd have to accept either Pat Shurmur or perhaps Duce Staley as his coordinator.
As I wrote earlier, there were major obstacles to Tom Coughlin taking #Eagles job – assistants, personnel responsibilities, among others.

— Jeff McLane (@Jeff_McLane) January 14, 2016
Such circumstances obviously wouldn't sit well with Coughlin. We're talking about an established coach with a very well respected NFL resume being told who he would have on his staff by Howie Roseman and Jeffrey Lurie. Coughlin likely felt insulted by those conditions, as should any candidate for the job that has any kind of self respect.
When a head coach comes into a job, he's got to have the ability to freely assemble a staff of his own guys to set himself up for success.
The situation reminds me so much of the team's 2011 search for a defensive coordinator. After the Eagles had fired Sean McDermott, they first hired Jim Washburn to coach the defensive line and install his gimmicky Wide-Nine scheme as a base defense before even interviewing defensive coordinators. Washburn had a well-known reputation for being difficult to work with, and after the team was unable to lure any qualified defensive minds to the team, they were forced to settle for offensive line coach Juan Castillo, who was simply eager for an opportunity to coach.
The similarities between that situation and the current coaching search is rather disturbing.
Are Lurie and Roseman telling candidates that they'll have to accept an offensive coordinator on their staff without getting a chance to pick one of their own? Just like they were telling defensive coordinator hopefuls in 2011 that they'd have to work with Washburn.
As former president Joe Banner once infamously said, "The definition of Insanity is doing the same thing over and over and expecting a different result."
And clearly, Lurie and Roseman have learned nothing from their past errors.
If that's the case, then its no wonder that the Eagles have had Plans A (Adam), B (Ben), and C (Coughlin) pass on the job. Plan D (Doug Pederson) will likely accept the job, but much like Castillo before him, he may find himself in over his head.
Thoughts On Chip Kelly Going To San Francisco
In other news, Chip Kelly has managed to find himself a job in the form of the San Francisco 49ers.
I think Kelly is going to be a punching bag for the NFC West. That division sports three of the best defenses in the conference, and should have no problem eating Kelly's gimmicky system alive.
Remember how Arizona undressed Kelly's Eagles on national tv about a month ago? Or how the Seattle Seahawks put the clamps on his scheme back in 2014? Yeah, expect a lot of that.
The good news for 49ers fans is that I'm not sure how Kelly can run their team any further into the ground than they already are. There aren't even that many good players for him to release.
But hey, maybe the Eagles add to their draft position by making some deals with the Niners! Think Chip will take Josh Huff, Kiko Alonso, and some of the other garbage Oregon players he brought to Philadelphia for a second-round pick?
Well, on second thought, I can't see Chip and Tom Gamble doing any kind of business with Howie Roseman. Pitty that.
Follow Denny Basens on Twitter, @DennyBasens