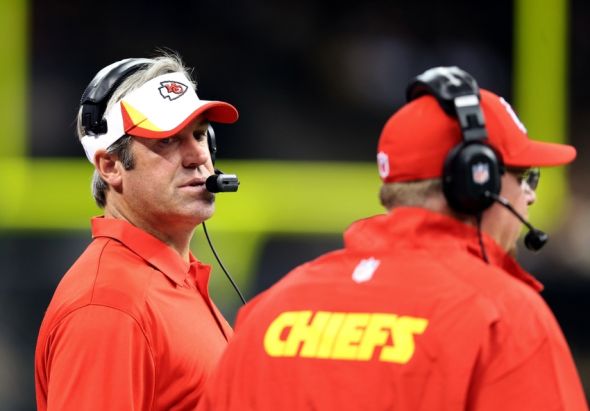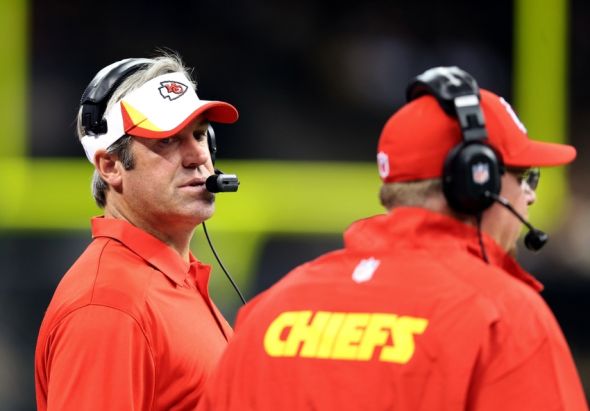 The Eagles' hiring of Doug Pederson has been met with little fanfare so far.
Let's evaluate some of the positive and negative aspects that Pederson may bring to the table.
Positives
A More Traditional Offense
One thing I'm absolutely thrilled about in regards to the Eagles' upcoming season is that the fast-paced offense of Chip Kelly will be a thing of the past.
Defenses had been catching up to Kelly's scheme, and the flaws in Chip's approach were on full display last season. The three-and-outs came much too frequently and too easily, leading to prolonged periods where the offense was unable to generate any kind of success or consistency during games. The Eagles' defense continued to lead the league in defensive snaps logged, leading to a unit that looked worn out at times.
With the gimmick offense now a thing of the past, Pederson will return the Eagles to a much more traditional and fundamentally sound attack.
The Eagles won't be running every play out of the shotgun. There will be some variety in their formations. The tight ends are sure to be used much more effectively. Heck, there's a good chance that we'll even see the return of a fullback, which could help running back DeMarco Murray recapture the All-Pro form he displayed in Dallas.
Better Quarterback Development
Pederson may not have been a very effective quarterback during his playing days, but he's been regarded as a very smart guy who understands the position well.
Pederson has been around guys like Dan Marino, Brett Favre, and Donovan McNabb during his playing days, was coached by guys like Mike Holmgren and Andy Reid, and has played a role in Alex Smith becoming a better quarterback out in Kansas City.
Whether he's working with Sam Bradford as his starting quarterback in 2016, or drafting a young passer to groom and develop, Pederson is a guy with a solid background of teaching the position to other players.
Front Office Harmony
This can easily be viewed as a positive or negative aspect depending on one's point of view, but Pederson is almost certainly not going to be a guy that tries to stir up any kind of power struggles within the front office.
He seems to have a strong relationship with Howie Roseman and Jeffrey Lurie, and for an organization that has endured multiple power struggles between head coaches and general managers since 2010, it could do a lot of good to have some peace and quiet between all factions.
Negatives
A Lacking Resume
Pederson isn't a big name, and doesn't have the types of claims to fame that other new head coaches have.
Adam Gase has received high praise from guys like Peyton Manning. Ben McAdoo has been credited for Eli Manning's resurgence. Pederson's accomplishments are a bit of an unknown.
The Kansas City offense hasn't set the world on fire during the last three years. Pederson doesn't call the majority of plays during games. Just one year ago, the Chiefs offense that he coordinates failed to manage a single touchdown pass to a wide receiver.
Pederson's name did not come up in any coaching search with the exception of the Eagles. Around the league, he clearly wasn't held in very high regard.
The biggest thing that he seemed to have going in his favor was the vote of confidence he received from Andy Reid, who reportedly highly recommended him to Jeffrey Lurie.
Can Pederson Command Respect?
Pederson may be a student of the game, and a legitimately smart football guy. But does he have the true leadership skills of a head coach? Can he be the type of guy that can command the respect of the 53-man roster, and find ways to rally his guys when times get tough?
You have to hope that Pederson has learned a lot about leading a locker room from his time working under Reid.
One of Reid's best traits as a head coach is that he has almost never lost the respect of his players. Guys always fought hard for Andy, and this year's Kansas City team is another great example of that, having rallied from a 1-5 start to win their last 11 games.
Hopefully Pederson was able to absorb some of Andy's traits.
Final Thoughts
After having some time to think about the hiring of Pederson and let it all sink in, I'm not nearly as down on the idea as I thought I would be.
Yes, the route that the Eagles took to get to him was very unimpressive, and I thought the front office did a remarkably poor job conducting their coaching search.
However, now that its all said and done, when I look at Pederson, I don't see a guy that's doomed to fail like I did when the Eagles first hired Chip Kelly back in 2013. 
I don't necessarily see a guy that's going to take the NFL by storm either, but I'm actually pretty interested to see what he brings to the table, and how this team will take shape moving forward.
It's easy to look at this hire and write it off, but keep in mind that once upon a time the Philadelphia Phillies made a very unpopular hire that many people mocked at first. A guy named Charlie Manuel. And that same guy turned out to be a beloved figure in Philadelphia sports that helped end the championship drought.
Who knows, maybe Pederson could do the same for the Eagles.
Follow Denny Basens on Twitter, @DennyBasens