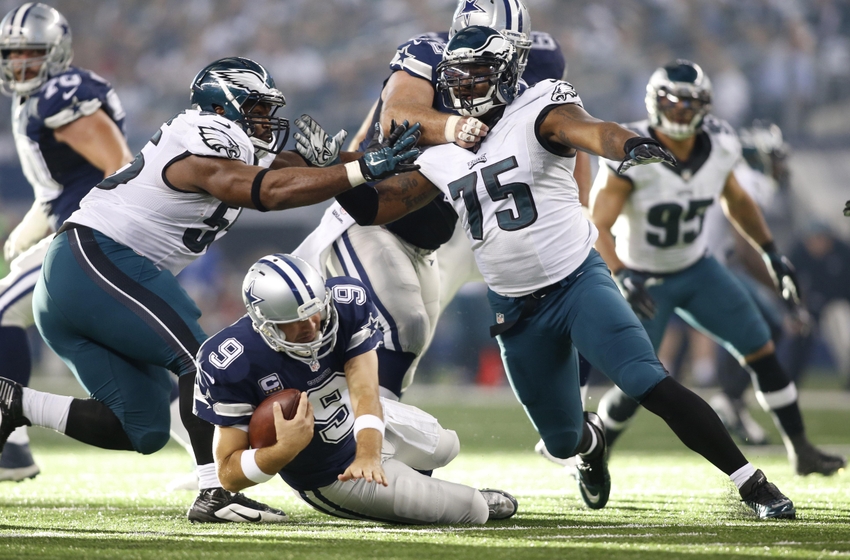 Nov 27, 2014; Arlington, TX, USA; Dallas Cowboys quarterback Tony Romo (9) is sacked by Philadelphia Eagles defensive end Vinny Curry (75) and linebacker Brandon Graham (55) in the second quarter at AT&T Stadium. Mandatory Credit: Tim Heitman-USA TODAY Sports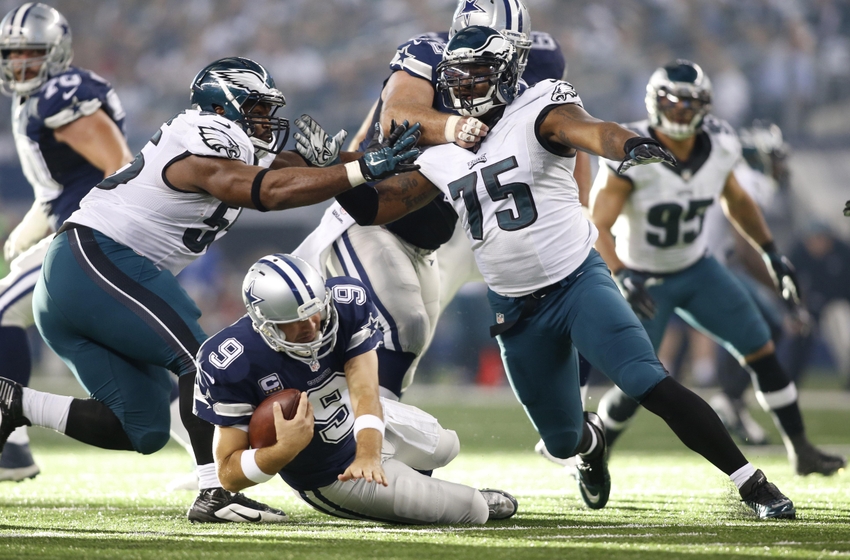 I'm totally onboard with what Eagles GM Howie Roseman had to say to Philly.com's Jeff McLane, when talking about why the Birds signed defensive end Vinny Curry to a 5-year contract extension for $47.25 million with $23 million guaranteed.
I think he will be a double-digit sack guy, when given the chance to play full time in the 4-3 defense. He will be able to come off the corner on the right side most of the time and put pressure on the quarterback.  In addition to coming off the corner, Curry can also slide inside at the tackle position and get pressure on the quarterback from that position on 3rd down.  That's going to allow the Eagles to let Connor Barwin rush the passer from the defensive end position on 3rd down.   It allows them to put their best four pass rushers, Curry, Fletcher Cox, Brandon Graham and Barwin on the field on 3rd down.
"The coaches want to make sure they have a bunch of fastballs . . . get pressure on the quarterback, who are versatile, who can rush inside and out" Roseman told McLane.  "This time of year, to be able to keep a guy from free agency, when we understand that the market is going to be aggressive. He's shown his ability not only to get pressure outside, but inside, rushing over guards. The versatility he's shown, that maybe we didn't know when we drafted him, has been tremendous."
"When you look at what's important to us when you build this team – and that comes from the coaching staff – it's getting pressure on the quarterback and finding pass rushers, and how hard it is to find pass rushers in this league, especially proven pass rushers," Roseman said.
Roseman is totally correct in these comments about signing Curry.  How foolish would it be to let a former second round pick, which you got right leave via free agency?  Curry is just what the doctor ordered.  The dude can rush the passer.  It's one of the most important things you need on a NFL defense.
I'm onboard with Howie and what he does at the GM position as long as he is working in collaboration with his coaching staff.  If Eagles defensive coordinator Jim Schwartz tells him we must resign Curry, then Roseman has to do it.  The move makes sense.  You must have pass rushers, if you're going win in the National Football League.
As for the amount of money, I'm going to give Roseman the benefit of the doubt because he's an expert at dealing with the cap.
Hey fellas, I'm out here in San Francisco right now for the Super Bowl.  I'll be keeping you in the loop with the people I run into out here.  I ran into my buddy and former teammate at USC, 49ers Hall of Fame safety Ronnie Lott yesterday morning at the hotel, just 30 minutes after I got here.
When I came in the lobby last night, Mr. J.J. Watt was checking into his room at the front desk.  He's a big dude.