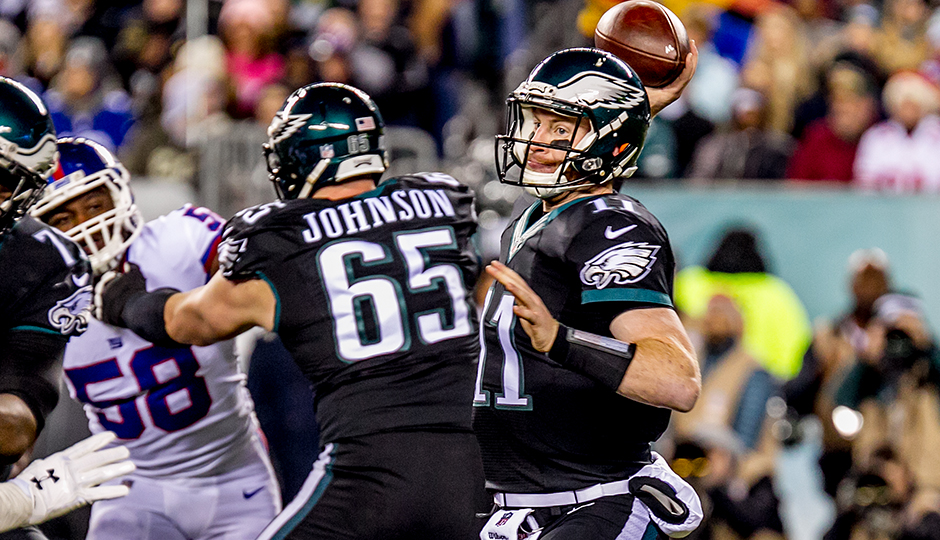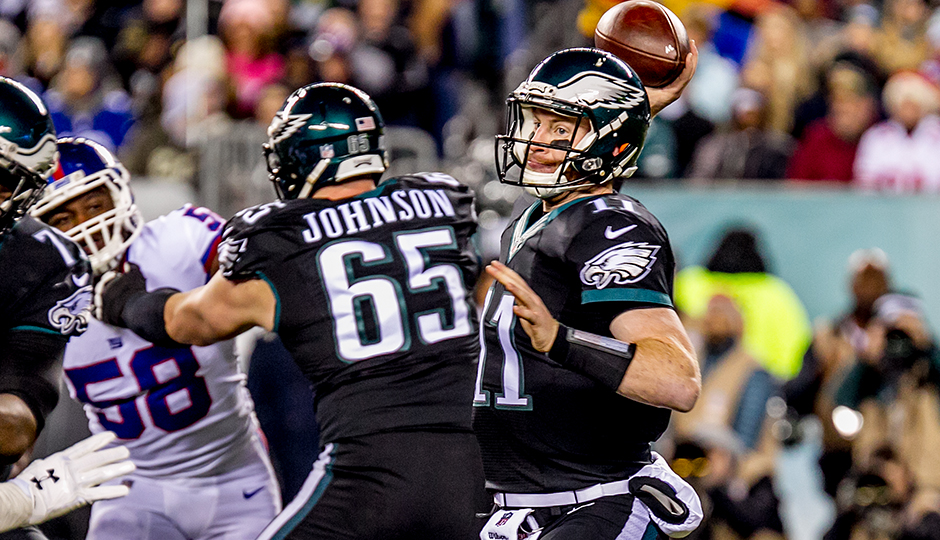 Eagles Play Spoiler With Entertaining Win
The playoffs are out of reach, but the Philadelphia Eagles are doing their best to finish out the year strong.
With the opportunity to play spoiler against the New York Giants, the Eagles started the game strong, marching down the field on their first possession, finishing with a Darren Sproles touchdown run to put themselves up 7-0.
The defense held New York to just 13 yards over their first three drives, one of which resulted in a pick-six from Malcolm Jenkins. The defense would do a good job containing the Giants for most of the first half, allowing two field goals on the next two drives.
The offense struck back towards the end of the second half, with Carson Wentz hitting Nelson Agholor (of all people) for a 40-yard touchdown strike, giving the Eagles 21 points at the half. Just for some perspective, the team had only managed to score more than 21 points in an entire game six times since dropping 34 points on the Pittsburgh Steelers in Week 3.
Unfortunately, the Eagles' offense wouldn't have much to offer in the second half, generating only three points. The defense was up to the task of containing New York however, allowing only two second half field goals.
Concerns With Wentz
Watching Carson Wentz play, we've seen a lot of promise, but there have been two recurring issues with his game that have given me pause.
Wentz has been late on a lot of throws, and he's struggled with the deep ball all season.
Following his early success, these two flaws have been recurring quite a bit in Carson's game, and they've led to a lot of his worst moments.
Wentz just hasn't been good at judging the deep throw, and how and when to attempt it. Tonight, he misplayed a deep ball that ended up being intercepted in the first half, and did the same thing in the second half that just narrowly missed being a turnover itself.
We've rarely seen Wentz hit on deep, explosive plays, and there's no doubt that a lot of that has to do with the quality of wide receiver he's working with, but he himself hasn't made a lot of great throws in those spots, and its absolutely something he needs to work on in the offseason.
Doug Pederson Drives Me Insane
More and more, Doug Pederson has shown that he has, at best, a very questionable feel for the way an offense should be run and called on gameday.
Today, the most egregious error came in the second half. On the first possession after Carson Wentz returned from being evaluated for a concussion, Pederson made one of the most horrendous playcalls I've ever seen.
On a third down and long, Pederson called for an elaborate double reverse to Nelson Agholor, which required his quarterback to be the lead blocker on the run. Stop and think about that one for a moment.
The quarterback, fresh off of a fairly lengthy concussion evaluation, was immediately asked to be the lead blocker, exposed to all kinds of contact, on a goofy gadget play that had little chance of success.
Pederson was very fortunate that Wentz came away from the play unscathed. If the playcall had done any kind of further damage to the quarterback, it would have been a fireable offense.
Quick Thoughts
Offense
Lane Johnson made his return from a 10-game suspension tonight, and the offense seemed to receive an immediate jolt with his presence. Johnson gives the Eagles an elite presence in their line when healthy, and its a shame that we only got to see the line at full strength for a handful of meaningful games this year.
You can't help but admire the kind of player that Darren Sproles is. He's a gamebreaking player, and its a shame that the Eagles have had such poor teams that haven't been able to take better advantage of what he can do.
Nelson Agholor is terrible. I don't even care that he caught that 40-yard touchdown. Agholor can't play. Giving him reps is a waste. If he's on this roster next year, its an absolute disaster. The easy, drive-killing drop in the second quarter is the player that he really is.
The tight ends largely vanished from the gameplan this week, with Zach Ertz and Brent Celek combining for just five catches. Trey Burton was held off of the stat sheet.
No wide receiver caught more than two passes. Agholor had two, Jordan Matthews had two, Dorial Green-Beckham had one.
Defense
Huge game for Malcolm Jenkins, who picked off Eli Manning twice, and broke up several other passes. A shame such a great effort came in a meaningless game.
Terrence Brooks got a look with the defense in a key moment, and came down with a game-sealing interception. I'm certainly in favor of him getting more reps over Jaylen Watkins, who has been killing the defense for weeks.
No sacks for the defense line.
Odell Beckham caught 11 passes for 150 yards, but the Eagles actually did a decent job keeping him from burning them down the field.
Special Teams
Nelson Agholor is possibly the least intimidating kick or punt returner I've ever seen.
Final Thoughts
A win is a win, and while the Eagles fought hard for the third straight game, I don't feel great about this win simply because of Doug Pederson.
I don't like the way Doug calls games. Apart from the call to have a previously concussed Wentz as a lead blocker, I hated the offensive gameplan as a whole. I know there's little talent at the skill positions, but I think that what talent he does have, he's badly mismanaged throughout the season.
The Eagles finally have a legitimate quarterback prospect in Carson Wentz. Right now, I'm not at all convinced that Pederson is the right guy to be working with and developing him. The way Wentz's play leveled off and stopped progressing after the early stages of the season is very concerning to me, and the weekly playcalls just aren't putting him in a position to succeed.
Although a lot of what I've written in this review is on the negative side, I do realize that the Eagles did in fact win this game. But the reality is that Pederson's offense barely managed to generate 17 points, and if not for a stellar defensive effort that forced three turnovers, we could easily be talking about a sixth straight loss.
Wentz represents hope for the future, but Pederson could very well be the ball and chain that keeps him from delivering on his promise.
Follow Denny Basens on Twitter, @DennyBasens