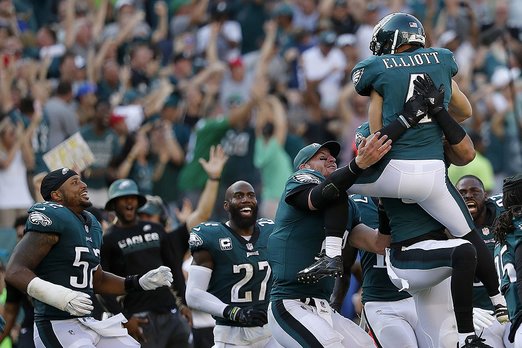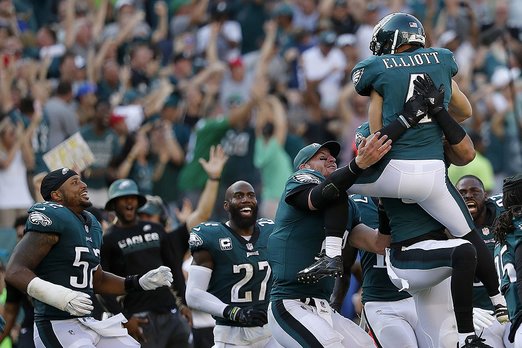 Eagles Survive Vicious Giants Rally For Narrow Win
Oh boy, we have a lot to get in to with this one folks.
The Philadelphia Eagles blew a 14-point fourth quarter lead against the New York Giants, but fought back to take a 27-24 win in their home opener to improve to 2-1 on the season.
The Birds controlled the game for three quarters, winning a defensive struggle and establishing a 14-point lead going into the fourth. But defensive injuries began to catch up with the Eagles to open up some momentum for the Giants.
The Eagles went into the game missing Ronald Darby, Rodney McLeod, and Corey Graham, and lost two more key playmakers, Fletcher Cox and Jordan Hicks during the game. The hobbled defense finally caved, and the Giants rediscovered their rhythm.
New York put up 21 points within a five-minute stretch, part of their run was fueled by a terrible fumble from Zach Ertz, which set the Giants up with a short field.
However, the Eagles were able to rally themselves to tie the game at 21, and rookie kicker Jake Elliot was able to do the unthinkable, and nail a 61-yard kick to avoid overtime and give the team this crucial division win.
Doug Goes Back To The Run
A week after taking all kinds of criticism for his approach to playcalling and the run-pass ratio, Doug Pederson came back with a much more balanced offense, calling 31 passes to 35 runs.
LeGarrette Blount, Darren Sproles, Wendell Smallwood, and even rookie Corey Clement were featured in today's game, and all performed at a high level.
Blount was fed 12 carries, and run exceptionally well, cruising for 67 yards and a touchdown. This was the first game that Pederson allowed Blount to get in a rhythm, and the big back really took over on the team's first scoring drive in the second quarter. Blount arguably should have had even more touches, the way he was playing, he could have gone for over 100 yards today. He's not done folks.
Smallwood was very impressive as well, picking up 71 yards on 12 carries of his own. He fought hard for extra yards, and gave the offense some badly needed pop in the second half. Even on the team's second to last drive, Smallwood had several big runs to get them deep into New York territory.
Clement was used a surprising amount in the second half, and was given some pretty critical carries, including a one on a 15-yard touchdown run to tie the game at 21 in the fourth quarter.
Quick Thoughts
Offense
What in the world was Doug Pederson thinking going for it on 4th and 8 before the end of the first half? That's just such a low percentage play, you're just asking for trouble, and sure enough the Giants very nearly turned that turnover on downs into a touchdown before the half. It could have been a very different game, even if the Giants had just elected to go for three there.
Carson Wentz was good, not great today. He completed 21/31 for 171 yards and a touchdown, and once again made some great plays with his mobility, but once again, accuracy on deep balls continues to be an issue. Wentz had Alshon Jeffrey for a score, but overthrew him. I think its still early to be outright worried about Wentz's ability to hit on things down the field, but its concerning that has been a trend for three games now.
Chance Warmack got the start at left guard, but gave up a sack early in the game, and was eventually replaced by Stefan Wisniewski at left guard. The line was at its best with Wiz in play, but the path the Eagles took to get to him has been bizarre. First Isaac Seumalo goes through camp as the unquestioned starter, then gets benched after two weeks, his replacement (Warmack) follows and was replaced after less than two quarters.
I've been very critical of Jason Kelce, but he played a strong game today, throwing several key blocks, including one that helped spring Clement on his touchdown run.
Alshon Jeffrey was covered by Janoris Jenkins, and was quiet for most of the day, but his tough catch set up the 61-yard kick for Jake Elliot. No receiver on the 2016 team makes that play.
Torrey Smith doesn't have an overly impressive stat line, but he drew a key pass interference call in the fourth quarter that helped set up Clement's touchdown run.
Fumble aside, Zach Ertz's breakout year would have been three-for-three, with eight more catches for 55 yards and a touchdown.
I know that Doug Pederson had a lot of success rotating his running backs today, but I would still question the timing of the rotations. During the drive where LeGarrette Blount was demolishing the New York run defense, it just felt odd to pull him out of the game for Smallwood on a third and two, and then have Sproles in the backfield on the fourth and inches. With Blount being a short-yardage specialist, and playing extremely well, would it not make more sense to continue to feed him? This is all a bit moot given the result of the game, but something to monitor in future games.
Defense
Give a ton of credit to Rasul Douglas, who played a strong game in his first career start. The rookie came down with a big interception while running stride for stride with Brandon Marshall down the field. Douglas wasn't perfect, but he held up really well.
It was particularly rough on this secondary to not only be without Rodney McLeod, but also their third safety Corey Graham. As a result, Chris Maragos had to start and play a heavy amount of snaps, which is not a situation the Eagles want to be in regularly.
Absolutely shocking that the Eagles weren't able to generate a single sack on the much-maligned Giants offensive line.
However, there were some good performances from the defensive lineman. Vinny Curry was the first guy to penetrate and get to the ball carrier on the Giants' fourth and goal attempt at the end of the first half. Curry also drew a holding penalty late in the game that helped kill the final New York drive.
Timmy Jernigan made several big plays against the fun.
Mychal Kendricks continues to have a tremendous season. Kendricks was involved on another turnover, tipping a pass that would be intercepted by Patrick Robinson.
Speaking of Robinson, he's looked like a completely different guy since being moved to the slot. He looks like he's rediscovering his confidence, and he's been a nice boost to this defense.
Special Teams
In addition to his touchdown run, Corey Clement showed some nice pop on kickoff returns.
The 61-yard field goal by Jake Elliot should give him and the coaching staff all the confidence they need moving forward. That's the kind of thing that can get a kicker on a roll where he doesn't miss for awhile.
Elliot had been a little shaky to start, and even today missed on a 52-yard attempt, but connecting on a game-winning kick in that situation should make him feel that he belongs in this league.
Final Thoughts
What's the easiest way to get to the playoffs?
Take care of games within the division.
So far, so good, the Eagles are 2-0 against the NFC East.
Good teams find ways to win in situations like this. Bad teams, like the Giants, find ways to lose.
Oh, and look at what happens when you have a balanced offense? The Giants have a tough secondary, with Jenkins, DRC, and Landon Collins. Imagine if Pederson had come out and called 50+ passing plays for Wentz in a close game like he did last week in Kansas City? You'd probably be looking at a different result today.
We'd go through this run-pass ratio discussion to the point of nausea in the Andy Reid era. Andy would lose a game with imbalance in the playcalling, find religion and run the ball for a few weeks, and then the passaholic would eventually come back out.
Let's hope Doug is different in that regard, and we'll see balance like this moving forward.