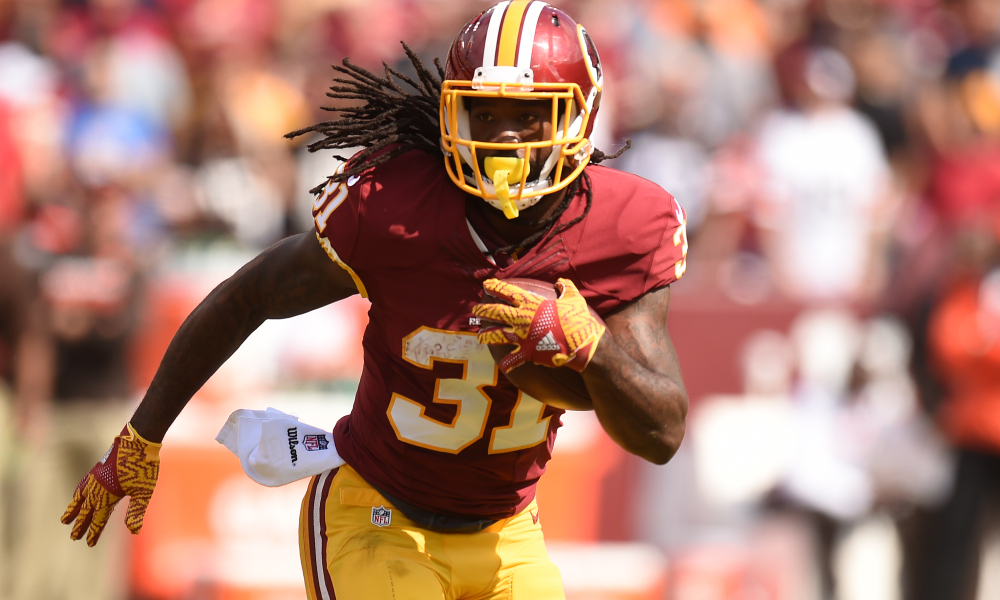 LANDOVER, MD – OCTOBER 2: Running back Matt Jones #31 of the Washington Redskins carries the ball against the Cleveland Browns in the first quarter at FedExField on October 2, 2016 in Landover, Maryland. (Photo by Mitchell Layton/Getty Images)
On Wednesday morning, the Philadelphia Eagles made another move to add to their running back situation, signing former Washington Redskins' third-round pick Matt Jones.
The Eagles worked out Jones and former Baltimore Raven Terrance West, but ended up coming to terms with Jones. Of the two, Jones probably has the bigger upside, but West was more of a proven commodity. Jones had the opportunity to be the featured back in Washington just two years ago, but fumbling problems lost him the job, and eventually his roster spot.
The Jones signing is a nice, low-risk move that has a chance to pay off for the team. If nothing else, it intensifies what was already a pretty deep competition for the fourth running back job, with Wendell Smallwood, Donnel Pumphrey, and undrafted free agent Josh Adams also in the mix.
The Eagles are a lock to carry four running backs, and depending on how things play out in camp, could even keep as many as five of these guys. Doug Pederson likes to work all of his running backs into his offense. LeGarrette Blount, Jay Ajayi, and Corey Clement all had roles carved out for them on the offense, and Pederson would even occasionally work return specialist Kenjon Barner into the mix. I liked the team's focus on working all of those guys into the playbook; it really went a long way towards keeping opposing defenses off balance, as each player was able to bring a different element to the offense.
With a variety of roles available to three, and perhaps at times, four guys, the team may want an extra fifth back that knows the offense and will be ready in the event of an injury. After the Ajayi trade, Smallwood remained on the roster as the fifth running back, but was a healthy scratch for the majority of the season.
With Jones, the team could be looking for someone to make up for the power element that they lost when Blount departed for Detroit in free agency. He's going to have to prove that he can secure the football if he wants to make the team. He's fumbled a ridiculous eight times in his 20 career games. But there's no denying that the talent is there for Jones, who is just three years removed from being a third-round pick, and hopefully he's a guy that assistant head coach Duce Staley can do something with.
Smallwood and Pumphrey are going to need to come a long way from where they were a year ago in order to make this roster. Smallwood has shown flashes of being an effective player, but his struggles in pass protection made him a liability on the field, and were a big reason why the team pursued the trade to get Ajayi at the trade deadline.
The only thing that Pumphrey has going for him is his status as a fourth-round pick. Last summer, he looked too small to survive in the NFL, and didn't show the elusiveness or explosiveness that the team hoped they were getting.
Josh Adams is the wild card in this picture as an undrafted guy, but after seeing Corey Clement defy the odds and force his way onto the roster, and eventually into a regular role on offense, it's hard to count Adams out.