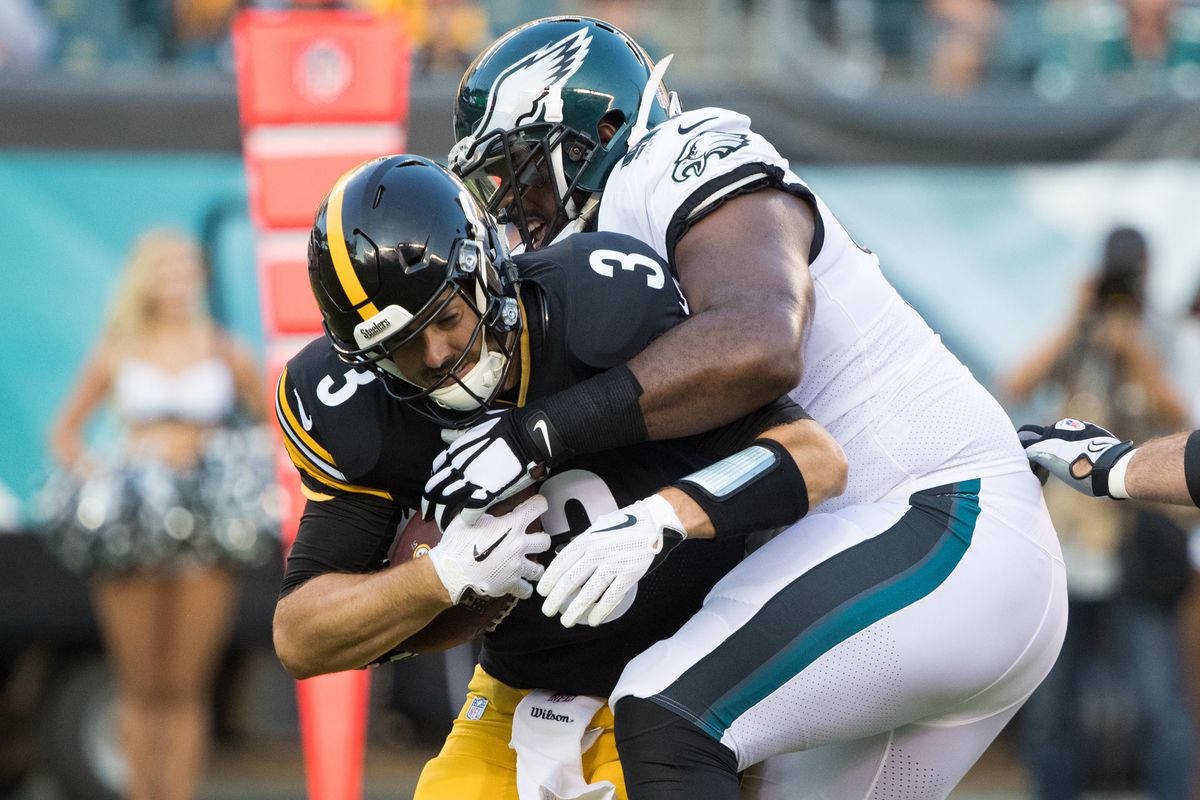 Summer Of Sudfeld Begins With Mixed Results
Nate Sudfeld is going to play a great deal this August.
Sudfeld, a guy who the Eagles have hyped up quite a bit since signing him to the practice squad at the beginning of last season, got the start last night and had an up-and-down performance.
Sudfeld came out of the gates with a bad interception. The young backup threw an ill-advised pass to a receiver that was never open, and the result was a pick that set up the Steelers with a short field.
To his credit, Sudfeld didn't let the interception rattle him, and he came back several drives later to lead the team on a nice drive, capped off with a nice touchdown pass to rookie tight end Dallas Goedert.
Sudfeld struck again in the second quarter, showing off his deep ball with a 63-yard touchdown strike to Shelton Gibson.
Sudfeld threw another interception, but I thought the second one was more the fault of Bryce Treggs, who seemed to run the wrong route.
For the night, Sudfeld finished 10/14 for 140 yards, two touchdowns, two picks, and a rating above 100. My impression of Sudfeld after this game was that he looks like he can play in this league, but needs more development. I wouldn't feel confident if he was the number two quarterback going into this season. He's got the arm strength and good mobility, but his decision making needs to improve. This can improve with time and experience.
I was shocked that head coach Doug Pederson pulled Sudfeld after just two quarters. Sudfeld needs reps to develop and for the Eagles to get as a good a look at him as possible. Playing camp body Joe Callahan for an entire half made the second half much more painful to watch.
First-Team Defense Looks Strong
The majority of the Eagles' defensive starters played two series, and dominated the Steeler reserves.
There was no Ben Roethlisberger, no Antonio Brown, no Le'Veon Bell, but the defense did their job against the opponents they lined up against.
Fletcher Cox made David DeCastro look silly when he blew by him for a sack on the team's first defensive snap. Malcolm Jenkins and Nigel Bradham combined for a sack to take the Steelers out of field goal range following the first Sudfeld interception.
Quick Thoughts
Offense
Dallas Goedert looks like the real deal. Goedert was a favorite target of Sudfeld, hauling in four catches for 66 yards and a touchdown. The rookie has drawn rave reviews in camp, and it was easy to see why. He looks like a guy that can make an instant impact.
Goedert also did well as a blocker, helping spring Ajayi and Clement on several runs.
Jay Ajayi and Corey Clement look ready for the regular season. Ajayi ripped off a 22 yard run on his first carry, and Clement made several plays, picking up 30 yards on five carries. It's exciting to think about what these guys can do in their second seasons with the team.
Wendell Smallwood got an opportunity to gain some ground on the fourth running back spot, and didn't help himself with a fumble.
Josh Adams, however, picked up 30 yards on six carries, and looked good running the football. Matt Jones and Donnel Pumphrey sat out this game, and if they don't get back soon Adams may have a chance to beat them out.
Shelton Gibson looks like he's come a long way from where he was as a rookie. He's clearly in the lead for the fifth receiver role.
Quiet night for Mack Hollins, who got a lot of snaps, but was only targeted once by Sudfeld.
Bryce Treggs caught three passes, but really hurt himself by running a short route and causing the second Sudfeld interception.
I thought rookie sixth round pick Matt Pryor did a nice job in his extended run at right guard.
Defense
Rasul Douglas was burned by JuJu Smith-Schuster for a 71-yard touchdown, but bounced back to make a great interception later in the game.
Kamu Grugier-Hill looks better than Nate Gerry, he seems to do a good job of finding his way to football. He led the team with six tackles.
Good night for Devante Bausby, who broke up several passes.
Same for fourth-round pick Avonte Maddox.
Special Teams
Going into camp, I was surprised that the team didn't have some competition for punter Cameron Johnston. But Johnston had a good showing in this one, averaging over 43 yards a punt, and also had a 77-yarder wiped out by a penalty.
Final Thoughts
The preseason is one of the most over-hated things in the game of football.
Everyone complains that its bad football, that the preseason is too long, that its unwatchable.
The reality? You don't have to watch it.
While I'm certainly not going to tell you that what you see in August is quality football, I've always enjoyed these four weeks of the year because its where you see the final roster take its shape, with position battles and undrafted rookies flashing as they try to survive the final cuts.