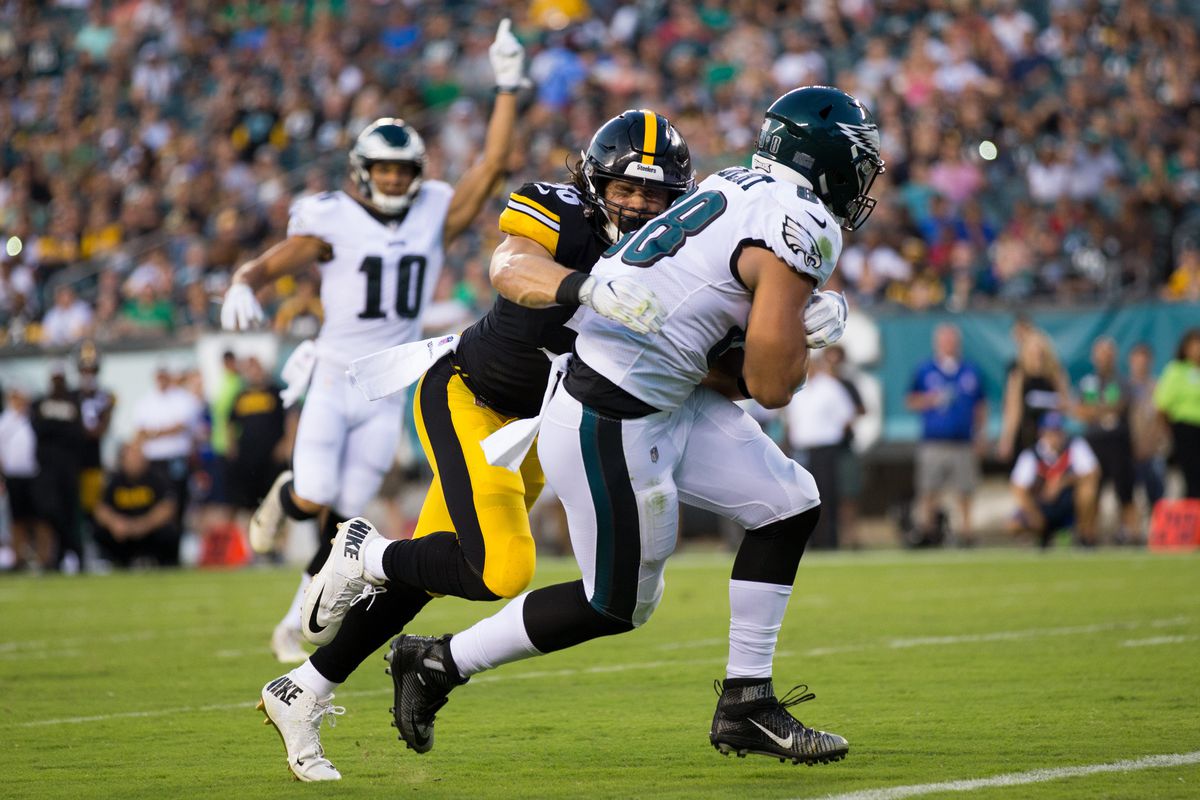 Looking back at the Eagles first preseason game, you can't help but be enthused by the play of rookie tight end Dallas Goedert.  From the time he stepped on the field this offseason, this young man has practiced and played like he's been an Eagle for a couple of years.  He added to that with outstanding play on Thursday night against the Steelers.
The big tight end caught four passes for 66 yards and a touchdown.  No one was surprised by his quality play because he well he's been performing like that throughout the training camp.  In fairness, he did take his eyes off a short pass over the middle and let it go through his hands, but that was the only negative in his first game.  The rookie caught his first pass on a corner route.  He went inside and headed downfield, then came back outside and was wide open for quarterback Nate Sudfeld to get the ball to him.  On the touchdown catch, he was covered when he ran his initial route, but like a veteran Goedert then slid into an open area of the zone coverage, which allowed Sudfeld to connect with him for the score.  The fact that the rookie slid into the open area after the initial route shows his maturity and knowledge of the game.
Despite the fact that we can clearly see his ability to be a factor in the passing game, Goedert may have been most impressive with his blocking.  He was not asked to block in college because they had him split out most of the time, so nobody was sure whether this kid could or would block.  Astonishingly on Thursday, we found out the young man showed that he's not only a willing, but a good effective blocker.  I saw toughness in Goedert's blocking, that I didn't know he had.  The North Dakota State product has shown that he is capable of blocking NFL defensive ends and linebackers, which isn't an easy task.  This is going to get him on the field during the season because the Super Bowl title team's best blocking tight end, Brent Celek, is retired.  Goedert showed that he's willing and able to open up holes for the Birds running game.  This young man is going to get some substantial playing time.
On Saturday Eagles head coach Doug Pederson singled out Goedert because of his blocking especially his willingness to do it.  He also confirmed that his willingness to block is probably going to have them in more two-tight end sets.
Zach Ertz is the Eagles Pro Bowl tight end and his job is by no way being threatened by Goedert, but expect the Birds to be in a good percentage of two-tight end and three tight end sets.   Former Packers tight end Richard Rogers will be that third tight end in the three tight end sets.
Goedert will be an additional weapon in the red zone and NFL defenses are going to have the impossible tasks of stopping Ertz  and his young friend Goedert.  I believe quality tight end play is a tremendous benefit to young quarterbacks. A good tight end can get open nearly every play for quick for an easy throw.
The Eagles quarterbacks, Carson Wentz and Nick Foles, don't need an emotional security blanket, but Ertz and Goedert will give them big effective targets to always go to if they miss a few throws in a row.  A year ago, the Birds were one of the best offenses in the league in the red zone, this year they will be just as good, by adding Goedert to Ertz, Alshon Jeffery, Mike Wallace, Darren Sproles and Corey Clement.