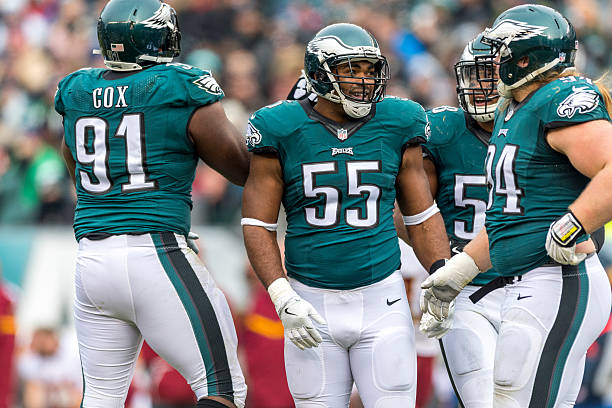 CREDIT: Gavin Baker/Icon Sportswire via Getty Images)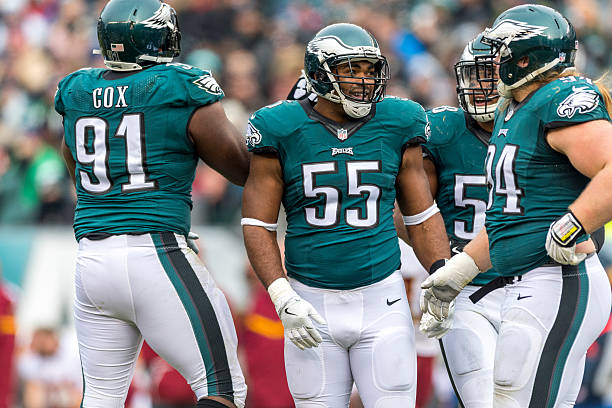 The Eagles defense has a chance to really step up and carry this football team the rest of the way.  Defensive coordinator Jim Schwartz knows it's time for his crew to come up big.  Last week he abandoned his strategy of depending on the Birds defensive line for pass rush pressure on Blake Bortles by blitzing more than I've ever seen him do.  The blitzes helped the Birds get a must win against the Jacksonville Jaguars.
Schwartz must continue to keep quarterbacks guessing about his blitzing, but ultimately, the Eagles defense will sink or swim based on the play of their defensive line.  The defensive line may be back at full strength against the Cowboys if defensive tackle Tim Jernigan returns to action. Jernigan's return could take this defense to another level, especially if he's in full health. If's he's ready to go, they could take over upfront in a lot of these games coming up.  They need to get pressure in the face of quarterbacks after they stop the running attacks.
A healthy Jernigan would be just what the doctor ordered. He'll get lined up next to Fletcher Cox and be the answer to some of the problems the Eagles have been having. If they can dominate like they're capable of doing, it's going to take pressure off the secondary. It will also take pressure off the linebackers and it will take the Eagles defensive squad to another level.
"The blitzes helped the Birds get a must win against the Jacksonville Jaguars."
Like most Eagles fans, I don't feel comfortable about the play of the Eagles cornerbacks, especially Jalen Mills. I don't know what his health is right now, but hopefully he will be able to get back out there or Rasul Douglas will be in that spot.  Everybody knows that the Eagles need better play out of Mills and their other starting cornerback Ronald Darby.  These guys have got to play better and that means going out every week and competing, but make no mistake — they need help from the defensive line.
If the Birds can't get pressure on some of the people they're going to be playing, namely, Drew Brees and the New Orleans Saints and Jared Goff and the Los Angeles Rams, they're in trouble.  I like what we've been getting out of Michael Bennett in this area. He is starting to look like the guy that dominated so many years for Seattle.  Chris Long had a good game against the Jaguars and hopefully he can continue on that level as well.  We also need to see the best of Brandon Graham.  We know he can take his game to another level and we need that down the stretch.
If the Birds are going to come back and take the division crown, it's going to take great play out of Cox, Graham, Bennett, Long, Jernigan, Haloti Ngata, Josh Sweat and anybody who lines up on the defensive line.
The other thing we need down the stretch is turnovers.  The Eagles have got to get more turnovers, whether they be interceptions or fumbles.  They have not been getting the job done in that way. They've got to be attacking each play with turnovers on their minds.  If the ball hits their hands they've got to catch it.  Knocking it down is not good enough.
"If the Birds are going to come back and take the division crown, it's going to take great play…"
The Eagles need all this to happen now, and we don't have any time to waste.  It's got to start this next week against the Cowboys… it's just that simple.  If they don't step their game up right now, they can start booking their off season vacations.
Last year's Super Bowl run let's us know that they are capable of getting the job done, but now is the time.  RIGHT NOW!!!
Next Saturday November 10 from 1pm to 3pm, I will be signing some Eagles mini-helmets and other items at Peter Grandich and Company in Spring Lake, New Jersey.  I encourage you to come on by and we'll get the chance to talk about the Eagles season.