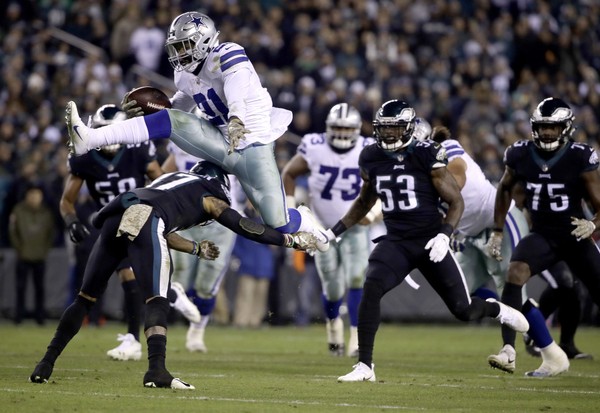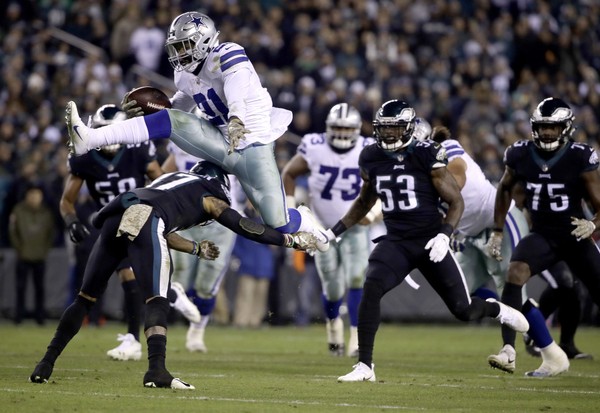 Uninspired Effort Sends Eagles To Third Place In NFC East
You never would have guessed that the Philadelphia Eagles had two weeks to prepare for this critical game against the Dallas Cowboys.
The Eagles sleepwalked their way through the first half, generating just three lousy points, and were unable to take advantage of opportunities given to them in the second half, and allowed a mediocre Dallas team to come into Philadelphia on a short week and pull off an upset.
Just think about this for a minute. The talk leading up to this game during the week was that this could be the game that Jason Garrett gets fired. Cowboys fans spent the week lamenting the fact that Dak Prescott is their quarterback, and by the end of this night were gloating again about their lousy team coming to town and taking down the shell of the of the Super Bowl Champions.
Doug Pederson's Staff Has Done A Terrible Job This Year
There are good players in place here. But for some reason, things just haven't clicked the way they did in 2017.
I think it starts with coaching. Playcalling has completely lacked creativity on offense, and has been utterly without common sense on defense.
I think Mike Groh has done a lousy job in his first as year as offensive coordinator. Last year, when you look at the 2017 roster, everyone on the offense had a role. Whether it was Alshon Jeffery or Kenjon Barner, almost every skill position player on the roster had some kind of role, some kind of package that they could be deployed in to help this team.
Now? This offense runs exclusively from Carson Wentz to either Alshon or Zach Ertz. Maybe a Nelson Agholor or Jordan Matthews works their way in every now and again, but that's it. It's been frustrating seeing talented guys like Dallas Goedert disappear for weeks at a time. I've been scratching my head all year wondering why a guy like Shelton Gibson makes a great play down the field against the Minnesota Vikings, and then vanishes from the face of the Earth, never to be seen again on an offense that could use a deep threat.
I know the Eagles don't have a lot of talent at the running back position, but Groh's running schemes have looked stale and predictable throughout the year.
And let's not get started on Jim Schwartz. I've never seen a defense routinely give up 3rd and longs and 4th and longs like this unit does. At the end of the second half, when Dallas was faced with a 3rd and 15, I had a sinking feeling that the defense was going to give it up. And sure enough, they found a way. Also, a defense that used to pride itself on stopping the run can't even do that any more, as Ezekial Elliot gashed them for well over 100 yards and multiple scores on the night.
Everyone deserves a share of the blame for the way things have gone this year, but Groh and Schwartz are right at the top of my list at the roots of this team's issues.
Quick Thoughts
Offense
Just 16 rushing attempts to 44 passes on the night. Josh Adams led the team with seven carries for 47 yards, Corey Clement picked up 13 yards on five touches, and Wendell Smallwood was only given the ball twice.
Corey Clement's struggles this year have been particularly confusing. I don't know if he's really hurt or not, but he's a much better player than what he's showed over the last two months.
Quiet debut for Golden Tate, who caught just two balls for 19 yards.
Carson Wentz threw for over 350 yards and had another high quarterback rating, but gave up another brutal turnover early in the game, tossing a bad interception to Leighton Vander-Esche. Wentz's mistake cost the Eagles a valuable opportunity for points; they started the drive in Dallas territory.
Monster game for Zach Ertz, who pulled down 14 passes for 145 yards and two scores.
Defense
Michael Bennett set a great tone at the start of the second half, delivering a crushing blow to Prescott on a sack, that eventually led to a three-and-out.
Bennett finished with two sacks on the night.
Brandon Graham was also in on two sacks, splitting one of them with Chris Long.
Kamu Grugier-Hill dropped an interception deep in Dallas territory that really could have changed the complexion of the game.
This defense has just seven takeaways in nine games. Hard to win games when your defense doesn't make any plays.
The defense was particularly terrible in the second half. They managed just one stop in the second half, forcing a punt on Dallas' opening drive, and couldn't slow them down the rest of the night. Remember when this defense was a shutdown group at home? Good times.
Special Teams
Jake Elliot's 56-yarder was an important kick for him; with the struggles he's had during throughout this season, it was good to see him make a tough kick in a spot where the team really needed the points.
Final Thoughts
It's an extremely difficult road for the Eagles from here on out.
They had such a slim margin for error the rest of the season, and lost a great deal of it tonight. The one thing that this team absolutely had to from here on out was dominate the division games. They let down again tonight.
The patterns in this team's losses have all been the same. The Tennessee game, the Minnesota game, the Carolina game, and now tonight. From all of these games, you really come away with the same bad taste. And that taste tells you that this isn't a good football team.
They blow leads. They can't get stops. They turn the ball over. They don't create turnovers. They can't run the ball. Worst of all? They can't win at home.
Three straight home losses for this group. That's completely unacceptable, and that's a surefire way to take your team out of the playoff picture.
This team has already lost five games. They have an extremely difficult matchup on the road with the Saints next week. They also have a date with the Rams later in the season.
Even in a best-case scenario, it could be difficult for this team to get to 9-7. With the Redskins already sitting with six wins, that's going to make it rough to even win this division.
The season isn't over, but the Eagles have dug themselves one hell of a hole.