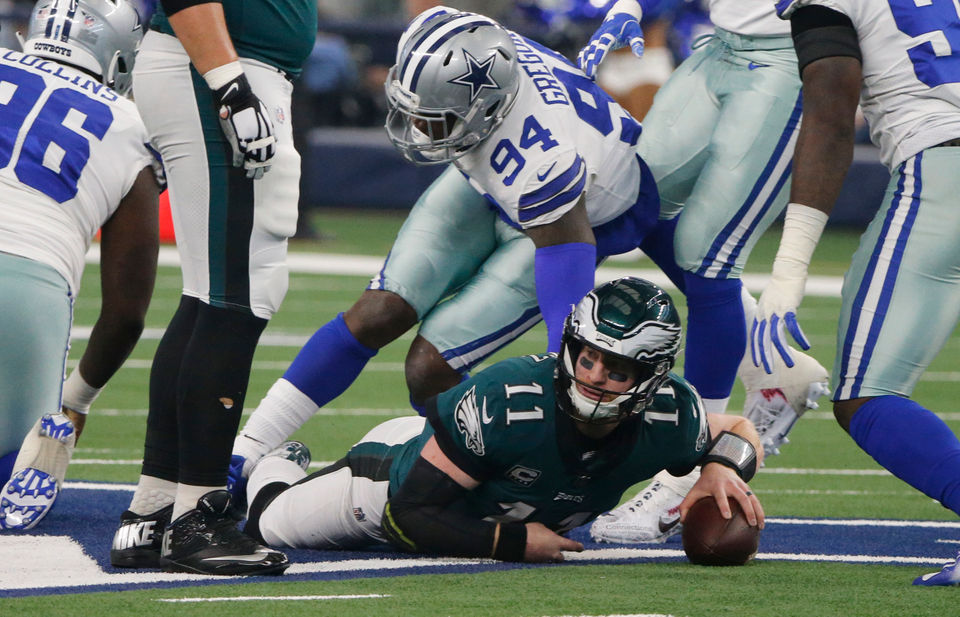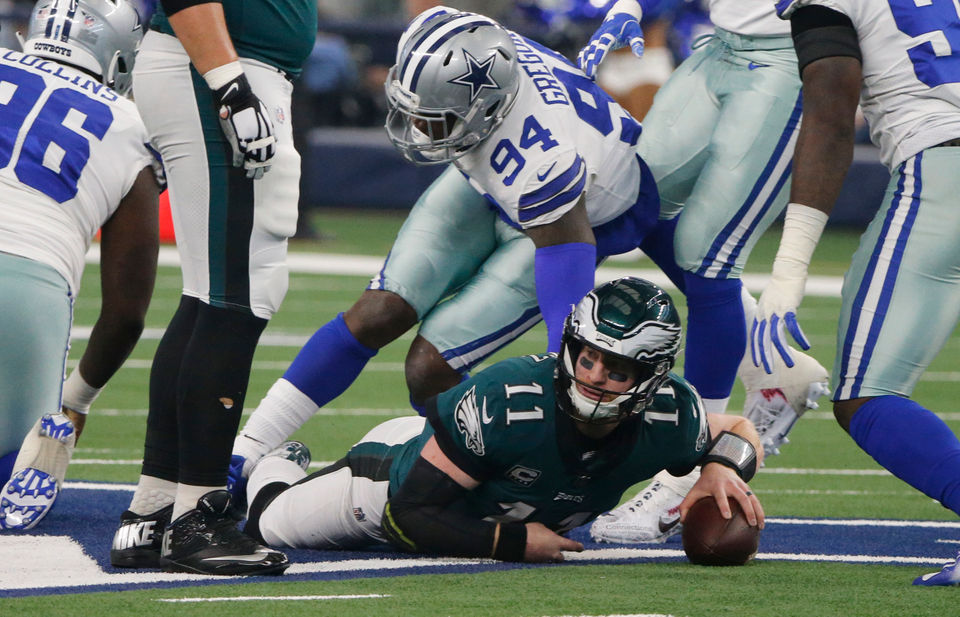 Carson Wentz seems like he's really pressing, especially at the start of these games and it's a cause for concern.  I understand that he's a 'take charge' type of guy, but he desperately needs to let things come to him as he did last year.  There are several reasons why I think he's doing this, and some reasons are direct and some indirect.
"Not having Ertz available is a confidence killer for Wentz and this indirectly causes him to press too much in some parts of the game."
Carson has tremendous trust in Zach Ertz and it's understandable.  Ertz is nearly always open and he consistently catches the football.  But Wentz must gain more confidence in the other receivers and not use Ertz as a crutch.  When the Cowboys took away Ertz by double teaming him and putting Byron Jones on him, Wentz had to start throwing the ball to other receivers.  Let's just say, it took a while for him to make the adjustment.
He's got to push himself and the other receivers to step up their game, that way he will be able to comfortably throw them the football quickly after the snap.  Clearly Dallas Goedert has learned a great deal from Ertz, and he runs the same type of precise routes that gives Wentz the confidence to let go of the football.  Wentz also seemed to be developing this with Golden Tate as well — which is great.  But at this point in the season, these relationships need to be more established.  Not having Ertz available is a confidence killer for Wentz and this indirectly causes him to press too much in some parts of the game.
I think another reason for Carson's struggles is that he wasn't playing last year for the Super Bowl run.   He had to sit on the sidelines watching and he knows that everybody is comparing him to Nick Foles.   They aren't comparing him to the Nick Foles that plays most of the time, but they compare him to the Nick Foles that was playing in that NFC Championship Game and the Nick Foles that showed up in the Super Bowl.  Wentz knows he's being compared to Nick Foles when Foles was at his absolute best.  This may have Wentz doubting himself and losing some confidence as the season slips away.
"The fact is that Wentz didn't take this team to the Super Bowl, but he did put them in position to go.  He's good enough to take them to multiple Super Bowls in the future, but he's got to stop pressing."
What do I mean by pressing?  Lately, Wentz won't give up on a play and throw the ball away, even when he knows it's the thing he should do.  He continues to try to make something out of nothing which inevitably leads to mistakes.   Wentz will impatiently try to takeoff and run too soon without giving his receivers a chance to get open and he's been playing every down as if it's third and long in the first halves of these games.  Luckily, as he gets into the game and he sees that the pressing isn't working, he relaxes and starts playing like we know he can.  But this is not a good formula if the Eagles want to save what is left of the season.
The last area I want to touch on may be the most important.  Wentz has got to work on his fundamentals.  Too many times, he doesn't set his feet and throw the ball properly.   Throwing the football without establishing your balance and things like holding the ball with one hand are just asking for mistakes.   I notice these things happen when he's tense and trying to make a play when there isn't one.
So there you have it, a heavy reliance on one receiver, some discomfort about the Super Bowl last year, trying to do too much on every down and shaky fundamentals.  This is what Wentz has to deal with to take this team to the next level and I think he can do it.