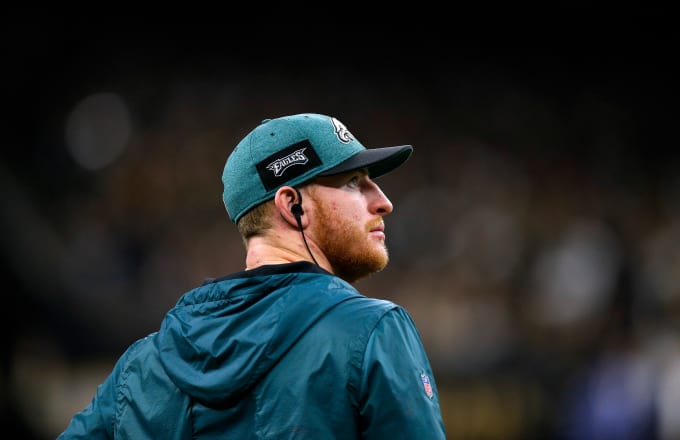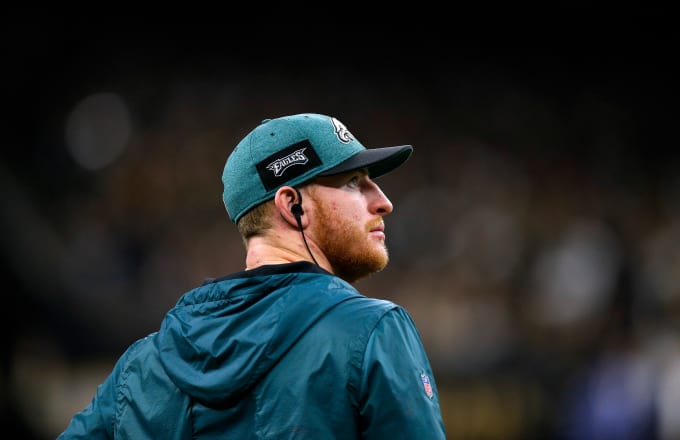 I'm sure you have read or heard about the article titled "Exclusive Sources Inside Eagles Paint Carson Wentz as "selfish", "uncompromising", and "playing favorites", by Joe Santoliquito with quotes from unnamed Eagles teammates criticizing Carson Wentz on PhillyVoice.com.
My perspective of the article is probably very different from most Eagles fans. I know that every NFL team that I've ever played on or ever been around in the nearly 40 years of my involvement with the National Football League, has a group of players that do not like the quarterback.   The quarterback is never loved by the entire team.  Many guys don't like the quarterback because the quarterback gets paid more than everybody.   The quarterback gets more attention than everybody and the quarterback doesn't take as much of a physical beating as most of the other players other than maybe the kicker in the punter.   Most times the kicker in the punter are not loved throughout the team.
It is no big deal.   The best quarterbacks are the most demanding and you know you can utilize that word "selfish" in many different ways.  A lot of times that word "selfish" could also mean driven.   That word "selfish" could be said to be demanding.   That word "selfish" can be translated to mean unrelenting.  The word "selfish" could mean confident.
Franchise quarterbacks want pass routes run exactly like they're supposed to be run.  They demand that their receivers are where they're supposed to be at the right time.  They may run their receivers into the ground because they want to throw those routes again and again during the off season.  They don't want to leave the practice field until they can complete each pass on each route with their eyes closed.
Great quarterbacks think they can make every throw.  They always believe they can take the team on the last second drive to win the game.  They have a play that they believe will work at a certain time.  They have a strong opinion about it.
All of the many of the attributes that these faceless voices have used to depict Wentz are the same qualities that onlookers say about Tom Brady and Aaron Rodgers and all the other great quarterbacks, who have played in the National Football League. The quarterback position requires certain qualities that aren't necessary from every other position on the football team.
The quarterback is like a player/coach.  Many times he is both playing with and coaching his teammates.  He tells his teammates what to do and he tells them what not to do.  He makes more decisions than any other player on the team.  He needs his teammates to believe in him, but they don't have to like him.  They must respect him and believe he can do the job.  I repeat THEY DO NOT HAVE TO LIKE THE QUARTERBACK FOR THE TEAM TO BE SUCCESSFUL.
When somebody runs the wrong route or somebody makes a mistake the quarterback may not show it in front of the stadium crowd or viewers on television, but they're not happy about it and they will let it be known.
I know Wentz is a pusher, who works hard and wants his teammates to work hard.  The fact that Wentz was a pusher on this Eagles team, allowed Nick Foles to be the good guy.  He didn't have to get in a teammate's face and tell him he needed to step up.  The next team Foles plays for will require him to push his teammates more than he had to here with the Eagles because Wentz was here.  The backup quarterback is usually liked by more of his teammates because he doesn't have to be the bad guy.  The starting quarterback has to be the bad guy and chew a guy out on occasion.
Even on Super Bowl winning teams, there's a group of guys on the team that don't like the quarterback because they're not getting the ball enough.   You know the ball can't be carried by every back on every play.   The ball can't be thrown to every receiver on every play.  There are offensive and defensive linemen on every team that don't think they playing as much as they should be or they're not getting the type of respect from the coaches and the media that they deserve.
If a reporter really digs for it, they can get this article about every quarterback that's worth his salt in the history of the National Football League.
Can Carson learn things from what Nick Foles has been able to do the last couple years?  Yes. Yes. Yes.  But that's not a shock to anyone. You know Carson Wentz is not at the level that he's going to be at in the future.  He's still a young quarterback.
I do think that Carson can get better.  He can learn things from Nick Foles.   I think Carson needs to throw the check down to the running backs more often and be willing to start the game taking what the defense gives him.  He needs to not hold onto the ball as much as he has in the past, especially at the beginning of a game.  If you noticed Brady and Drew Brees always are willing to take the check down unless it's third down.  They get the ball out of their hands and it keeps pressure on the defense because they stay out of third and longs, as much as possible.  Wentz needs to make note of that going forward.
Wentz is a worker and the whole thing about him being "selfish" by coming back too early is ridiculous.  Do you want a quarterback that doesn't want to play?  Do you want a quarterback who doesn't think he can come back from an injury sooner rather than later?
You want a fighter and a battler at the quarterback position. Nobody wants a quarterback that's not fighting to come back and compete.  Say what you want about Wentz, but you can't say the guy isn't a fighter and a competitor.  Those are must haves for a franchise quarterback.  He doesn't want to leave any stone unturned when preparing for a game.  That quality is one of most important characteristics of great quarterbacks.
I also understand that Wentz must be willing to follow the direction of coaches, yet he needs to continue to believe in what he sees, meaning he has to believe he can pick the right play and execute it successfully.   Great players are not the easiest guys to coach, so I don't want him to abandon his strong opinions, but he must be willing to be coached.
I truly believe that Carson Wentz has the qualities needed to be a great franchise quarterback, who leads the Eagles to multiple Super Bowls.