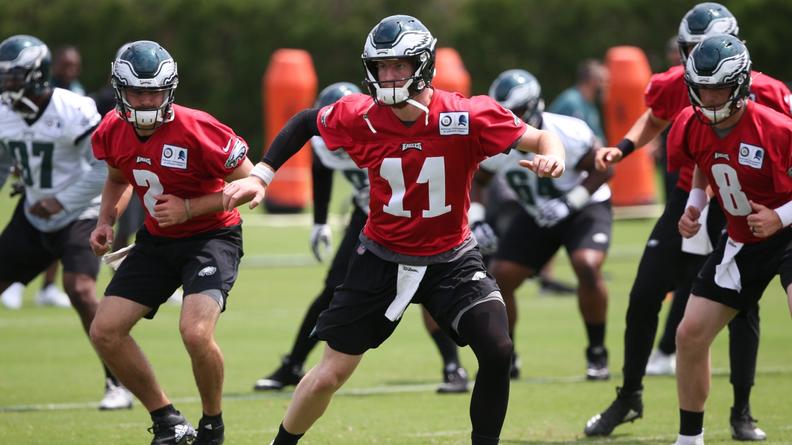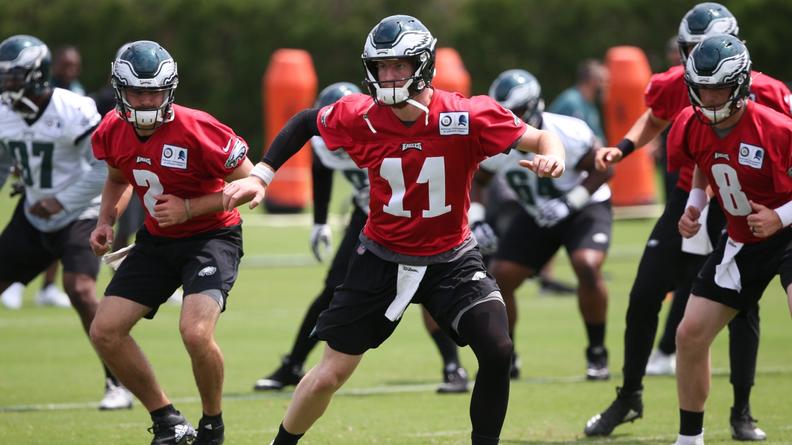 The 2019 Eagles offense has the potential to be the most explosive attack that Doug Pederson has ever coached.   Everything revolves around Eagles quarterback Carson Wentz.  In the 2017 season, Wentz was playing at a MVP level for a 12-2 Eagles team before he suffered an ACL tear vs. the Rams.  Wentz is totally healthy again this spring and he has been reading defenses and back to throwing the ball at that MVP level during the team's recent OTA workouts.
Wentz is throwing the ball with zip on it.  His arm looks strong and his legs look just as fit.  He's moving well and looking like a great young quarterback getting ready for the upcoming season.   Wentz is playing with confidence.  He reads the coverage before he takes the snap and zip, the ball is on its way to the open receiver after the snap of the football.
Opposing defenses have their work cut out for them because Wentz is seasoned.  He knows what to expect and he's ready to make whatever adjustment is needed.
The former North Dakota State star has an awesome array of receivers to throw the ball to this season. The key to a successful year for Wentz will be staying healthy.  He must learn to abandon bad plays when appropriate by either throwing the ball to a running back on a short check down route, throwing the ball away or getting on the ground.  Wentz must also learn to slide when scrambling.
The young fourth year quarterback has one of the league's best deep threats in DeSean Jackson returning to Philly after stints in Washington and Tampa Bay.  Jackson, who led the NFL last year with an average of 18.9 yards per catch, creates the deep ball threat on nearly every play for the Eagles. Safeties must know where he lines up on each time the Birds come to the line of scrimmage, then they must back up, in order to stop him from getting behind them.  He will give the other receivers more room underneath to operate.
I love the way Wentz and Jackson are working together during the workouts.  We have been getting the chance to see Jackson running intermediate routes.  He runs a crossing route with the receivers to the front side fo the play running their defenders off.  You can see Jackson still has those jets, he can still cover ground like lightning.
At the other starting wide receiver positions, Carson will have a big target in Alshon Jeffery and a speedy multi-talented target in Nelson Agholor.  Jeffery, who stands 6'4", has no problem going up in a crowd over the middle and coming down with the football.  He has a huge catch radius and is especially tough to stop on third downs and in the red zone.   Agholor can get open underneath with his quickness and outrun coverage downfield to get free for the deep ball.   Rookie J.J. Arcega-Whiteside is another target Wentz will have at his disposal and he's great at catching the 50/50 ball in the end zone.  He caught 14 touchdown passes last season at Stanford.
Pro Bowl record-setting tight end Zach Ertz and talented second year tight end Dallas Goedert form one of the best tight end combos in the league.   Ertz seems to be open on every play.  He set a NFL record last season of pass catches by a tight end in a season with 116.   This year you can expect Goedert to be much more involved and it will make them nearly impossible to stop.  The Birds will utilize plenty of 12 personnel or two tight end formations with Wentz deciding at the line of scrimmage whether to run or pass the football.  Defenses will be forced to pick their poison. They can watch the Eagles throw the ball to Ertz and Goedert against their linebackers in regular defense or watch the Eagles run the ball behind 6'5" 250 pound Ertz and 6'5" 255 pound Goedert while they are blocking their defensive backs in nickel and dime defenses.
Wentz will be leading a balanced offense because the Birds will have a solid running game with a restocked running back group.  It will likely be led by the tough and physical 225 pound Jordan Howard, who was acquired in a trade with the Bears and he has run for about a 1000 yards in each his three NFL seasons.  He's basically an inside and off tackle running back, who has been doing a good job catching the football during OTA's.
Howard will be sharing time with former Penn State star and 2ndround pick Miles Sanders, who is faster and quicker.  The Eagles will try to give the playmaking Sanders open field opportunities with outside runs, draws and screens.   Right now Boston Scott, who was signed last year by the Eagles off of the New Orleans Saints practice squad, appears to be in the position to be the Birds third down back and punt returner.  He's in position to take over for Darren Sproles, who seems likely to retire and Corey Clement, who hasn't been able to practice.   Howard will be on the field for third down short yardage plays.  Scott has been the best pass receiver of the group and he's quick and adept at running draws, screens and routes downfield.   Clement, Josh Adams and Wendell Smallwood will battle for the fourth running back spot.
Eagles head coach Doug Pederson will have Wentz and their explosive passing offense on the attack at the start of games.  They will try to build a lead, then rely on their defense and running game to put the game away in the fourth quarter.  Don't be surprised if Wentz and the Birds win the NFC East.  Once they do that, they'll be a couple of games away from a Super Bowl appearance.  They have the weapons to win it all again.