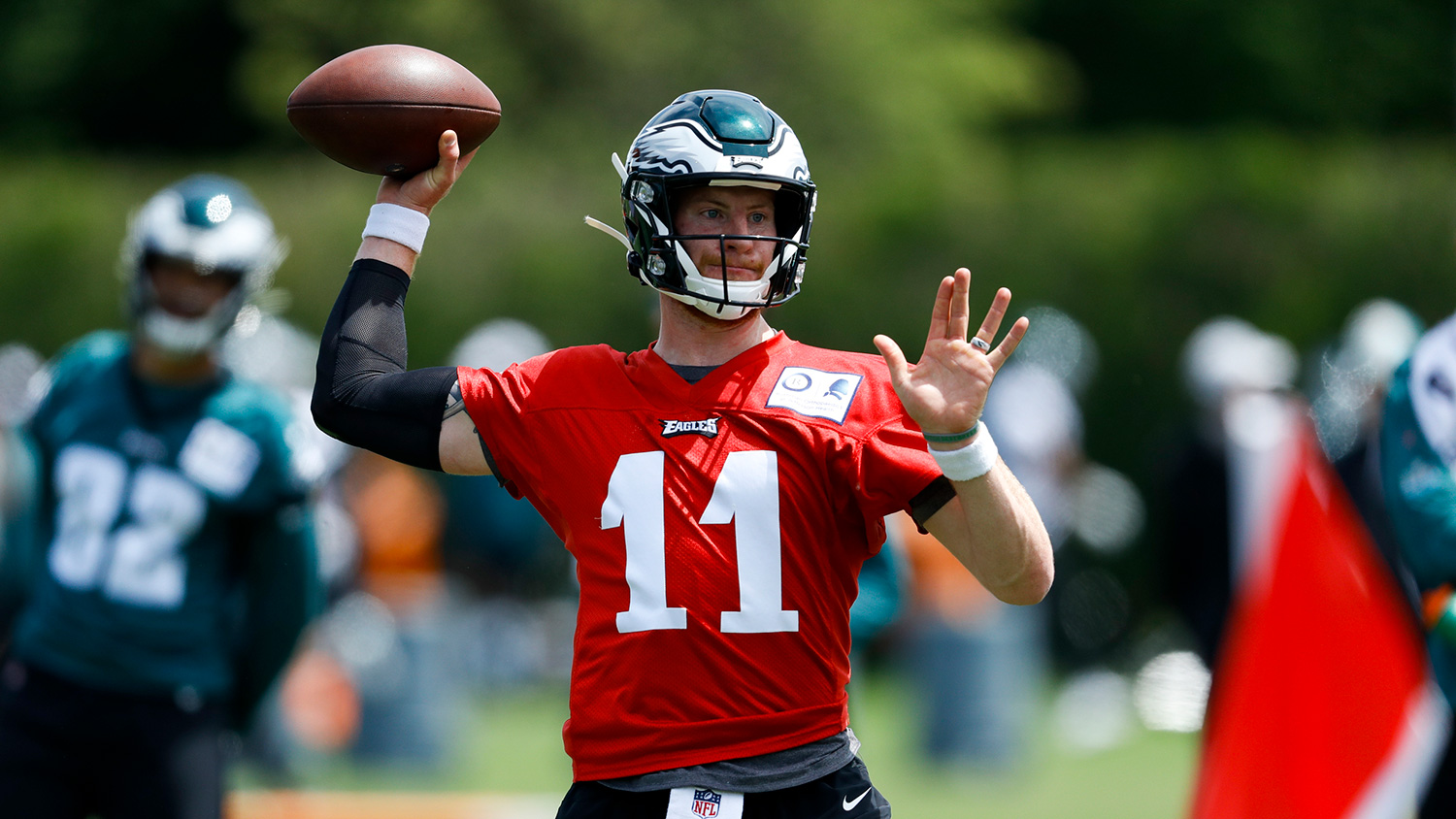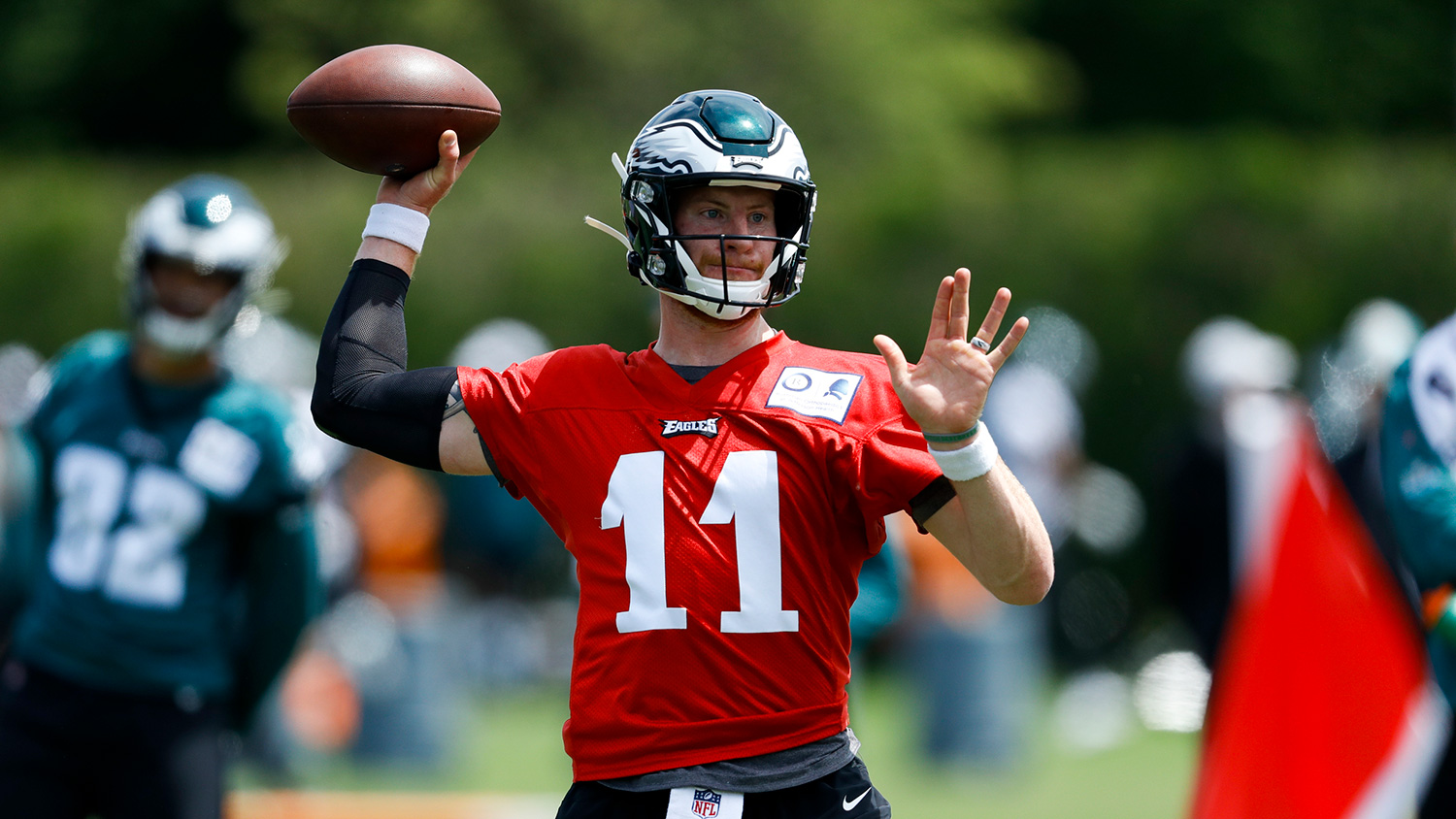 I can tell you right now, this Eagles offense is going to be tough to stop.  They've got an abundance of weapons and Doug Pederson and Carson Wentz are going to be on the attack the time the ball is kicked off.
This squad should at least be going deep in the playoffs based on the level of talent they have and the experience they have in the playoffs.  This is definitely a quality football team because they are strong on both the offensive and defensive lines.   They've got talent throughout the ball club and they've got depth.   Yes, they have depth nearly everywhere.  Unfortunately, it's not like it used to be at the quarterback position.  Nick Foles is gone, so they will have the untested Nate Sudfeld backing up Wentz.
First of all, the Eagles number one quarterback looks great.  Wentz is healthy.  His shoulders, back, core and legs look strong.  He's throwing the ball with plenty of zip on it.  He's coming to the line of scrimmage, reading the defensive alignment and coverages and he's on the attack.  I like the way he's showing patience and letting the big plays develop rather than trying to force them.
This week I've watched big Alshon Jeffery come in and show everybody that he is ready to go, right now. He was getting open and catching everything that came near him.  DeSean Jackson is still blazing fast.  He was getting downfield this week and running the deep ball down.  Nelson Agholor was having a great off season until he strained his hamstring or groin.  He's been sidelined during these mandatory workouts, but he will be ready for training camp.
The Eagles really have some impressive weapons so it's just a matter of time and the big plays are going to happen.  Carson can't try to force those big plays.   He's got to let them happen organically or naturally, that means you take the check down to Jordan Howard, early in the game and at the beginning of drives.  You take the check down to Miles Sanders.   You take the check down to Cory Clement.   You take the seven or eight yards over the middle to tight ends Zach Ertz or to Dallas Goedert. Wentz has been taking these short throws when necessary throughout the OTA's and these mandatory workouts.
The Birds weren't in pads so we didn't get a chance to see the running game, but I can see that Howard is a big physical running back, who can pound teams up the middle and off the corner.  He will get the job done behind their big and physical offensive line.  Sanders missed most of the OTA's and mandatory workouts because of a hamstring strain.  Clement missed all of the workouts as recovered from injury, so it's going to be vital that they get their work in training camp in July.
As for the offensive line, they've had Big V in at right guard in the place of Brandon Brooks.  Other than that future Hall of Famer Jason Peters is at left tackle, Isaac Seumalo is at left guard, All-Pro Jason Kelce at center and Pro Bowler Lane Johnson is at right tackle.  They have depth behind Peters with Vaitai able to play left tackle as well as first round draft pick Andre Dillard.  The youngster has great technique for a rookie and he provides quality depth along with veteran Stefan Wisniewski at center and guard.
Wentz won't have a problem taking these underneath throws because he knows the defense is eventually going to get impatient, as the Eagles offense continues driving the ball against them.    Wentz will continue completing the seven, eight, nine and ten yard pass plays or for that matter the four or five yard pass plays, until the defense is forced to try to take those short throws away.   Eventually the safeties are going to start cheating up to try to take those throws away and boom.  The big plays downfield start opening up and Jackson and Agholor get deep.
I saw it on Wednesday, when the Eagles defense tried to take away Ertz.  Before the defense knew what hit them, Wentz was putting the ball up and Jackson was catching it in stride for a seventy-yard touchdown.  That's what we will see all year long, as long as Wentz is patient and lets the big play come to him.
There will be a temptation to come out guns blazing and force the ball downfield, but Wentz has to take what the defense gives him like Nick Foles did in the Super Bowl year.   The greatest quarterbacks of all time have been patient.  Joe Montana would take the check down to the running back.  Tom Brady will throw the ball to his running backs and tight ends for two or three quarters or an entire game, in order to win.
Again it's just a matter of being patient.  If Carson isn't patient then he could try to force the big play by holding the ball and getting clobbered by pass rushers.  He's got an excellent offensive line in front of him as long as he gets the ball out of his hands. I think this is going to be another big year for the Birds.
Let me add that you're probably going to see more two tight end sets this year than you have seen in the past.  The reason for that is the emergence of Eagles young tight end Dallas Goedert.  He has been very impressive throughout the OTA and mandatory workouts by getting open and catching the football.  Like Ertz, Goedert is in the 6'5″ range and he has a huge catch radius.  Add to that the fact that he showed he's an outstanding run blocker, the two tight end sets are nearly impossible for a defense to matchup against.  If you play regular defense with you linebackers in there, Wentz is going to check to pass plays and Ertz and Goedert are going to burn the linebackers all day long.  If you go nickel or dime defense, the 250 pound Ertz and Goedert are going to easily block your defensive backs on running plays.
The size factor is also going to be utilized in the red zone.  The Eagles offense is the red zone are going to have a serious height advantage with Ertz, Goedert and Jeffery, along with rookie J.J. Arcega-Whiteside, who is 6'2″ and great leaping into the air and catching the ball at its highest point.