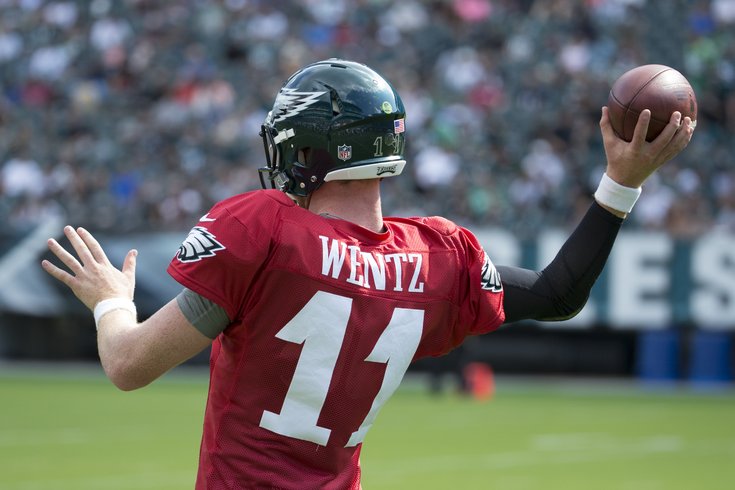 The Wentz trade speculation has quickly gone from if to when will he be gone. The former number 2 overall pick in 2016, has gone from prized franchise QB to despised castaway that reportedly is a brat. No matter where you fall on the spectrum of Wentz support, or lack of support, it is time to realize that a trade is highly likely and we as a fan base should be prepared to no longer see Wentz in an Eagles uniform. 
DIfficulties with trading Wentz
The biggest issue that comes with trading Wentz, is not trying to find a franchise QB replacement, but biting the largest cap hit bullet in NFL history. The Eagles just signed Wentz to a 4 year $128 million dollar extension. Moving Wentz, barring any restructure of his contract, would cost the Eagles in the neighborhood of $60 million dollars. Meaning the Eagles would be paying Wentz $60 million dollars to play for another team. The Eagles aren't in win now mode and are already in cap purgatory for the upcoming season. Going in tank mode for a season and biting the bullet would only make sense if they're planning to accept that reality. This team is in dire need of talent outside of just a QB, so accumulating extra picks from a Wentz trade to replenish would help drastically. In 2023 the Eagles are projected to have roughly $86 million in cap space. Should they move Wentz and his $20 million in salary, with another QB in here, possibly in his third or fourth year (don't be surprised if they take a QB this draft at #6), the Eagles could be in a position similar to 2017 where they can sign solid veterans and contributors on 1 year deals. 
What would a Wentz deal look like?
Before we figure out what teams would be interested in the QB, what are the Eagles looking for in return. In every negotiation you ask for more than what the player is worth and hope to find some common ground and meet in the middle. The Eagles were very fortunate that the Lions were able to move Matthew Stafford for 2 future firsts, a 2021 third, and Jared Goff. Stafford is older than Wentz and despite Wentz' lengthy injury history, Stafford's is even longer. However Stafford has consistently played at an elite level despite the lack of team success and talent around him in Detroit. 
Reports are the Eagles are looking for multiple first round picks, and possibly a player in return. The Eagles getting a QB in return wouldn't be a surprise but something I'd say is unlikely due to their cap situation. There are so many QB's rumored to be on the move this off-season, a Lions-Rams type deal with the Eagles just became increasingly likely. 
If Wentz is moved, a return package of a 2021 first, a future first, and a mid round selection next year is what I expect. 
Wentz is younger and was nearly league MVP in 2017. Is that enough for the Eagles to top the return the Lions got for Stafford? With the large amount of QB that could be on the move I could
Possible suitors for Wentz
Like I said, there are multiple QB's that could be on the move this off-season. Watson, Wentz, Darnold just to name a few. With Trevor Lawrence almost a lock to go number one overall in the draft to Jacksonville, the rest of the teams hoping to draft a stud might resort to solving their QB issues before the draft. 
Indianapolis Colts
This is the most rumored, and honestly the most logical destination for Wentz. Wentz has an excellent working relationship with Colts Head Coach Frank Reich, stemming from when Reich was the OC here in Philly when the Eagles went to the Super Bowl and Wentz had his MVP season. The Colts QB Phillip Rivers announced his retirement after the season, so the Colts are in need of another signal caller. 
The Colts pick 21st this year which could help the Eagles bolster both their defense and offense twice in the first round. The Colts do have leverage against such a trade. They know Wentz might really prefer to play in Indianapolis and thus would be stingy in their return for him. The Colts have roughly $75 million in cap space and could target other QB's on the market if the Eagles don't change their asking price. 
Chicago Bears
Reports surfaced last weekend that the Eagles and Bears had discussions about Carson Wentz. Natalie Egenolf of 97.5 the Fanatic reported that a potential deal of Wentz to the Bears for 1 first round pick, RB Tarik Cohen, and QB Nick Foles was on the table. Yes, Nick Foles. At first this was a head scratcher and didn't really seem to make sense. However  bringing Foles in as a mentor, could help either Hurts or whoever the QB is going forward. Cohen is a RB coming off an ACL injury and would be a great number two back next to Miles Sanders. In Nick Sirianni's offense he could be utilized like Jordan Wilkins was for the Colts. 
The Bears pick 20th in the upcoming draft and like the Colts pick, would give the Eagles another player in the first round to help complete the rebuild. The Bears ended the season with Mitch Trubinsky as their QB. Although he played well, the Bears didn't exercise his 5th year option for Trubinsky will be a RFA. 
Houston Texans
This is one of the least likely destinations or trade partners for Wentz, but the Houston Texans are in a similar boat with their franchise QB Deshaun Watson. One year removed from trading All-Pro WR DeAndre Hopkins, the Texans began to spiral out of control. They started 0-5, fired GM/HC Bill O'Brien, told Watson they'd involve him in Head Coaching interviews, then didn't. All of this had led to Watson demanding a trade from  Houston. 
Money aside, the Eagles would be cleaning up nicely if they were able to flip Watson for Wentz. Both players however have leverage in their respective situations and could refuse a trade to either city. Watson just signed a 4 year $156mil extension, Wentz is entering his second season on his 4 year $128 million dollar extension. Both teams would take large cap hits and PR hits for their treatment of their once franchise QB's, but neither team is set up to win in 2021 so taking a step back wouldn't be hurting them in 2021.
What would this trade look like? Texans would get Wentz and some draft picks. The Texans have asked for 2 high profile players, and 3 first round picks. In my opinion that is not going to happen with the amount of QB available around the league and the QB draft class this year. The Eagles, taking the bigger of the cap hits, would most likely be reluctant to give up multiple picks in the draft. 
Also something to keep in mind, the Texans do not have a first or second round pick this year, meaning the Eagles wouldn't be getting any immediate draft capital for the now. However getting a proven QB like Watson in exchange for Wentz should be considered a win in itself. One potentially big hurdle is Watson's no trade clause. He can control where he goes and there is no telling if he truly wants to be in Philadelphia. 
*Reports are Watson favors San Francisco and Denver*
New York Jets
The Jets could be the sleeper team in the Wentz sweepstakes. They own both the 2nd and 23rd picks in the draft, have the third most cap space available, and their GM Joe Douglas knows Carson Wentz. The Jets first have to make a decision on their young QB Sam Darnold. Darnold is entering his fourth year on his rookie contract. The only way the Jets pull the trigger is if they feel they can compete sooner for the AFC East. 
With having about $75million in cap space, the Jets wouldn't have to do any necessary cap movement to acquire Wentz and could still keep some of their valuable draft capital. Should they pursue Wentz, the Eagles most likely would do what they could to keep pick 6 and acquire 2 and/or 23. For Eagles fans this would be an incredible turn of events after drafting Wentz second overall in 2016, trading him 5 seasons later for the second overall pick.
If the Eagles were to send Wentz up 295 to East Rutherford, the big prize or goal would be obtaining the 2nd overall pick and using 2 and 6 to get two dynamic players to help start the rebuild. In a perfect world, the Eagles get the 2nd and 23rd overall picks in the first round. The Jets should, and most likely would, scoff at that request but the potential of having 3 first round picks is what the Eagles should be looking for. 
Carolina Panthers
A year into the Matt Rhule regime and the Carolina Panthers are sitting at a cross roads. They could take the slow rebuild approach and run it back with Teddy Bridgewater as their QB, maybe draft a replacement, but reports show they won't at least kick the tires on who is available. When the Lions made Matthew Stafford, per ESPN's Adam Schefter, the Panthers offered their first overall pick (8th overall), a fifth round pick, and Teddy Bridgewater. The Lions declined and eventually took a huge offer from the Rams. The Panthers have two dynamic offensive weapons in Christian McCaffery and DJ Moore, but they just need a QB to consistently get them the ball. 
Now would Carolina offer the same package to Philly as they did Detroit? Stafford is 33 compared to Wentz being only 28. Going into the off-season the Panthers would never have crossed my mind as a potential suitor for Wentz or to participate in the potential QB shuffling going on around the league. Like the Jets, getting another top 10 pick in this draft would be huge, especially with the talent that will be there at pick 8. 
Washington Football Team 
Trading Wentz within our division could theoretically backfire badly if he regains his MVP form. However if you're the Eagles, by trading him, you're assuming he won't return to that form. The Eagles did trade McNabb to Washington years back, but Donovan wasn't in his prime or three seasons removed from an MVP season. 
Washington picks 19th and also has some solid young talent, especially on the defensive line. Getting a package of the 19th overall pick and maybe a defensive impact player could help ease the Eagles minds in sending Wentz inside their division. 
Dallas Cowboys
Yes the Dallas Cowboys are an option. Dak Prescott isn't under contract, however he could be franchise tagged again, but the Cowboys seem to be hesitant to pay him top dollar. The Cowboys pick 10th this year and the chances of having one of the top 4 QB fall to them is slim. The same goes for Dallas in regards to the Eagles moving Wentz in the division, it shouldn't prevent a deal with them. 
Dallas pretty much has talent at every level, they just can't seem to figure it out. A deal would almost definitely focus around the 10th pick and a player. LB Jaylon Smith has fallen out of favor with Dallas however his talent may keep him around. Should he become available the Eagles should take a look. 
*There is a slim slim chance the Eagles and Cowboys do a Dak for Wentz swap. The Eagles would essentially be on the hook for a $40mil/yr extension with Prescott and they're already struggling cap wise. A trade would most likely signal Dak playing elsewhere.*
Denver Broncos
Denver will be a dark horse in all this. John Elway has been in search of a Franchise QB for years ever since Peyton Manning retired. The Broncos drafted Drew Lock a year ago but he hasn't really shown much in terms of carrying a franchise. Going after Wentz could give the Broncos stability at the position for the future.
Denver, like most teams in this article, has a top 10 pick and would be an immediate help to the birds. The Broncos also have some players that could entice the Eagles. WR Courtland Sutton, TE Noah Fant, DE/LB Bradley Chubb are some who could be acquired in a potential deal. 
Where do we stand?
Of course there could be teams not listed here that could make a surprising move to acquire Wentz. I do expect Wentz to be moved in the near future. There is no true deadline for trading Wentz but on the third day of the league year (March 20th), his salary becomes fully guaranteed. The Eagles aren't the only team that is shopping a QB either. There are upwards to 18 QB's that could be on the move either FA wise or trade wise. Some high profile names such as Deshaun Watson, Aaron Rodgers, Dak Prescott, Jimmy Garoppolo, Jameis Winston, and Russell Wilson who has become unhappy with Seattle, all could be in a different city next season. The Eagles are going to hold out for the best, most lucrative offer, but they need to make sure they don't wait too long as Wentz isn't the best one available.