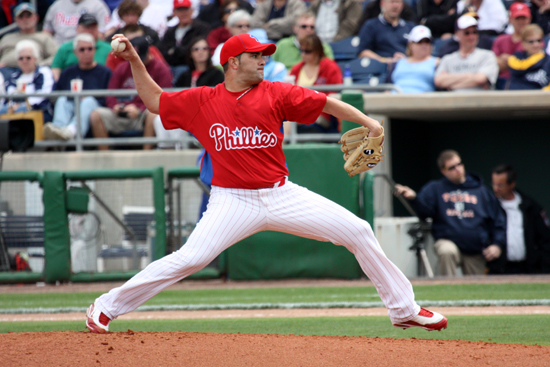 With Spring Training underway, the Phillies have begun taking the first steps towards determining who will be on their 25 man Opening Day roster. The Phillies regular batting lineup and pitching rotation takes up 13 roster spots. In the bullpen, Brad Lidge, Ryan Madson, Jose Contreras, J.C. Romero, and Kyle Kendrick are all either locks to make the team, or are highly likely to make to the team. As for the bench, Ross Gload, Wilson Valdez, and Brian Schneider are the only players who are locks to be on the Opening Day roster. That leaves four roster spots open for the remaining hopefuls.
Among the candidates for these remaining four spots are Domonic Brown, John Mayberry, Delwyn Young, Pete Orr, Antonio Bastardo, Danys Baez, David Herndon, Vance Worley, and Dan Meyer. Here's a look at each of these players and what their chances of making the roster might be.
Domonic Brown: Brown needs to prove that he can consistently hit major league pitching. Brown's swing was too long last season, and it contributed to his struggles hitting breaking pitches. So far Brown is 0-9 in Spring Training, striking out six times. It's still early, but if Brown can't get things turned around, the Phillies will likely send him to AAA until he properly refines his game and is ready to contribute.
John Mayberry: This is Mayberry's last chance to break through into the major leagues. At age 27, Mayberry can no longer be considered a developing prospect. He has power, and he could become a valuable right handed bat off of the bench, but similar to Brown, Mayberry must prove that he can hit breaking pitches. If Mayberry hasn't fixed his issues by now, its hard to imagine them getting fixed at all.
Delwyn Young: Young isn't anything special, but he could earn a roster spot as a 4th outfielder until the Phillies decide that Domonic
Brown is ready to be in the majors. Young's best season came in 2009 with the Pirates, he hit .266 with 7 homeruns and 43 RBIs. Young also has value as a switch hitter, and can also play in the infield if needed. His experience in the big leagues also helps his case.
Pete Orr: Like Young, Orr has some major league experience, spending time with the Braves and Nationals. A ultility infielder, Orr's best season came in 2005, he hit .300 for the Braves. Orr's best chance to make the roster is if Chase Utley's injury situation doesn't improve, the Phillies may want to keep him around as insurance if he has an impressive Spring.
Antonio Bastardo: The Phillies are in need of another left handed reliever out of the bullpen, and right now Bastardo would likely win that spot by default. Bastardo has a good, mid-90s fastball, but struggles with his control. He had an opportunity to shine last
season with the Phillies desperate for left handed relief, but didn't take advantage of it. Bastardo hasn't been anything more then a fringe reliever, but he has a good chance of earning a bullpen spot because the Phillies have no better alternative.
Danys Baez: Baez was a major disappointment after signing a two year contract with the Phillies a year ago. He struggled throughout the season, quickly fell out of favor, and finished the season with an era above 5.48, and was left off of the playoff roster. Baez is not off to a good start again, giving up five runs on five hits in just two thirds of an inning in his spring debut. Baez is only in camp because of his contract, but if he shows that he can't contribute, the Phillies will likely eat his contract and give his roster spot to someone who can.
David Herndon: Herndon was on the Phillies pitching staff for the entire 2010 season, but was mainly used in a mop up role. The Phillies thought enough of the former Rule 5 pick that they feared losing him by attempting to send him down and risk the Angels
taking him back. However, Herndon didn't belong in the major leagues last year, and will likely find himself in AAA this year.
Vance Worley: Worley made several impressive appearances for the Phillies last season, and before the team signed Cliff Lee, it seemed as though he and Kyle Kendrick would be battling for the 5th starter spot this spring. The Phillies could use some additional help in the bullpen, and Worley is a candidate if he has an impressive spring.
Dan Meyer: Meyer is a left handed reliever who in 2009 was the primary left handed relief option for the Florida Marlins, posting an era of 3.09. Meyer has since had issues with his mechanics, and spent all of 2010 in the minor leagues. If he could recapture his 2009 form, he could push Antonio Bastardo for a bullpen spot.