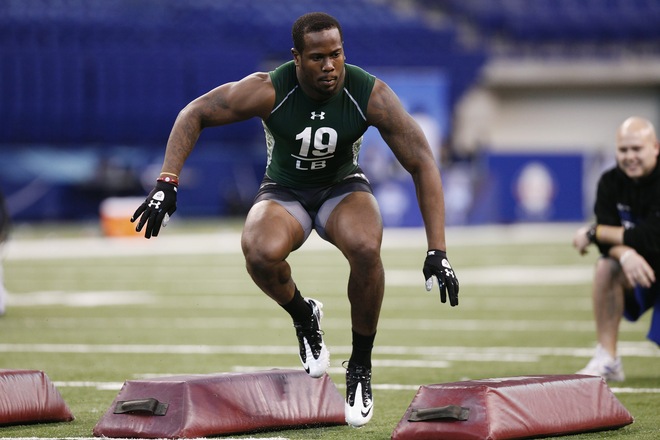 Although the Eagles aren't shouting it from the rooftops, they know they need help at the linebacker position, so I expect them to grab a linebacker in the middle rounds. They need to get more defensive playmakers on the field. The Birds linebackers don't make nearly enough plays.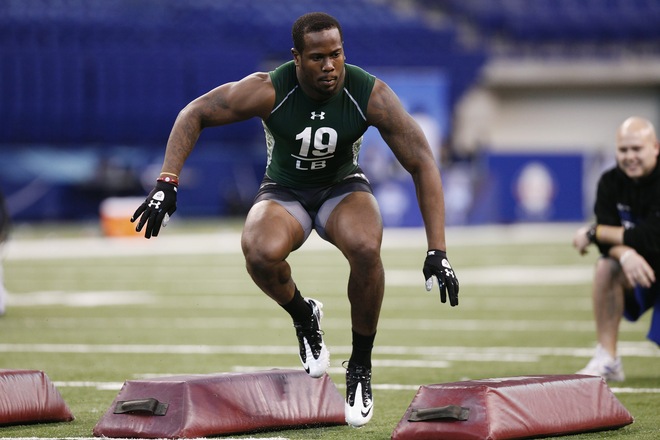 Von Miller is the best linebacker in the country, who turned out the Senior Bowl and didn't disappoint yesterday at the NFL Combine.
He ran a 4.53 in the forty-yard dash. He leaped 37 inches in the vertical jump. Miller pushed up 225 lbs. 21 times.
Yes, Miller tested very well, but he's even better when they put on the pads. He comes around the corner with the quickness and is one of those Dwight Freeney-type low to the ground the pass rushers. This young man will be very difficult for the big offensive tackles to deal with.
He's likely to go in the first four or five picks. This young man is a difference maker. Offenses will have to immediately find out where he's at before they run a play.
Akeem Ayers from UCLA tested well yesterday. He ran 4.88 in the forty yard dash at 254 pounds. He leaped 31 inches in the vertical jump. Bench pressed 225 pounds 18 times and had a broad jump of 9'8″.
He's got some explosiveness coming around the corner and he belongs in a 3-4 defense. I like the way he gets to the football.
Middle linebacker Martez Wilson of Illinois who is 6'4″ and 250 pounds stood out yesterday at the NFL Combine. He showed that not only does he have great size, but he also has the speed to be a big play guy in the NFL.
Wilson ran the forty in a blazing 4.49. He had a 36″ vertical jump and threw up the 225 on the bench press, 25 times. I think this young man has tremendous potential. He would likely be drafted in the second round because he tested so well at the combine, but he must play lower. Wilson starts out too high in his stance to attack blockers with explosion and get them off of him.
I do like his speed and quickness but I don't like his instincts and I want him to learn to use his butt and legs when tackling. Take a look at this footage of the young man.
Colin McCarthy did a good job yesterday and should be available in the third or fourth round for somebody. He ran a 4.65 in the forty-yard dash. McCarthy jumped 36.5 in the vertical jump. He bench pressed 225 23 times.
I don't see greatness when I look at his tape but hes a solid football player who will come in and be a contributor.
Justin Houston tested well yesterday. He ran a 4.68 in the forty-yard dash. His vertical jump was 36.5. Houston bench pressed 225 lbs. 30 times which is expected at 270 lbs.
This young man gets off the ball like a jet. He knows how to lower his shoulder and get pressure on the passer. Houston is the classic pass rushing defensive end in the 4-3 or the pass rushing outside linebacker in the 3-4. He's definitely going to help somebody wiiht their pass rush. Check him out: