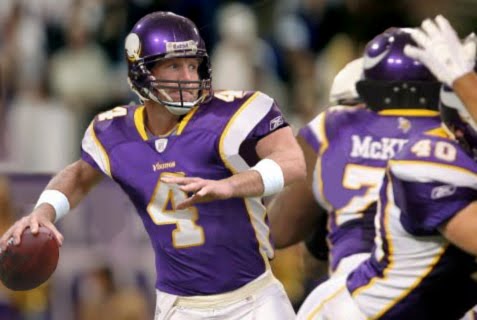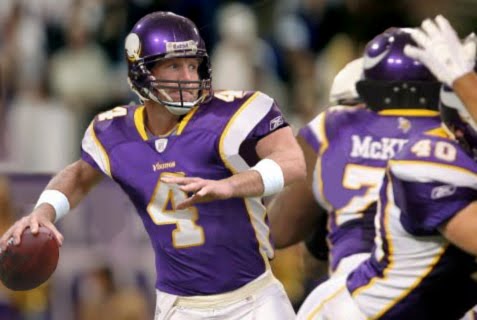 I was running errands yesterday afternoon when I heard Anthony "Cuz" Gargano talking about the posibility of Brett Favre coming to Philadelphia to backup Michael Vick. He was sharing his thinking with his co-host Glenn Macnow on the 610-WIP afternoon show. It made sense, in fact it made plenty of sense to all involved.
The word coming out of Mississippi is that the longing for football is still with Favre, but his body isn't prepared to play a full season. There aren't any teams who are interested in bringing him in as a starter, but he could be an outstanding backup.
His arm is healthy and knows the west coast offense like the back of his hands. Favre has the experience and talent to make the plays with the pressure on in big games in place of a starting quarterback.
Favre has got a long and close relationship with Andy Reid, so it would make a lot of sense for Reid to jump on the phone once they get a deal done to trade Kevin Kolb. Truth is Reid should get on the phone now before he trades Kolb.
This won't be a threat to Michael Vick. The Eagles starting quarterback saw the way Favre finished last year and he knows his body is beaten up, so Vick wouldn't be threatened by a Pre-Historic quarterback like number 4 backing him up.
The Eagles want to win a Super Bowl and they know that Vick is in jeopardy of getting hurt because of his daredevil style of play. If they make the kind of splash I believe they will in free agency on the defensive side of the ball, it will be Super Bowl or bust for the Birds. They won't want to hand this Rolls Royce over to a young inexperienced Mike Kafka if Vick were to go down.
With DeSean Jackson, Jeremy Maclin, Brent Celek, LeSean McCoy, Jason Avant and others, Favre would give this team a chance to reach its goal even if Vick were to go down. He would be able to sit and rest the entire season and get his body healthy enough for a stretch run if they needed him.
On top of all the football reasons, do you think the Eagles would mind signing Favre, turning the sports world upside down and stealing some attention from the Phillies?
Think about it, it makes a lot of sense.