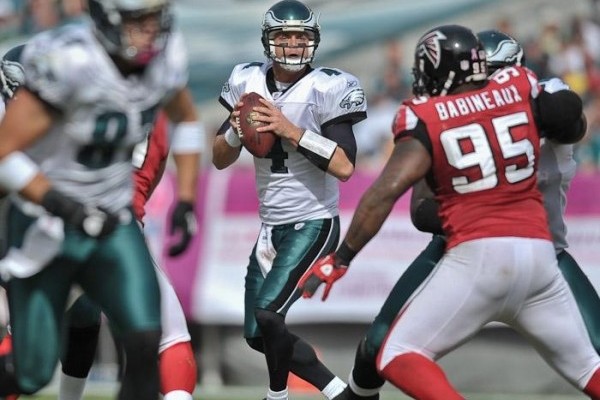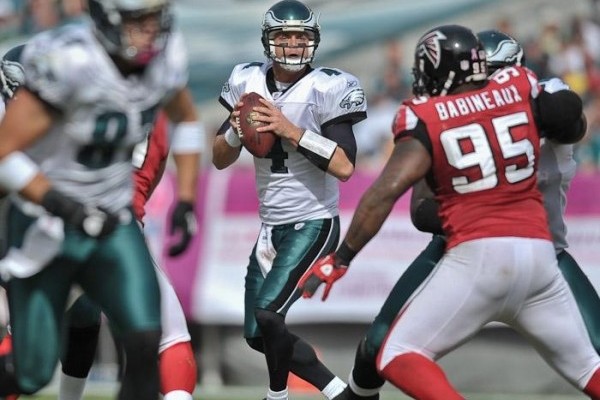 The Arizona Cardinals aren't totally convinced that Kevin Kolb is a franchise quarterback, but they loved what they saw in some of Kolb's videos. The Cards are sure that their Pro Bowl wide receiver Larry Fitzgerald will take a walk if they don't get a quarterback who can get the ball to him.
They continue to watch videos of last year's Atlanta game and marvel at the way Kolb played. He was nearly perfect in that game and was awarded the NFC Offensive Player of the Week for his efforts.
I have written in the past about an NFL source who is close to the Cardinals and told me how they were thrilled about the way Kolb led the Eagles to a win over Arizona's division rival San Francisco 49ers. The source told me that Kurt Warner had to dragged into the Niners games because they punished him. Kolb stood in there against the pressure, battled San Francisco and came out of it with a victory
The more the Cards study Kolb, the more they're sold on him even though they continue to admit the fact that they aren't sure that he's the answer. They saw Kolb panicking in the pocket when he was pressured by the Packers.
The Cardinals have also thought about the Eagles trading A.J. Feeley to the Dolphins and Donovan McNabb to the Redskins. Neither trade worked out well for the team dealing with the Eagles.
From what I have garnered, Arizona is willing to give up talented young Pro Bowl caliber cornerback Dominique Rodgers-Cromartie for Kolb. That trade would satisfy the Eagles needs at the right cornerback position, but I wouldn't be surprised if the Eagles try to squeeze the Cardinals for more because the Birds know that they're desperate.
Now reports and rumors have the Seattle Seahawks upping the ante and being willing to offer the Eagles a first round and a third round pick for Kolb. I don't take that rumor seriously but I do think the Seahawks could aggressively pursue Kolb. There's no telling where they rumor is coming from, but believe me with the lockout appearing to be nearing its end, Kolb's stock is soaring.
If the Eagles could get the Cardinals and the Seahawks in a bidding war they might be able to get a great deal. Both teams know that if they don't get Kolb, the other team they'll likely be battling for the division title will have him.
How much could the Eagles squeeze out of these teams if they patiently get them in place doing battle against each other. It would be a great move which might allow them to get more in the deal than they ever dreamed.