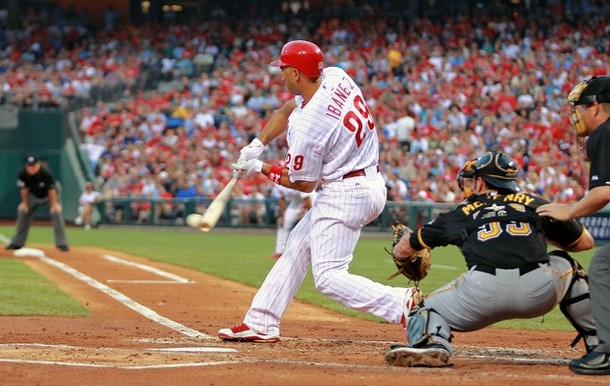 The Phillies are one of baseball's best teams since the All-Star break, much thanks to Raul Ibanez. His timely hitting has been key during Philadelphia's quick start to the second half. He is batting .289 with runners in scoring position and has 41 RBIs when the club is within two runs of their opponents this season.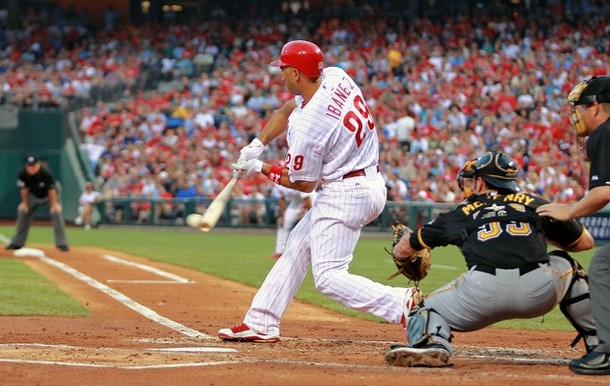 "Nice Going" as the outfielder is referred to by Phil's assistant coach, Pete Mackanin, has been living up to his nickname. Lately, the red-hot left fielder has been crucial in the middle of the Philly's lineup. In the past week he has reached base 11 times with five extra-base-hits. Ibanez has also provided some pop for Philadelphia with nine RBIs and a .692 slugger percentage through the last seven games.
His stint also includes a three-hit game, where the slugger went deep twice and hit a walkoff double.
Although coming off one of his worst seasons, the New York native is on pace to hit over 25 homeruns this season. Nobody is doubting that when hot, Ibanez can bring huge production to the Phils, but how long can the aging star stay hot?
According to history not too much longer. Although significantly increasing his long-ball total, the former Mariner's consistency has been off. After starting the season ice cold with only 14 hits in all of April, the 39-year-old batted .315 with seven home runs in May. Ironically enough the same trend took place from June to July. Once again, Ibanez was a mere distraction at the plate, going hitless in
just under half of June's schedule. Then July came around and the slugger was hot as ever.
This tendency dates back to last season, when the lefty was slumping every other month. Some people argue that Hunter Pence's presence can help the hitter stay hot, but I'm not sold on that. With Pence batting fifth, Charlie Manuel moved Ibanez down to sixth. This will result in him seeing much more hittable pitches, but the slugger's consistency is still in question.
I know how big of an impact the former Astro has on the Phillies lineup, but throughout his career, the Phil's left fielder has been very
streaky and I don't know if Pence is enough to fix that. Let's not forget, Ibanez batted sixth when Jayson Werth wore a P on his hat and "Nice Going" was very inconsistent.
If he can keep up his production, the Phils are a shoe-in for the World Series, but my gut as well as Ibanez's past have me convinced he won't be able to stay hot for much longer. By the time Manuel's club returns from their current road trip, I wouldn't be surprised to see the outfielder knee-deep in another slump. History makes me believe that he will not be able to keep up production in August, but if the trend continues, expect an amazing September out of Philly's streaky star.