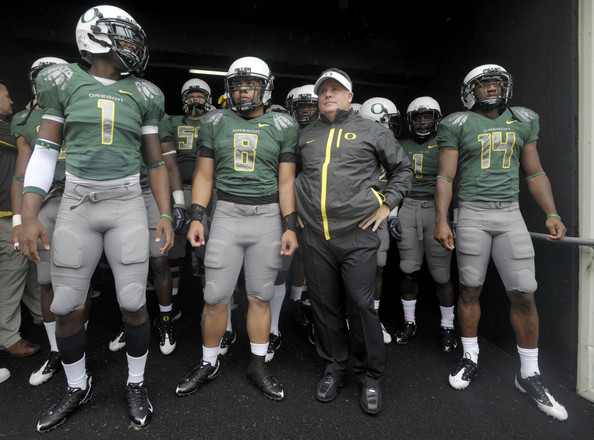 The best national game of the first week of the collegiate football season pits two teams with National Championship hopes against one another. The third-ranked Oregon Ducks versus the fourth-ranked LSU Tigers play in . Neither team will be at full-strength due to suspensions of key players.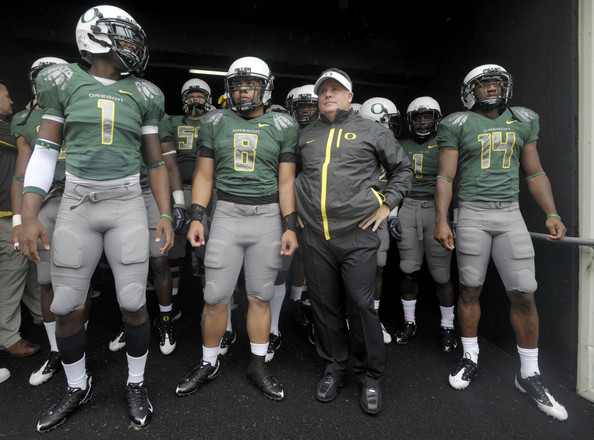 When asked about the importance of this game, Oregon quarterback Darron Thomas gave a surprising answer. "It helps a little bit because it's really not the same game," Thomas said. "It's a different game, a way bigger game to me, bigger than the national championship game." I guess that's a wise way to look at being that the National Championship Game has already been played.
Here's a look at how I see the big game playing out.
Oregon vs. LSU –
Jefferson Doesn't Matter
A parking lot brawl outside of a bar in Louisiana cost LSU their starting quarterback for the most anticipated game of this opening weekend in college football. For fans of most teams, such news would be devastating. For LSU fans, other than the embarrassment to the university, starting QB Jordan Jefferson. Look at his stat line from last year – zero 300 yard games, one 200-yard game and a bunch of sub 100-yard clunkers. Not quite the resume of a BCS conference starting QB, let alone an indispensable player. Going 11-2 with that type of production shows that LSU can be successful regardless of its starting QB situation. Further, the offense may end up being more productive, as Saturday's starter Jarrett Lee is recognized as a more skilled passer than the suspended Jefferson. That tidbit leads me to the other notable suspension in this matchup.
Harris Does Matter (A lot)
"We smoked it all" was the punch line answer delivered by Oregon cornerback Cliff Harris to a police officer who had pulled over his
marijuana marinated vehicle. Harris was driving over 110 mph in a car that reeked of weed, prompting the officer to ask "Who's got the marijuana?" Harris wasn't alone in the vehicle because starting quarterback Darron Thomas was riding shotgun in the vehicle.
The result was a suspension for Harris, an All-American candidate at cornerback and at punt returner. Oregon will need two players to pick up the slack for Harris – Redshirt freshman cornerback Terrance Mitchell and sophomore speedster wide receiver Josh Huff. Mitchell, who will be playing in his first college game, will be called on to help contain a formidable LSU wide receiver corps, which should have some added value with Jarrett Lee at the helm. Huff, if he can shake off his pre-season injuries, could provide a special teams spark for the Ducks, albeit on kickoffs rather than punts.
Outlook
I see a rather low scoring game (for Oregon's standards) with the difference being whether Oregon can spring enough big plays versus what figures to be a very stingy LSU defense. Despite the likelihood of increased production from LSU's pass offense and new starters at DT for LSU, I think that LSU's pass offense is still not conducive to scoring a lot of points and LSU's new DTs will be more than a handful for Oregon's fresh faces on their offensive line.
Names you don't know now but will know by the end of the game:
LSU – Anthony Johnson (DT): His nickname, "The Freak" is well deserved; Odell Beckham, Jr. (WR): Flashy freshman who has dazzled during camp; Tyrann Mathieu (CB): The talented sophomore fills in for last year's stud, Patrick Peterson.
Oregon – DeAnthony Thomas (RB): The "Black Mamba" will add even more speed to Oregon's backfield; Ricky Heimuli (DT): The 320 lb sophomore figures to have a breakout year, and has been compared for fellow Duck and NFL star Haloti Ngata.
Other games on the slate:
South Florida @ Notre Dame: This game should give us a clue as to whether Notre Dame is BCS worthy.
Villanova @ Temple: How will Bernard Pierce fair in his first game since a season ending injury at Penn State?
Indiana State @ Penn State: Will this tune up allow Penn State to settle its QB situation before Alabama comes to Happy Valley on September 10? Both Matt McGloin and Rob Bolden will benefit from RB Silas Redd and key returning veterans on the offensive line.
North Carolina Central @ Rutgers: Doses of WRs Mohamed Sanu and Mark Harrison should turn this Thursday game into a sleeper.
Week 1 Picks:
BAYLOR +6.5 over TCU
Boise St. -3.5 over Georgia (In Atlanta)
Fresno St. +10 over CALIFORNIA
MISSISSIPPI +3 over Brigham Young
UCLA +3 over HOUSTON
MICHIGAN -13.5 over Western Michigan