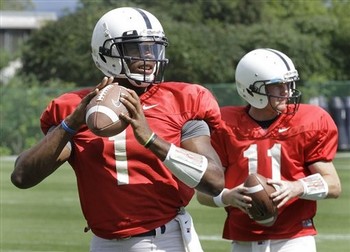 Squaring off in Happy Valley this Saturday are two teams with two starting quarterbacks each. Both Alabama and Penn State had two signal-callers split time fairly evenly as their teams dined on their respective cupcakes last week. As of now, it looks like the time-share method will continue into this weekend for both teams.
"I like both those kids", said Penn State Head Football Coach Joe Paterno when being asked about co-starters Matt McGloin and Rob Bolden earlier this week. Penn State fans may like both of the kids too, but they seem to be split as to whom they would want to see as the sole starter. However, the more important issue is whether the team is split on that issue. Recent comments by Matt McGloin in pennlive.com suggest that such sentiment may exist. McGloin proclaimed that when he is in the game, "We just have a better vibe and we move the ball a lot better."
Regardless of whether McGloin's comment is true, Penn State will need more than vibes to score on Alabama's defense – they will need their quarterback(s) to make plays. 'Bama's defense is loaded – especially in their front seven. Yards will be hard to come by for Lions' running back Silas Redd this week. He and the Penn State offense will be faced with a 3-4 defense that features two 260+ lb linebackers in Dont'a Hightower and Courtney Upshaw and a big, athletic defensive line which held Kent State to -9 rushing yards last week. Given Alabama's stout run defense, Penn State will likely have to rely on their quarterbacks to come through on 3rd down. Last week's 2 for 10
3rd down conversion rate will not cut it if they expect to be competitive.
Even if the Lions do improve on 3rd down, the defense must force Alabama's duo of quarterbacks into turnovers. A.J. McCarron and Philip Sims, collectively much more talented than Penn State's pair, each showed promise in their opener against Kent State. McCarron moved the team down the field well early in the game, and Philip Sims was less impressive, but was able to muster some offense when he was given the reigns. However, both starters threw two interceptions. If one or both players turns the ball over as they did last week, Alabama will be on upset alert.
Outlook
Penn State's quarterbacks give me little reason to believe that they will put many points on the board against Alabama. While McCarron, who I believe will receive more significant playing time than Philip Sims, may cough up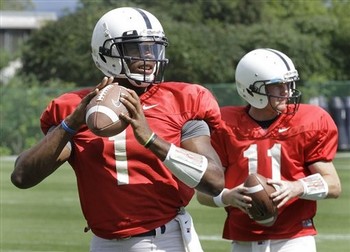 the ball a couple times, it won't be enough for Penn State to win. They could possibly cover the 10 point spread, however, given their defense's matchup against the inexperienced McCarron and/or Sims. But in the end, Alabama just has too many weapons.
Names you don't know now but will know by the end of the game:
Alabama – Josh Chapman (NT) – Junior college transfer anchors what may be the best defense in college football; Marquis Maze (WR) – The Crimson Tide's QBs will be relying on this fast twitch playmaker when room for Trent Richardson and Eddie Lacy is tough to come by.
Duron Carter – This talented wide receiver is Cris Carter's son and a Junior College transfer, who is expected to make his debut for the Crimson Tide this Saturday.
Penn State – Nick Sukay (S) – The playmaking fifth-year senior will look to take advantage of the inexperienced Alabama quarterbacks and pick up where he left off before last year's season ending injury.
Other Games of Note
Arizona @ Oklahoma State – Can the Wildcats keep up with the firepower of Brandon Weeden, Justin Blackmon and the rest of T. Boone Picken's bunch? Whether they can not only means a lot for Arizona but for any PAC 12 team with BCS bowl aspirations, including Oregon, Arizona State and Stanford.
Notre Dame @ Michigan – The Irish will have no problem getting their emotions up for the first night game in the Big House. The problem is, neither will the Wolverines. Did Notre Dame Coach Brian Kelly make the right move by switching from Dayne Crist to Tommy Rees or does the South Bend QB seesaw continue after this week?
South Carolina @ Georgia – The SEC East favorite Gamecocks look to take their first step to a second straight SEC East title. Georgia, still smarting from being handled by Boise State, need this first win to keep Mark Richt's seat from getting hotter. Freaks named Alshon Jefferey and Jadeveon Clowney will not make it easy for the Bulldogs.
Week 2 Six Pack
Fresno St. +28 over NEBRASKA
WESTERN KENTUCKY +10 over Navy
Texas Christian -1.5 over AIR FORCE
ARIZONA ST. -8 over Missouri
Utah -9 over SOUTHERN CALIFORNIA
San Jose State +21 over UCLA
Last Week's Results 4-2 (Overall 4-2)
Week 1 Picks:
BAYLOR +6.5 over TCU (W)
Boise St. -3.5 over Georgia (In Atlanta) (W)
Fresno St. +10 over CALIFORNIA (L)
MISSISSIPPI +3 over Brigham Young (W)
UCLA +3 over HOUSTON (L)
MICHIGAN -13.5 over Western Michigan (W)