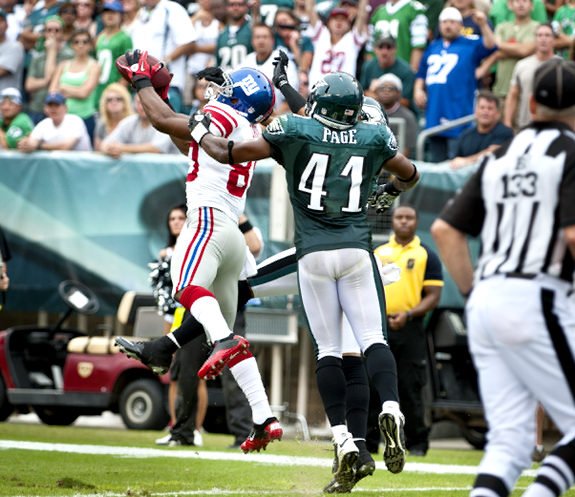 I sat and watched the entire game again and I've rarely seen safeties play as bad as the Eagles safeties. The truth of the matter is that the Eagles don't have the most talented safeties, so it doesn't make sense to put them in positions where they're trying to cover a guy who they don't match up well against.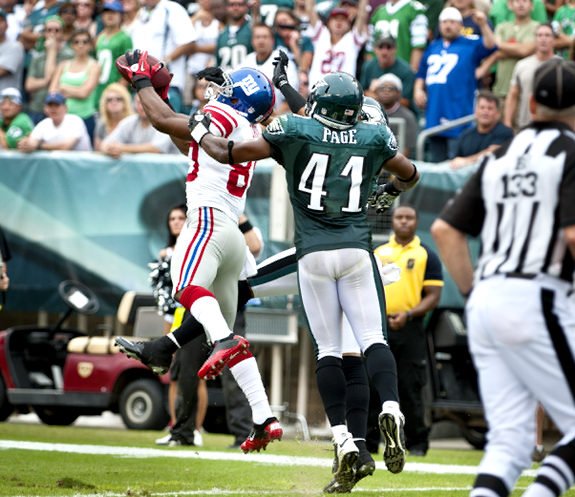 All of the blitzing the Eagles have been doing has exposed the safeties and forced them to play too much man-to-man.
Most of the time, when linebackers make mistakes you give up a decent gain, but not usually points. When safeties get beat, you normally see points going up on the board.
I know everybody has made a big deal about how poorly the linebackers have played, but the play of the safeties is more important because the NFL is a passing league and the high-scoring teams pass the ball very well.
This is now two weeks in a row that the defense has surrendered four touchdown passes. That's a lot of touchdown passes and it says that the Birds are doing something wrong.
I think they're blitzing too much. On most blitzes the guys in the secondary are playing man-to-man. When you play man-to-man there's a chance of giving up big plays. We've got a great set of corners (at least they were supposed to be great). We've a good pass rushing defensive line. Why are we still blitzing so much?
Juan Castillo thinks he's Jimmy Johnson, but JJ didn't have many good pass rushers. He's got to stop blitzing so much. I think they were blitzing on two of the touchdown passes thrown yesterday. Why sign Jason Babin and Cullen Jenkins, if you're going to bltiz every down?
Johnson had a safety in Brian Dawkins who could cover like a cornerback. Most defensive coordinators don't have that type of players on their roster.
Right now, I think Kurt Coleman, who gave up that long touchdown play to Victor Cruz is the best safety on the football team. I blame some of that big play on Castillo for matching up Coleman on Cruz. He was doing the Giants a favor. Usually teams have to go through a lot of formation changes and motions to get their wide receiver matched up against the corner. The Eagles did that for them by blitzing when there was no need to .
Coleman isn't a bad football player. He was drafted a year ago in the seventh round because he doesn't have great size or speed.
He should have made that tackle on Cruz, but I think all of the Eagles defenders made the mistake of underestimating Cruz. I read about him putting on a show last year in the preseason when the Giants beat the Jets. Cruz was going up in the air taking balls from defenders the way he did Nmandi and Page, yesterday.
Is there a slower safety in the NFL than Jarrad Page? I like the way he comes up and tackles at times and his understanding of the coverages, but this dude is slow. Check him out sometimes and you will see a safety, who must run a 4.9. They need to time him with a calendar rather than with a stopwatch. You can understand why he's been released so much.
We can't afford to have him playing deep or put in man-to-man situations.
I've talked about how second-year safety Nate Allen got treated like a bug trying to walk across the highway with a 18-wheeler approaching. Ahmad Bradshaw threw him to the ground like he was a bag of trash. What do you think Bradshaw is going to think the next time he sees him on the field?
Allen was also the culprit on that screen pass to Bradshaw which went for a touchdown. It was a blitz and I think Allen was supposed to cover Bradshaw, but he was in pursuit of a big play and made a huge mistake.
Bradshaw faked a block and it suckered Allen, who took the bait. The running back then moved in position to catch the screen pass. He had the blocking lined up and Allen trying to make up for his mistake but it was too late. Bradshaw followed his big guys into the end zone for a touchdown and he was untouched.
Still they're going to have to play Allen because the other safeties aren't as good at defending the pass. He will miss some tackles in the running game, but he'll likely do a better job against the pass.
It's been two weeks in a row and Page can't defend the pass. He was torched by Tony Gonzalez which isn't an unpardonable sin, but everybody else catches balls on this guy.
I think Allen and Coleman should be the starters at safety this week. I also want to see the Birds work Dominique Rodgers-Cromartie at the safety position. They've got to put their talent on the field. You don't sign talented players to have them standing on sideline looking at most of the plays.