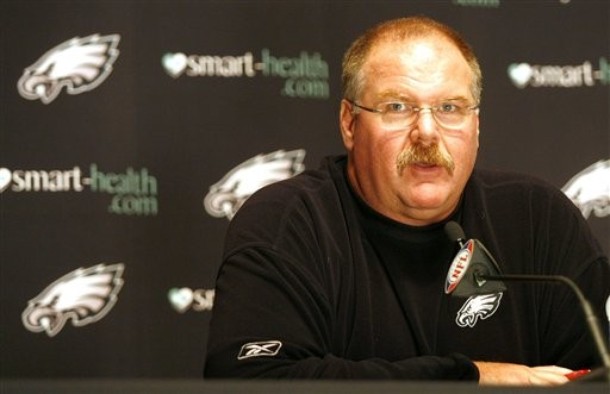 When I looked at this Eagles team in training camp, I figured that there would be some early bumps in the road. They added a ton of new faces and didn't have the benefit of offseason workouts to get everyone acclimated. So, I thought things would be a little tough early, but that the team would eventually hit its stride. That still might happen, but I didn't expect to see the same old nonsense rearing its ugly head like this. The mistakes were so egregious that we forget that this Eagles team actually dominated a good portion of this game. So, let's look at the game:
What I liked…
-One of the announcers during yesterday's broadcast made a comment about LeSean McCoy being the best running back in the NFL. Easy there, touchdown. He's not the best in the game as he still has some little things to work on. I still hate the way he holds the ball (yet he still hasn't gotten burned by it! I'm happy and frustrated all at the same time. He should not be getting away with this recklessness, yet he does.), and he needs to lose the 10% of Reggie Bush that he has in him when it comes to the East/West running.
That said, McCoy is an unmitigated stud. If you had told me during his rookie season that he'd turn into a back of this level, I'd have told you (politely) that you're a moron who is watching these games with green tinted glasses. Didn't see this coming. Of his 24 carries on Sunday, there were about 3-5 of them where my buddy Jay and I looked at each other and said, "all McCoy." Every back needs some kind of blocking, but he needs less than others. There were a couple, including his touchdown run, where you had to pick up your jaw off of the floor and wonder how he made something out of those plays. A couple of his cuts forced you to yell out and sit straight up in your chair. This guy proves more and more to me each week. This week I learned that maybe he has "bell cow" status and that you don't need to limit his touches. Of course a full season would be needed to prove that, but still, I never had him in that category before.
And that said, for those people that want to throw the name "Barry Sanders" into the discussion, knock it the %#$% off. Go watch some Barry highlights to remind yourself of why you are way off base.
-I said it before and I'll say it again: I was wrong for hating on the Jason Babin signing. I didn't like it when they did it, but I'm wrong again.
-Trent Cole continues to do his thing too. He got another sack, but he was involved in a ton of plays behind the line of scrimmage. Of the two new line coaches, Jim Washburn is the one I like.
-While he hasn't been completely tested yet, Alex Henery has done nothing to draw our ire yet. I'm a bit of a special teams nerd and the kicking game can set me off. So far so good on the rookie. I was impressed with the rushed field goal at the end of the half. Anyone else reminded of Akers' work in the Steelers game back in 2000 as time ran out in the game? Okay, okay, it wasn't nearly on that level. Call it a mini-Akers job.
-Chas Henry did a decent job, although I'm not in love yet. Still, it looks like this kid can kick and will be a good player in this league. Needs to be more consistent, but I'd take him over Steve Weatherford any day.
…and not so much…
-I've blocked out about three hours of my day for this part.
-Forget the injuries, I'm just not impressed with Michael Vick so far this season. He's made some great plays, but has shown a lot of inconsistency, inaccuracy and poor decision making. I joined the chorus of praise last season when he was on a different planet, but that hasn't been what we've gotten so far in 2011. Is it all his fault? Of course not, but he played extremely well with a poor offensive line last year. I'm not seeing $100 million worth of QB play right now. Maybe we're putting too much on his shoulders, but it's only because he's handled that much weight before. Let's go, Mike.
-And while I'm at it, let's stay on Vick. What is it that he doesn't get about protecting the football while running? If these fumbles happened in the pocket, I'd be much more forgiving. You try to look downfield and make a play while you have 300-lb men flailing around you and slapping at your hands. But, once you're on the move? Tuck. the. ball. away. Jason Peters saved your bacon. Luckily he was a tight end in college.
-I think it's time to hammer Andy Reid now. This is what I was talking about before about seeing the same old stupid crap. This team, with all-new personnel and all-new coaching, still cannot get one yard when they need to. Remember what we were saying after the 2008 (I think that's the right year) loss to the Chicago Bears when Correll Buckhalter couldn't get in from a yard out? Matt Schobel blew a block to let the defender in to kill that play? It's the same stupid crap. This o-line couldn't get an ounce of push as we watched Howard Mudd's guy, Jason Kelce, get blown two yards off the ball. Something is wrong. We've changed the pieces but the same stupid crap his happening. Hell, I'm changing the title of this week's column to "Same Stupid Crap."
-So, it was painfully clear to everyone after two of your four snaps down at the goal line, that this offensive line wasn't moving anyone out of the way. So, let's run it up the gut two more times! Why run a toss to the guy with 5.3 yards per carry on the day when we can keep exercising the definition of insanity!? Owen Schmitt? Really? A QB sneak with a small guy? Bring in VY for god's sake. QB sneaks with guys his size are very difficult to stop even if you know what's coming.
-I think it was literally five minutes after this display of ineptitude (not five game minutes….five minutes) that the Eagles were faced with fourth-and-a-long-one at or about midfield. You just – and I mean just – watched your offense get thoroughly out-classed by the Giants in short yardage. Not an hour ago, not two hours ago (although it would still be wholly unacceptable)….five minutes. You have a two-point lead and a chance to put an offense deep in its own territory. An offense, mind you, that hadn't done squat all day but for two big plays that were the result of (man I really want to swear here but G. would kill me) very poor defensive plays. I firmly believe, despite all the other problems, that the game was lost in these two situations. Couldn't get one yard, then tried to get one yard when they had no business even thinking about trying to get one yard. Same. Stupid. Crap.
-While I'm dog-piling on Andy, how about some of his decisions this offseason that had a direct impact on this particular game. Let's start with Juan Castillo. No, that wasn't him out there who couldn't tackle, but he made some questionable calls at crucial times. I'm thinking about the blitz on the screen that turned into a joke of a touchdown. It's not that Castillo is awful, that's not what I'm saying (yet). Yes, he deserves some blame for the way this defense is playing, but let's go back to Andy's decision to appoint him. How many times did we hear in the offseason terms like "all-in" and "Super Bowl?" If that's what you are going for, why on god's green Earth would you make an offensive line coach your defensive coordinator? Now is not the time for that. You want to win it all this year, yet you're willing to sit through Castillo's growing pains and learning curve? Are you out of your mind? How can someone as intelligent as Andy Reid (and he is extremely intelligent in many areas), be so mentally deficient in some aspects? I know that's not the first I've written that and I guess it probably won't be the last. Maddening.
-Now, let's go back to the end of last season. The Eagles finally found a guy who looked to have some promise at middle linebacker in Jamar Chaney. So what do you do on draft weekend? Take an undersized guy with a great family tree and immediately call him your starting linebacker. So then you're moving Chaney to a new position, so he's not going to be as good right away either. Well guess what? Your linebackers are probably the worst in the NFL and your insistence on downplaying their importance is currently biting you in the behind. You want to get all ticked off in your after-game press conference? Be livid with yourself. It's these awful decisions that you made, that contributed heavily to this loss. People that know me know that I stick up for Andy all the time and for the most part I support him. But these were dumb decisions that everyone else seemed to think were dumb at the time, and now we know they were dumb. I'm not right very often, so I'm going to brag when I am. I hated the Castillo move and I thought the insertion of Casey Matthews into the starting lineup on draft day was questionable at best.
-Casey Matthews can't be on the field. Did I make that clear yet? Not strong side, not weak side, not the middle. Can't be on the field. When Brandon Jacobs is making big plays in the passing game, there needs to be a change. I can't say this clearly enough: Brandon Jacobs might be the worst receiving running back in football (at least of those that are relevant and actually play). I lived in the NY area for much of his career and watched him every week. Absolute stone hands with no ability to catch anything out of the backfield. Yeah, that's the guy that burned Casey.
-How about those safeties? Kurt Coleman single-handedly cost this team a touchdown. What kind of hit/tackle was that on….Victor Cruz? Victor Cruz?! This guy was on IR last year with an injury that wasn't season-ending! Get it? That was pathetic. And Jarrad Page was picked up off the scrap heap late in the preseason because it was painfully obvious that the safeties were horrific. He's not doing it for me either. Nate Allen is coming off of a knee injury so I don't want to pick on him too much. But, he was a waste of space out there too. Between the safeties and linebackers, it's like a big giant hole of suck up the center of the field.
-Nnamdi, you aren't getting a free pass either. This team needs more from you. Not thrilled so far.
-Let's pick on drafting, shall we? You can go through any team's drafts and pick them apart for mistakes. It's very easy to do. But, let's look at the Eagles last two drafts. Sure, Brandon Graham might be a bad example because of the knee injury and microfracture surgery. But, he wasn't doing squat before he got hurt. I don't know that I even saw flashes. Maybe because he's probably better suited to OLB in a 3-4 and most people knew that before the draft? Don't tell Andy? We just talked about Nate Allen, so that's covered. Daniel Te'o-Nesheim (I hate typing his name) and Trevard Lindley? Both cut after one year. I had to do a Google search to see what they were up to. Te'o-Nesheim is thankfully on our very own practice squad! Didn't want to lose all that production, did we?! And I saw that Lindley had a tryout with the Bengals a couple weeks ago. The bottom line? No one else wants these guys and they were third- and fourth-round picks in 2010. That's pretty bad.
As for this year? Your first two picks were in areas of great need. Danny Watkins was slated to start at guard. Jaiquawn Jarrett was supposed to be a force as a safety. Anyone heard their names this season? Crickets chirping. They don't even dress. What does that tell you? Watkins went from starter to not even dressing in a matter of days. Is this to say that they will never contribute anything? No, that's not what I'm saying. But to not even dress by Week 3? Especially Watkins. While he certainly has things to learn, guard is mostly a position of, "see that guy in front of you? Yeah, block him." That doesn't take a ton of brains or knowing which receiver is running a sticks route. You should, at the very least, be on the active roster on game days.
-I guess the drafting issue is a little bit more sensitive this week when I see Brandon Graham on the sidelines and a guy they could/should have gotten, Jason Pierre-Paul, destroying people on the field.
-Just because you maybe realized that you were too conservative with the play-calling with Mike Kafka against Atlanta, doesn't mean that you go bombs away on his first throw this week. There is a reason you were conservative with Kafka. He's Mike Kafka.
-While I don't think DeSean Jackson could have caught the ball on the deep interception that essentially ended the game, he could have provided an ounce of effort. It looked to me like it was just kind of an "oh well" situation. Speaking of DeSean, I don't care who is draped on your back, you need to catch that ball. Right through your hands for an incompletion. You know who makes that catch? Larry Fitzgerald and Santonio Holmes. Look at their paychecks and now look at yours. Get back to work.
-And how about Steve Smith helping out? I know he has a resume that speaks for itself, but this was a lousy game for him. He was targeted I believe five times. One clanked off his hands for a huge interception. One he caught for a first down when the game was probably out of reach. On another, he made a great third down catch that was 1-2 yards short of the first down (didn't they used to call third downs "Third and Smith" in NY?). One of his targets was in the end zone that was batted and almost intercepted. He needs to get his game back, especially with the uncertainty of Maclin this week.
-I still haven't gotten a good explanation for why this team didn't sign Kirk Morrison. Which Eagles linebacker is better than Morrison? And he was on the street for a while so he couldn't have commanded top dollar. Maddening.
Okay, my energy is gone. I've probably left some things out, but I can only complain so much. It's not time to get off the bandwagon for this team by any stretch of the imagination. But there are some glaring problems that need to be addressed pronto. Let's just hope that these issues aren't so debilitating that the Eagles miss the playoffs. The Giants are a banged-up, mediocre team. I think the Redskins….well, water sinks to its own level, right? It's a long season and it's easy for people like me to overreact, but this was a loss filled with the same stupid crap that we've been watching with Eagles teams in the Andy Reid era. I'm not on the "Andy must go" train, but I might be after this season.