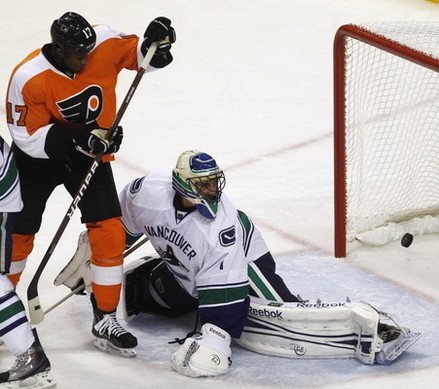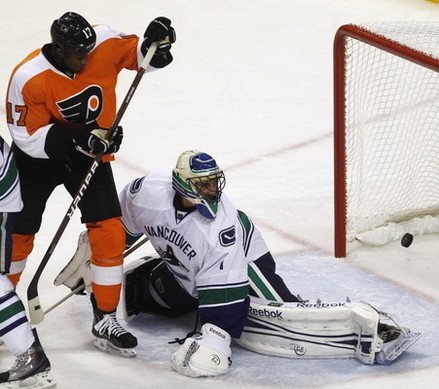 Considered the first true test of the season, the Flyers' 5-4 win against the Vancouver Canucks has brought to light both strengths and weaknesses from this line-up.
Strength: Claude Giroux, James Van Riemsdyk and Jakub Voracek tallied three of the five Flyers goals. All three are expected to elevate their play this season and the trend from a week ago has continued nicely.  Giroux embarrassed Roberto Luongo with a nasty powerplay goal in the first period that looked like he was running a youth clinic with a "how-to" demonstration.
Strength: Wayne Simmonds has provided the net presence that was lacking all last season on the powerplay.  He may not have shown up on the score sheet, but he nearly scored two garbage goals in the crease and perfectly screened Luongo on the second Flyers goal of the game.
Strength: Defensemen Chris Pronger and Andrej Meszaros scored tonight. The 2010-11 Flyers did not see much contribution from the back end, and the additional support will be critical as the season continues.
Strength: The powerplay. Seriously.
Strength:  Ilya Bryzgalov may have let in four goals, but they came off 40 shots on net and 27 blocked shots (compared to Luongo's 36 total shots). He wasn't perfect, but he was good enough considering the skill of Vancouver.
Weakness:  The good fortune of drawing four powerplays in the first period was stifled by two late penalties from Scott Hartnell in the first period and five penalties taken in the third period. Five penalties = 10 minutes of penalty killing in a 20 minute period. That is beyond unacceptable. Considering two of the four goals from the Canucks came on the powerplay, eliminating this issue is even more critical.
Weakness: The penalty kill wasn't awful tonight, but it was sloppy. That may have been in part from tired legs in the 3rd period, but the team appeared too blasé at times.  I can't stress this enough- replacing penalty-taking forward Zac Rinaldo with penalty-killing and face-off man Blair Betts is win-win-win.  The difference in cap hit is marginal and the addition of a helpful veteran presence for Matt Read and Sean Couturier would be tremendous. If Couturier is going to take a lot of responsibility on special teams, why not learn from the best?
Weakness: Back to Rinaldo- why not have Hartnell take on some of his "agitator" responsibility? The team doesn't need to emply a stock fighter- Simmonds, Hartnell, and Max Talbot are all capable of fighting to energize the team on an as-needed-basis.
Weakness (not really): How awkward was it to see Betts on the bench during the team introduction?
As a final comment, the Flyers were much better with face-offs tonight. Sean Couturier finished with a 7-for-18 record in the circle, but the team as a whole finished with 52% success rate.  Danny Briere, who has remained relatively quiet thus far, won a healthy 11-for-17 puck drops.  Talbot also won more face-offs than he lost following a pedestrian record in the first two games.
Not to indulge in hyperbole, but the game-to-watch of the season will take place this Saturday night- Flyers versus Los Angeles Kings, featuring the return of… dun dun dun… Stefan Legein.
Oh, and Mike Richards and Simon Gagne, on a line together. Actually, Legein probably won't play.  So just those other two dudes.
For the latest Flyers news and updates, you can follow me on twitter (@JoshJanet).