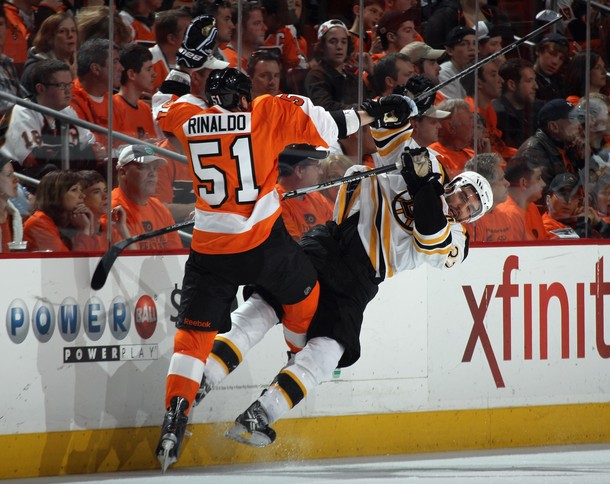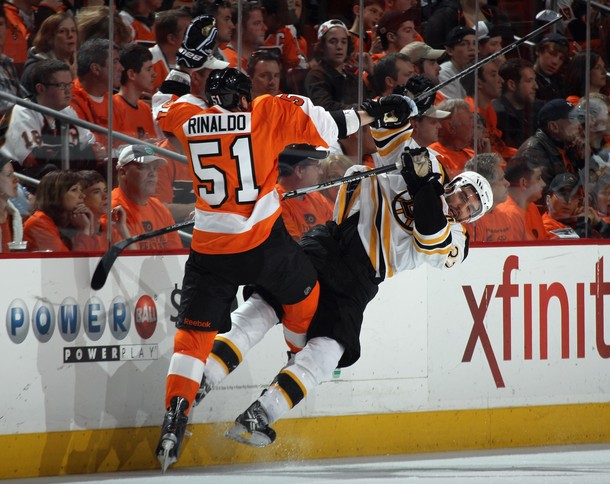 Less than 25 seconds into last night's 3-2 overtime loss to the Los Angeles Kings, Zac Rinaldo caught Kings' defenseman Drew Doughty skating past the blue line with his head down and rocked him off his feet. Kings forward Dustin Penner immediately came to Doughty's defense and engaged Rinaldo in a quick fight that involved more wrestling than right hooks.
"He came across the trolley tracks," is how Rinaldo described it in a post-game interview (which can be watched on YouTube thanks to Travis Hughes from Broad Street Hockey), "Head down, clean hit, shoulder to shoulder… that's about it."
The general consensus is that it was a clean hit, and rightfully so. What Rinaldo hasn't acknowledged, though, is that the referees don't often let actions like that go unnoticed, especially when it sends a star player like Doughty to the locker room for the rest of the game (Side note: Doughty apparently has the dreaded "upper body injury" for the next 7 to 10 days).
In a perfect world, there would be no follow-up to that hit. However, referees are quicker to blow the whistle when a player's reputation suggests things could get out of control.
Kings' enforcer Kevin Westgarth went after Rinaldo in the second period, but the 5'-11", 170 lbs. agitator knew better than to tussle with the 6'-4", 230 lbs. forward and tried not to respond. In theory, this should have resulted in a powerplay for Philadelphia. Instead, because he got steered towards the Kings' bench and knocked into it, both he and Westgarth were awarded 2:00 for unsportsmanlike conduct and 10:00 game misconducts.
He ultimately skated one shift in the first period and two shifts in the second.
"I was trying to stir some stuff up, that's for sure," said Rinaldo about his confrontation with Westgarth. "Ended up in the penalty box, but that's OK."
It's not OK. In fact, it's unacceptable.  I don't believe Rinaldo has been the train wreck (or perhaps trolley wreck) that I thought he was going to be in the preseason, but regardless of the cleanliness of his actions, he is going to have to work that much harder at the skill side of hockey if he has any intentions of ever getting out of the referees' doghouse and earning considerable ice time in the NHL.
His hit on Doughty may be clean, but his reputation isn't.
Former Flyer Dan Carcillo had trouble in this area throughout his career, but with each season in the NHL he has matured in both his skills and his conduct. His penalty minute totals peaked at 324 penalty minutes (!) in 2007-08, followed by 254, 207, and 127 last season, respectively.
Carcillo also bounced around lines as he matured, skating with Mike Richards and Simon Gagne at times with the Flyers and now playing with Marian Hossa and Patrick Kane in Chicago.  Even if only temporary, Carcillo has to get some satisfaction about earning the ice time from his coaches.
Rinaldo has been good about not "crossing the line" with his actions, but even playing that close to it has hurt his opportunities to succeed.  
For the latest Flyers news and updates, you can follow me on twitter (@JoshJanet).