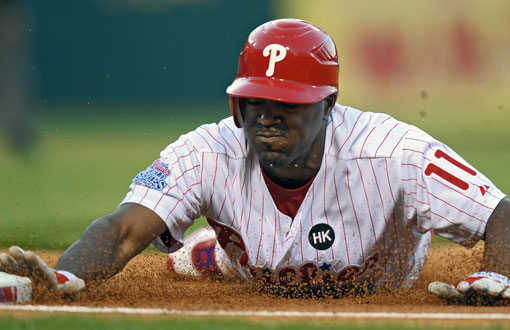 Jimmy, Jimmy, Jimmy. What to do with you. Bring you back or just let you walk. I would be lying to you if I gave you a yes or no answer. I really don't know. There has been many of times where I threw my remote across the room because of you.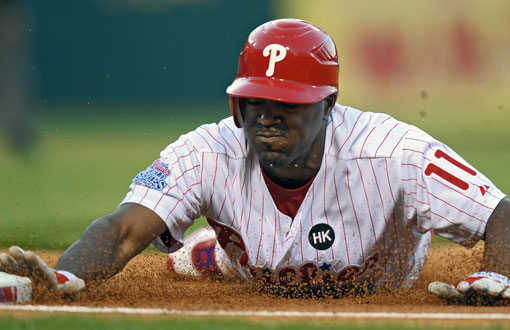 Other times, watching you getting ready to swing at the first pitch. As I am saying to myself, " Dude if you swing here, I swear, you son of a…' Then he would come up with a big hit of course. That is Jimmy in a nutshell. That is why I love him and want to bang my head against the wall all at the same time with him. So here we go..
Why I bring back J-Roll.
-Easily the best shortstop the Phillies ever had. No disrespect to Bowa, but Jimmy bat puts him ahead. Former MVP, and a 3- time Golden Glove. Still has some game left in them legs.
-For his 'Swagger". I know this word could be over used at time's but Jimmy always brought more than just his play on the field. Has been the team spokeman's ever since he declared the Phils the team to beat.
-For thinking he is Ken Griffey Jr. With that rare power and speed at the top of lineup made him fun to watch for
years. Can still beat you with his speed or a bomb.
-Jose Reyes. There is no way in hell I want that showboating punk wearing a Phils jersey. He is Met for christ sake. Not happening.
-For swinging at the first pitch. Jimmy is always at his best when he is aggressive. Pitchers always like to get ahead in the count with a first pitch fast ball. That is when Jimmy likes to do his thing.
– I don't want this ERA of Phils baseball to end. The is the best ERA ever in their history. As much as Jimmy can be frustrating as hell, he has always been the guy who made this team go.
Why I don't bring back J-Roll.
-He is only 32 years old, but has alot of mileage on him. Has been the Phillies everyday shortstop since 2001. Injuries have taken toll on him the past couple of seasons.
-Sometimes he use that 'Swagger" a little to much. Yo bro, did you ever think about running out a ground ball? There goes my remote.
-For thinking he is Ken Griffey Jr. For the love of god bro, would it kill you to hit the ball on the ground once in while to use your speed. Oh, wait I forgot. You don't run them out.
-Jose Reyes. Man, I hate to say this but with his speed and ablility to drive the ball into the gap would be a perfect fit here. He is only 27 years old. What the hell am I saying here?
-For swinging at the first pitch. Always found my self yelling,"Come bro, just one-time act like a leadoff hitter. Take a pitch you ass! Then of course my 2 year old would turn to me and laugh saying "You said ass dad da" Yes, I did cutie. Yes, I did.
-Its seems time to turn atleast one page of this ERA. This team needs a different approach to hitting as Amaro said. They are no longer 3-run homer team. They need players who work the count better.
So is this it? Is J-Roll really finally gone? Nah. Well, I have manage to confused the hell out of myself . 3 year contract, yes. 5 year contract, no. They are not even playing right now and Jimmy is still frustrating me. Damn.