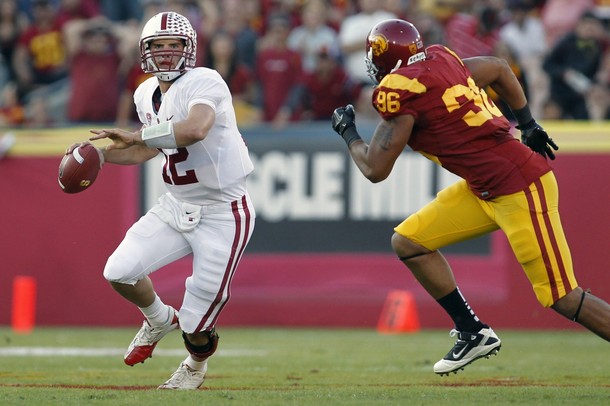 The Latest BCS standings are out. As expected LSU and Alabama were respectively one and two .After that let the debate begin. Now I am from the old school in which my votes are determined by one rule. If the two teams lined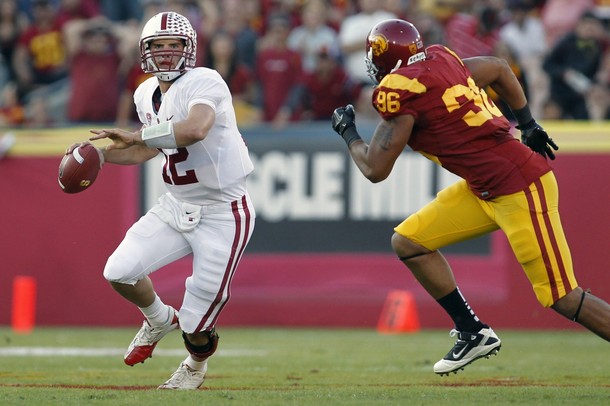 up, who would be favored to win. I do not believe that teams should be rewarded for playing in non competitive conferences or soft schedules. The current standings have Stanford at four, Boise State at five followed by Oklahoma, Arkansas and Oregon.
There are many who think Boise State or Stanford should be placed ahead of Oklahoma State. It would be easy to just disagree ( which I would ) so I went and broke down the reasoning for my opinion.
Boise State…
Everybody it seems either loves Boise State or hates them. It seems like people who rally behind the underdog love to plead their case that they should be sitting at the adult table come Thanksgiving. I think they are a good football team. They actually led the nation with five preseason All-American candidates coming into 2011 led by quarterback Kellen Moore and offensive tackle Nate Porter.
Chris Petersen is one of the five best football coaches in the collegiate game today. So I took a hard look at their schedule and this is where Boise State just doesn't cut it for me. Coming into this week, Boise's opponents had a combined record of 31-25 with not a single win against a top 25 football team. I will give serious props for an early season win against Georgia. But give Chris Petersen 8 months and I think he could give anyone a game.
The remaining schedule actually gets easier. Their opponents have a combined record of 17-20 with a winless New Mexico on the schedule to close out the regular season. The difference between Boise State and a one loss team from another conference is these other teams have to game plan for a top caliber team on a weekly basis. Take Florida for example in which they in successive weeks just played Alabama, LSU, Auburn, and Georgia, where in that same stretch Boise played Toledo, Tulsa, Nevada and Fresno State.
Boise State if you want to be taken serious, schedule a team like Notre Dame, Arkansas, Michigan after Labor Day. You don't have to play LSU just stop playing these less then formidable squads and you will earn more respect. You are a good team but have no claim to my top 5. I can't take you serious when your biggest rivals are Idaho, Fresno and Nevada. Back to the kiddie table.
Stanford…
Okay, I am ready to hear it when I put down the chosen one and the team that everyone all of a sudden has loved since John Elway was there. It's amazing how many people from the easy coast became Cardinal fans when they win a few games. I have said this entire season, Andrew Luck is a good quarterback, maybe a great quarterback. But to put him in Elway or Montana's class I am going have to see more then a few nice outings against a weak Pac-12 schedule.
In fact Stanford's opponents have compiled a lackluster 28-37 record so far this year again with ZERO top 25 wins against anyone else. On the way out their opponents have an 18-14 record with 7 of those wins coming from Oregon. I'm sorry non-conference wins against San Jose State and Duke just don't jazz me. They line up against Oregon and Notre Dame on the way out this year. They won't survive that and expect to see them on an early New Year's Day bowl against Penn State or something. Just so over rated back to the kiddie table..
Oklahoma State…
Oklahoma State is the team that has a rightful claim to that number three spot. Besides a scare from then #8 Texas A&M late September they have dominated every opponent from start to finish. With two top 25 wins under their belt already their opponents up to date have a respectable 34-31 record with 3 top 25 wins. Keep in mind we are talking about the Big 12 in which the conference as a whole is having a very solid year.
Their schedule gets no easier as they play two top 25 teams plus an Iowa State team who just crushed Texas Tech who the week before ended Oklahoma's National Championship hopes with a blow out win over the Sooners. Their opponents have a solid 23-9 record with 5 top 25 teams. By far the toughest road to the BCS title game. The worst thing that happened to the Cowboys ? Oklahoma losing to Texas Tech. Oklahoma State's dreams are ended on December 3rd in from of their home crowd as I have the Sooners pulling off the upset.
My Sleeper:
Oregon ….
The team flying under the radar since a hard played loss week one to LSU ( 40-27 ) is Oregon. A rash of injuries had most thinking this perhaps just wasn't their year. Running back LaMichael James and quarterback Darron Thomas are healthy again. James had 58 yards rushing Saturday in his first game back. Thomas seemed to have trouble adjusting to a knee brace and was pulled to start the second half in Saturday's 43-28 win against Washington State. Their schedule is tough starting this week with the next three at Washington, at Stanford and home for USC. If they find a way to survive, they could very well be the last man standing.
Was 5-2 on my official picks last week ( 72% ) nailing the Georgia score on the head. Look for the Six Pack of picks this coming Friday.