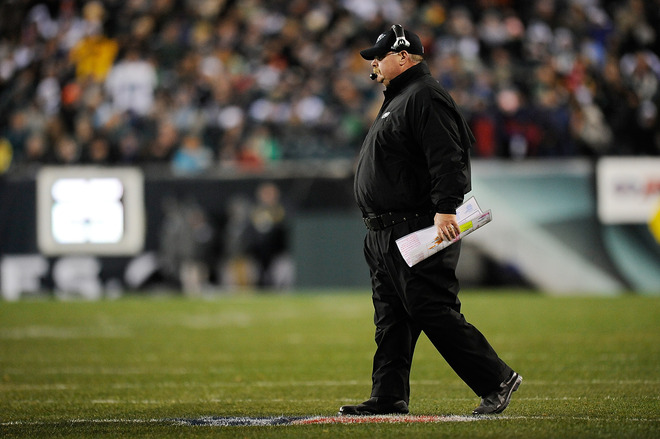 The Philadelphia Eagles and Head Coach Andy Reid looked like a team yesterday that was on a mission.  The Eagles just absolutely destroyed the
New York Jets at Lincoln Financial Field 45-19 and have gotten Philadelphia back on the bandwagon.  Have they really or is it too late for Andy Reid?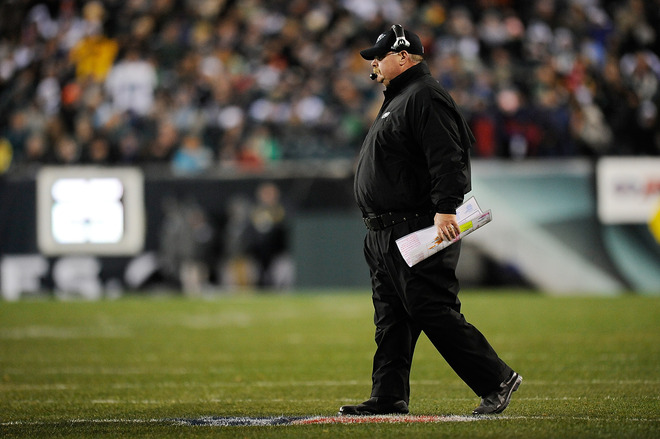 The Eagles did keep their playoff hopes alive with the win but it was kept alive with the Bears and Giants losing earlier which made the game against the Jets even more important for the Eagles.
Andy Reid has been the head coach for the Eagles for 13 years and has had a lot of important games in his tenure with the Eagles.  The fans were able to get on the side of the Eagles early in the game with the Eagles jumping out to a 28-0 lead.  There was nothing to boo about and no nasty signs of ANDY MUST GO.The team came out to play and played a 60 minute game.
Andy Reid has been the most successful head coach in Philadelphia Eagles history.  The owner Jeffrey Lurie and President Joe Banner have just got to be happy with Andy.  He has made the Eagles a successful franchise and has made the teams value rise.  What you have to remember fans is this and I don't like it any better than you but at the end of the day it is how much money the franchise is bringing in.
I truly hate to say this but as long as fans keep going to the games and buying the merchandise well Jeffrey and Joe will be happy.  We the fans want a Super Bowl ring and Jeffrey and Joe talk a good game but do they really want a championship.
I have been done with Andy Reid for three years.  His time management during a game is just bad.  His day after press conferences after a lose is like Ground Hog Day. It is the same thing over and over again.  Sometimes a coach can just take you so far.
The media in the city of Philadelphia seems to be more on the side of Andy must go.  Seriously why should they not.  Here is a guy who well hires his offensive line coach to be his defensive coordinator.  Did that work out? Watching ESPN it seems that they all believe that Andy should and deserves to be back.  The national media just amazes me.  They truly have no clue.
94WIP is the fans.  The station is very fair about this entire situation.  13 years of a resume speaks for itself.  The local media is being totally fair to Andy.
Yesterday's game should have nothing to do if Andy should go or stay.  He has taken this team as far as he can.  It is time for a new head coach and new direction.
Enough is finally enough.  As long as Reid is head coach of this football team they will never win a Super Bowl. The change needs to be made.  I was on this wagon three years ago.
There are rumors out there that both Andy and Juan Castillo will be coming back next year.  A total mistake and well the fans of this city should not except that.  The defensive coordinator is in over his head.  Questions need to be asked why if they are brought back in 2012.  Andy has called this a young team.
Really Andy, you really believe that.  When is enough, enough with this guy.  Jeffrey and Joe need to really look in the mirror and decide is it about championships, like they tell the fans or is it just about business.  From where I sit well that is plain and simple.  If Reid comes back than the fans can read between the lines.  Plain and simple Andy Reid must go.
Will it happen probably not and fans this team will continue to be successful but will not get over that hump.  Where I sit this is going to be all about business and forget the fans.
Andy Reid thank you so very much for making the Philadelphia Eagles a very competitive team.  This is no doubt better than the Marion Campbell, Rich Kotite,and Ray Rhodes periods.  The team had some really ugly seasons during those periods of time.  The fans want a parade down Broad Street in the middle of winter.
The fans are totally supportive of this team.  There is a reason why Philadelphia is the toughest place to play.  The fans are the ones here who are being taken.  The team tells the fans it is about championships but it really is not.  As long as Andy stays well all it will be about is the team being competitive and having a chance to win.  Andy it is time to go.