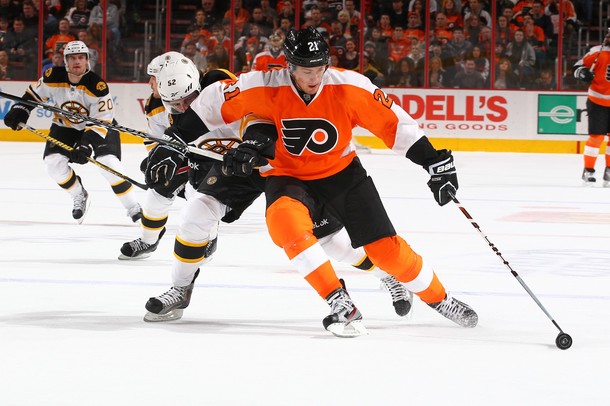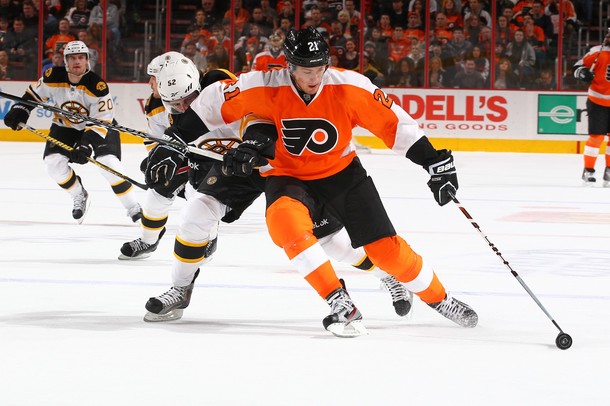 In the offseason, the Philadelphia Flyers did a complete overhaul of their team.  It included trading two of their leading scorers, signing a number one goaltender, and signing James van Riemsdyk, better known as JVR, to a new contract.
The organization signed van Riemsdyk to a six-year deal worth around $25.5 million.  They did the deal over six years so the cap hit would only be about $4.25 million per year.
In the 2010 playoffs, van Riemsdyk made a name for himself while playing with another Flyers star in Claude Giroux.  JVR had seven goals with no assists for the Orange and Black before they were swept right out of the playoffs by the Boston Bruins.
General Manager Paul Holmgren was expecting van Riemsdyk to make up for some of the scoring lost in the Mike Richards and Jeff Carter deals, but so far that hasn't happened this year.  He only has nine goals in 31 games played, but he has missed some games due to injury.
He also has 10 assists for a total of 19 points and is also a plus one.  van Riemsdyk started the season playing with Giroux and Jaromir Jagr, but that didn't work out so he was demoted to the third line with the emergence of rookie, Matt Read.
Van Riemsdyk just doesn't look like the same player as he was in the playoffs last season, but that could be because he's trying to play through an injury.  He is not playing hard along the boards since he just takes the body of the opponent, and then swipes at the puck a couple of times before giving up on the play.
He also isn't standing in front of the opposing goaltender so he can get the easy goals or the rebound goals.  Even if he just set the screen in front of the net so the goalie couldn't see where the puck is going, then his teammates could score more goals.
Van Riemsdyk's ice time has steadily decreased in the past four games with Coach Peter Laviolette demoting him to the fourth line.  He only saw 9:36 of ice time in the Flyers last game against division rival, the Pittsburgh Penguins.
The Orange and Black need van Riemsdyk to contribute like he did last year if they want to go anywhere in the playoffs or even to just make the postseason.  If he is injured, they need him to get healthy and back to playing the way he did in the 2010 playoffs.
Hopefully, van Riemsdyk picks up his game before he gets benched again like he did last year or traded.