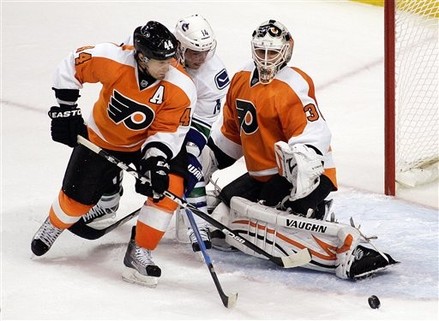 The Philadelphia Flyers have one of the National Hockey League's most underrated defenseman on their team.
Every year when the Norris Trophy candidates are announced for the league's best defenseman, Kimmo Timonen's name is never on that list.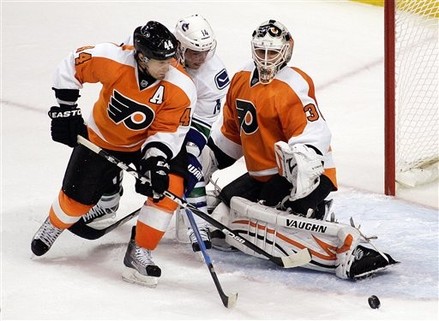 Timonen isn't a flashy offensive defenseman but rather a stay-at-home defenseman, who can move the puck up the ice into the offensive zone.  He isn't going to score a ton of goals, but you can count on him to be in the right spot defensively at the right time.
In 36 games played this season, Timonen only has one goal, but 23 assists for a total of 24 points.  He is also a plus 12 to prove that he is solid defensively and rarely makes a mistake while in the defensive zone.  He is tied for third in assists and is tied for fifth in total points among the NHL's defensemen.
He is also willing to block shots while on the ice, and has done it 73 times this season.  Timonen only has 21 giveaways, while taking the puck away from opponents 11 times.
Timonen is valuable to the Orange and Black because he can play in all situations including even strength, the power play and the penalty kill.  If the Flyers have a one goal lead late in the game, Peter Laviolette isn't going to hesitate to put Timonen out there to try and preserve the lead.
He does the little things that go unnoticed during the course of a game like blocking a shot or just getting his stick on the puck to deflect it out of the zone or into the safety netting so the other team doesn't get credited with a shot on goal.  He might even just lay on the ice to break up a pass on a two-on-one by the other team or just pinch in from the point to keep the play alive.
He has even played goalie a time or two by keeping the puck out of his own net when his goalie has been too far out of position to make the save.  Timonen is always in good defensive position to make a play, whether knocking the puck away from the opposing player or just providing support to help a forward get the puck out of the zone.
With Chris Pronger lost for the season, having someone like Timonen on the blue line is important since he can eat up minutes on the ice and is also one of the leaders in the locker room.
With any luck, Kimmo Timonen's name will be among the Norris Trophy candidates, but even if it isn't Flyers fans know that they have one of the steadiest defensemen in the league on their side.