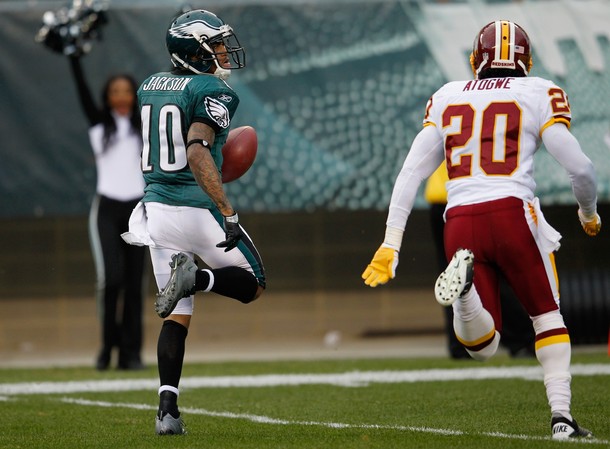 The debate is raging throughout the Delaware Valley concerning what the Eagles need to do with wide receiver DeSean Jackson.   Should they let him walk?  Should they slap the franchise tag on him?  Should they work out a long-term deal with him?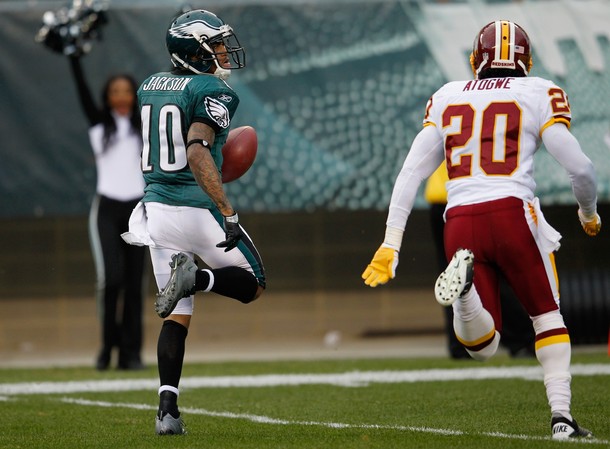 This is a huge decision for the Eagles front office going forward.
Admittedly Jackson had an off year in 2012, but he still nearly made it to 1000 yards receiving with 961 yards.  He caught 58 passes and four of them were touchdown catches.
I don't care what anybody says, they're not the same football team without him.  He's more valuable to the Eagles than any other NFL team.  Opposing defenses focus on stopping Jackson in each and every game.  Their defensive game plan is designed to stop Jackson.
I've heard that Jackson has been trying to get a five-year deal in the $50 million dollar range.
Is he worth $10 million dollars a year?  No, but the Eagles should be willing to pay him the $10 million dollars it will cost them in 2012 as a franchise player because they've underpaid him for the last couple of years.
Andy Reid would be foolish to lose Jackson in the year with his job on the line.  Jackson has already said he wouldn't have a problem being franchised.  His presence in the line-up makes Jeremy Maclin, Brent Celek and Jason Avant more effective.
Jackson's speed also makes running back LeSean McCoy better because he forces teams to back up their safeties.  The safeties can't get very involved in helping to stop the Eagles running game with the speedy number ten lined-up outside.
One of the strengths of Eagles quarterback Michael Vick is in throwing the deep ball.  Removing Jackson from the line-up would minimize Vick's opportunities to utilize his strong arm.
I think they would take a step back if Maclin was their number one guy because he would have to adjust to being the guy teams double teamed.  Although he's very fast, he still doesn't have the same lightning speed of Jackson..  The Eagles offense wouldn't be nearly as explosive if you remove the little guy.
If Jackson hits the open market, there's surely at least one team in the league which would be willing to overpay him, so the Birds don't want to let him get on the open market.