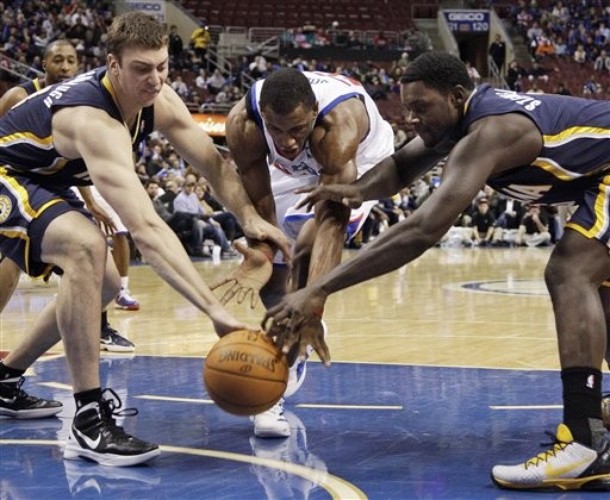 In his fifth season, Sixers forward Thaddeus Young has established himself as one of the best defensive players in the league and one of the best Sixers defenders in recent memory.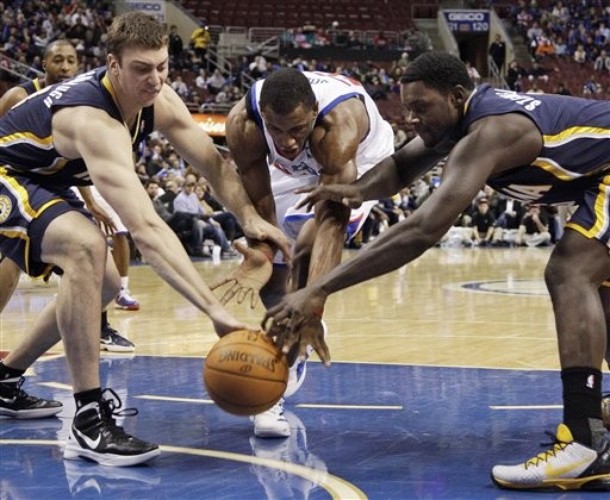 Young's value was evident last night as the Sixers held of the surprising Indiana Pacers 96-86 in front of a sparse but energetic crowd of 8,612. Young's stat line was typical, 12 points, 8 rebounds, and two steals.
What doesn't appear in the stat sheet are the five pass deflections that led to steals and run out baskets. The Sixers were able to convert 16 Pacers turnovers into 24 points. Young was able to move about without hesitation on defense as long as there was backside help from center Spencer Hawes or Nikola Vucevic.
Doug Collins has rewarded the rookie Vucevic with early minutes as long as he is productive and active. Last night he was able to tally 11 points and 8 rebounds in 17 minutes of action.
Vucevic's activity around the basket and willingness to play defense made Marresse Speights and expendable piece. Andre Iguodala had one of his best all-around games so far this season with 20 points, 9 rebounds and 5  assists. Spencer Hawes shook off a back injury to add 12 points and 8 boards.
It seems like point guard Jrue Holiday has been on a see-saw, for the past week he has followed up a solid game with a head scratcher, last night was the latter as he shot 4 for 12 for 12 points and an uncharacteristic 7 turnovers.
The Pacers hung around until late in the 4th quarter  and were even able to put five players in double figures but it was obvious that they missed leading scorer Danny Granger, who didn't make the trip due to food poisoning. The Pacers were led by center Roy Hibbert with 19 points. David West looks just fine after a knee injury ended his season last year, recording a double-double with 15 points and 11 boards and second year guard Paul George filled in for Granger nicely with 13 points, 7 rebounds and 5 assists.
Sixers are at home against the Sacramento Kings tonight.