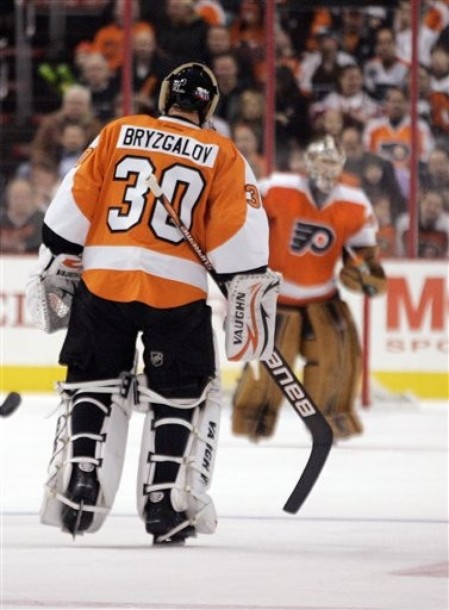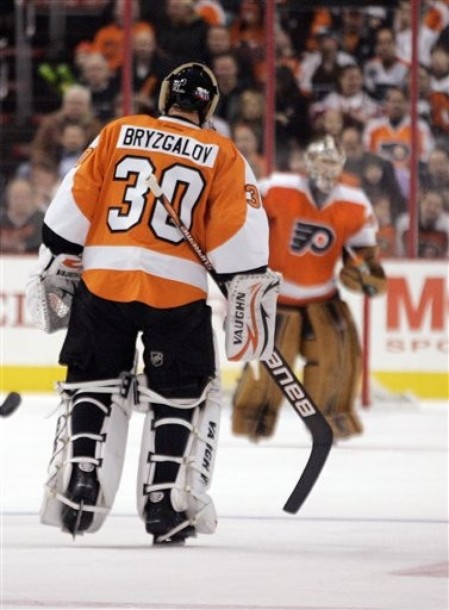 Amidst all of the recent trade activity, there have been whispers that the Flyers organization is unsure of how or whether to address their goaltending troubles. After the 6-4 loss to the Pittsburgh Penguins, both Ilya Bryzgalov and Sergei Bobrovsky each have a 0.900 save percentage, good enough for 41st and 42nd best in the NHL among goalies with at least 20 games played.
Sam Carchidi of the Philadelphia Inquirer and Tim Panaccio of CSNPhilly spoke with general manager Paul Holmgren about the goaltending situation, and video of the interview is now available on the Flyers' web site.
"Well, I don't think either of our goalies are too happy with their games of late either," said Holmgren. "It's a recognition of that. They're both part of the team. I think players from time to time go through tough stretches. When you're the goalie, it's the last [inaudible] they'll remember. I still think we have two good goalies. Maybe they're both struggling a little bit right now, but I believe they both work hard, are committed and are both going to get better."
Holmgren went on to say that he has no plans to recall Michael Leighton nor any plans to bring in a veteran goaltender. He balked at the question of whether Bobrovsky could be traded, but at this time of the year, few players are "safe."
Arguing about the contract that Bryzgalov is signed to is futile, as there's nothing anyone can do about it. It's a done deal, and it's almost impossible to move. The question now is whether the acquisition of defensemen Nicklas Grossman and Pavel Kubina can stabilize the blue line enough to reduce the amount of shots on net.
Actually, that's not even the biggest question.  What many are wondering now is whether Bryzgalov's issues are more mental composure than natural skills and whether or not he is buckling only because of the pressure to perform.
Bryzgalov joked on HBO's 24/7 program, "When I signed here, people said, 'Oh, you know where you're going? You're going to hell. They hate, they like never had a goalie, they go hard on goalies, you know…  It's a miserable market for the goalie."
Nobody knows what exactly is going on in his head, but that doesn't mean that the Flyers have to sit on their hands and hope he improves.
If there are demons that Bryzgalov needs to exorcize to be successful in this city, the organization should bring an outside party in to help him cope. To the best of my knowledge, sports psychologists have been utilized more by NHL teams in developing younger prospects than managing their existing roster, but that doesn't mean it's not an option worth pursuing.
I wouldn't be surprised if there was some backlash in this scenario, as therapy can often be stigmatized by those who don't understand why some individuals just can't "deal" with the events in their life.
Still, even Bernie Parent had trouble coping with the pressure of playing in the NHL before joining his childhood idol Jacques Plante in Toronto when he was traded in 1971. The impact that playing with Plante had on his career can't be "measured," but that doesn't mean it can't be credited as part of the reason Parent was so successful when he returned.
If the organization didn't want to bring in a sports psychologist or a life coach, it could exercise the option of bringing in players who understand the burden that comes with shouldering 37 years of disappointment.  In particular, I would think extending an invitation to former Flyers Robert Esche or Roman Čechmánek to speak with Bryzgalov couldn't hurt.
Esche, 34, is currently playing in the Switzerland's National League A hockey league with the SCL Tigers while Čechmánek, 41, is retired.
However the organization chooses to handle the current situation, it needs to move quickly.  The Flyers are currently sitting in 5th place in the Eastern Conference and could see themselves drop to 7th place very soon, if not further still.
For the latest Flyers news and updates, you can follow me on twitter (@JoshJanet).