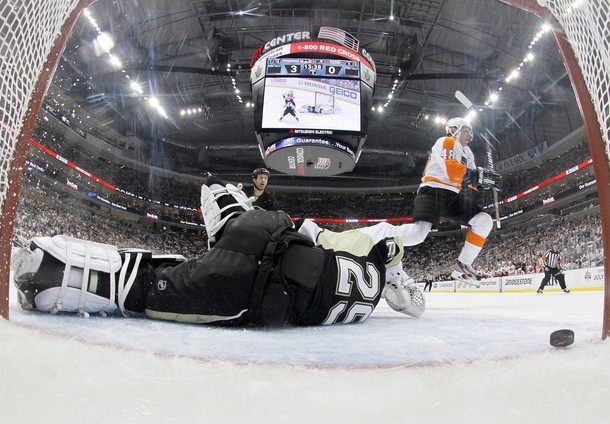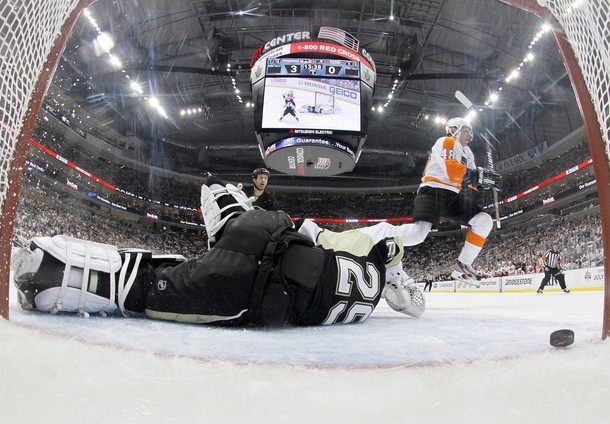 Nobody said it was going to be easy.
Unfortunately, the Flyers didn't make it easy on themselves in Game 1 of the Stanley Cup Quarterfinals against the Pittsburgh Penguins as they handed them a three goal lead.
What would be an insurmountable lead for any other team in the NHL wasn't enough to phase the Flyers, though, as they scored four unanswered goals on their way to a stunning overtime victory.
Sidney Crosby, of all people, got the ball rolling just 3:43 into the game after muscling away from Braydon Coburn and firing a loose puck over the shoulder of goaltender Ilya Bryzgalov.
Tyler Kennedy padded the lead four minutes later on a two-on-one. Defenseman Marc-Andre Bourdon was fast enough to get back in time after pinching in the offensive zone, but opted to cover Andreas Lilja's man instead of following the trailing Kennedy.
Pascal Dupuis scored a controversial goal in the waning seconds of the first period after an icing was waived off at the last second. Dupuis threw the puck in front of the crease and it bounced off defenseman Nicklas Grossmann past Bryzgalov.
Perhaps to even their mistakes, the officials allowed Danny Briere to launch into a breakaway in the second period in spite of being two feet offsides. Briere drew Marc-Andre Fleury into a poke check and lifted the puck over him.
The Flyers settled a bit after the first period, but giving up a lead in the first five minutes continued to be their kryptonite. The Penguins were able to generate many more scoring chances and all the Flyers could do was contain them.
Briere, reminding the world why he is playoff gold, scored his second goal of the night on a much more impressive goal. Corralling the puck from the corner, Briere fired a low puck at a sharp angle past Fleury, who was screened perfectly by Crosby.
Briere was ridden into the boards shortly thereafter by Brooks Orpik, doing his best Matt Cooke impression. It was the first powerplay of the game for the Flyers; the Penguins had three by that point of the game.
It was all they needed, though, as Brayden Schenn redirected a shot from Scott Hartnell to tie the game.
The Flyers carried the momentum with them into overtime, and thankfully for those of us who have jobs tomorrow, Jake Voracek scored 2:23 in as Jordan Staal misplayed the puck in front of Fleury.
Bryzgalov may not have had a great first period, but he was key in the remaining forty minutes of the game, turning away 25 of 28 shots. His teammates helped him out by blocking 16 shots as well. By comparison, Fleury stopped just 22 of 26 shots and Pittsburgh blocked 19 shots.
Coach Peter Laviolette made a decision to play Bourdon in lieu of veteran Pavel Kubina, a decision that, in hindsight, was probably not the right call. Bourdon is much quicker than Kubina but doesn't have the experience to draw from. A late upper body injury to Bourdon that forced him from the game will help Laviolette make a decision for him, as Kubina is likely to play on Friday.
Brayden Schenn played a monster game with a goal, two assists and four hits. Schenn appears to be establishing himself much like James van Riemsdyk did in last year's playoff series against the Buffalo Sabres. If he can elevate his game along with Briere, the Flyers' second line will be dangerous enough to throw off Pittsburgh's match-ups.
In 6:23 of ice time, Zac Rinaldo still managed to find his way to the penalty box. He had zero shots and one hit in that span. I don't mind him being in the line-up, but you have to think the team would be at less of a disadvantage if they swapped him for Harry Zolnierczyk.
Game 2 starts at 7:30 p.m. on Friday.
For the latest Flyers news and updates, you can follow me on twitter (@JoshJanet).