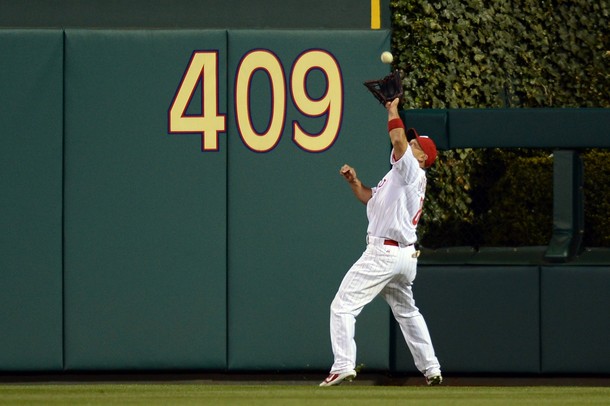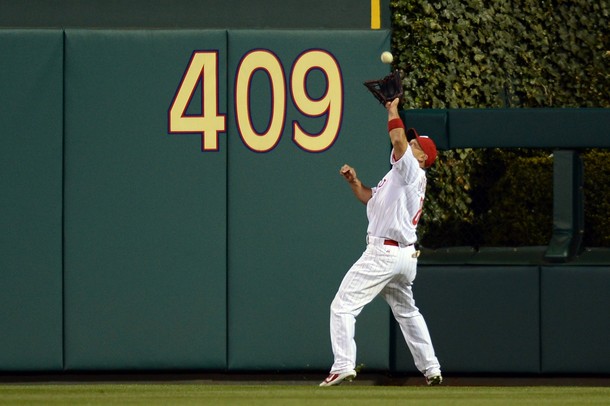 Everyone keeps talking about the need to resign Cole Hamels, which would solidify Philly's rotation for the next five years but won't help a lineup that has been no better than average as of late.
Shane Victorino and Hunter Pence have been trying to carry the load in this early season, but with a lineup missing two key elements, Utley and Howard, the team has had it struggles. Despite the slow start to the season, Victorino is off to a great start with an average above .300 and five stolen bases already racked up.
In centerfield his presence is evident and he has done a great job patrolling the outfield. He hasn't made an error since 2010 and his fielding percentage every year seems to either be 1.000 or not too far behind.
The once one dimensional hitter has increased his home run totals every season and has already gone yard this year. His contract is up at the end of the season and I don't see the Phillies cutting a deal with him before October when free agency begins.
He is asking for a five year extension, which some desperate team will do; I just don't think the Phillies are going to be that desperate team. Victorino would be one of the top five centerfielders on the market, most of which will most likely sign extensions with their respective teams.
Michael Bourne will be a Brave again next season and the rest of this free agent class doesn't have the ability to turn many heads, besides the Phil's centerfielder.
This means that the Flying Hawaiian is Philly's best option in centerfield. They have a few guys in the system who can step in over the next three to four years but for now Victorino is their one and only centerfielder.
Aaron Altherr had a setback last year which resulted in him dropping to the New York Penn league where he was able to rediscover his game. This pushes his progression back at least one season and he isn't projected to get his chance at the show for another three years.
Jiwan James had to switch to the outfield after an arm injury, so he isn't the most comfortable prospect out there. The 6'4" switch hitter has struggled at the plate and will need to cut down his strike outs in double A if he plans to keep climbing the latter to the show. He has played a lot of corner outfield, but has the speed to play center, if he must. He is sharing the outfield with highly touted Leandro Castro, who has the best chance at making a run for centerfield in the show.
Castro will be the next homegrown centerfielder for the Philadelphia Phillies. He showed signs of glimmer when he reached double digits in both homeruns and stolen bases during his single A stint and has jumped out to a great start to the year in Reading (AA). He can play both left and centerfield which would be a great transition towards the end of Victorino's new contract.
Did I say Victorino's NEW contract? Yes I did, the market is weak for centerfielders during the 2013 offseason and the Phils no better option than signing the versatile centerfielder. They will be able to talk him down from five years with some extra cash, but fact of the matter, they need the Flying Hawaiian out there until Castro is able to hold down the fort which shouldn't be for another three seasons.