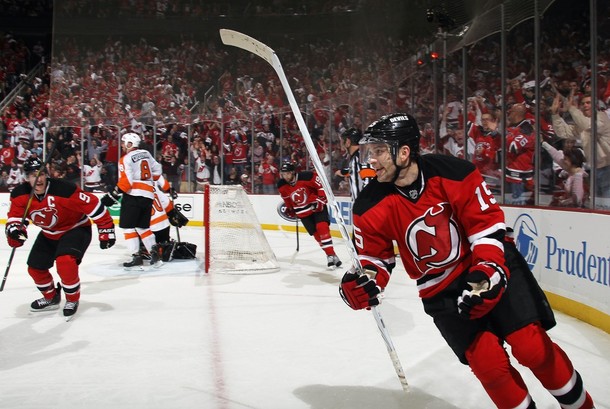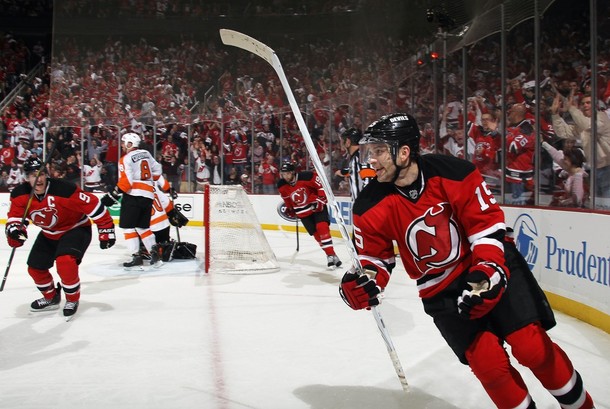 A win in Newark would have tied the Stanley Cup Semifinals series for the Flyers and given them some breathing room in the remaining three games.
Ilya Bryzgalov followed up his play in Games Two and Three with yet another great performance, but the team in front continued to sputter. With virtually no offense and shoddy defense, the New Jersey Devils easily took Game Four and a choke-hold over the series.
Claude Giroux, invisible in the past two games, was a force in the first period. His shot during an early powerplay was redirected by Scott Hartnell past Martin Brodeur. Giroux followed it up less than two minutes later with a shorthanded goal that started as a rush by Max Talbot.
Up 2-0, the lead was short-lived.  Petr Sykora put the Devils on the board while Andreas Lilja sat in the penalty box on a tripping minor. Marek Zidlicky tied it before the buzzer sounded of the first period, left alone in front when James van Riemsdyk shirked his defensive responsibilities.
The Flyers generated just seven shots on goal in the first period, but this was excusable by scoring on two of them. They could only muster fifteen shots in the next two periods, though, while the Devils' relentless fore-checking threw 43 shots on Bryzgalov throughout the game.
Dainius Zubrus was left alone in the front of the net after Braydon Coburn missed his coverage and beat Bryzgalov up high. Just as a poorly executed line change cost the Flyers Game Three, simple defensive gaffes cost them Game Four.
The Flyers also took five penalties in the game, including a blatant head shot from Giroux to Zubrus after he was frustrated by the lack of a non-call earlier on his shift. While Zubrus has some culpability in having his head down, Giroux's gesture was uncalled for. He may avoid additional disciplinary action because Zubrus was not hurt on the play and he received a minor penalty for the incident, but it's the type of cheap shot that Evgeni Malkin took in the last series that infuriated Flyers fans.
For the Flyers to bounce back at all in this series, they're going to have to improve on their defensive proficiencies by leaps and bounds. It's been mildly comforting watching Bryzgalov hold the fort, seeing that he is capable of winning a playoff series over the next eight years of his contract, but the defense has left a bitter taste for the second year in a row.
Game Five begins on Tuesday in Philadelphia.  With their backs up against a wall, the Flyers must delve into their underdog persona if they have any hope of a Game Six.
For the latest Flyers news and updates, you can follow me on twitter (@JoshJanet).