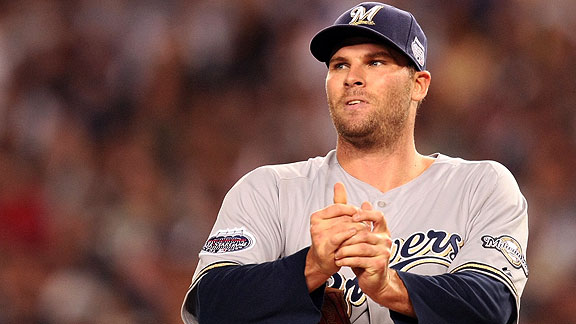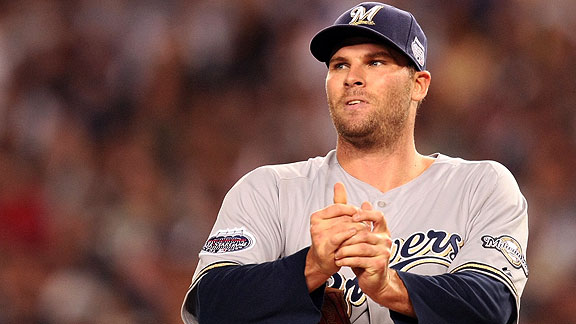 The Phillies need a lot of help in every area of their game from their lineup to the bullpen, with starting pitching mixed somewhere in between. Could Ben Sheets be the answer to the Phils' struggling rotation? Probably not, but he may be put into the situation anyway.
The righthander worked out for the Phillies, Braves, Yankees, and Angels Wednesday afternoon in the comfort of his hometown of Monroe, Louisiana. Out of those four teams the Phils are in the worst shape, and have the biggest hole in their rotation. Sheets could bring some stability if he is able to pitch at 100-percent, and fall back into the form he had during the best year of his career in 2008.
Regaining his prime form is a huge question mark because Sheets hasn't been healthy since that 2008 season. The Oakland A's gave him a one year $10-million contract after he missed the entirety of the '09 season due to a partial tear in the flexor tendon of his right elbow. The  chance they took blew up in their faces as he struggled with his velocity and command, earning the least amount of strikeouts in his career. His horrid season ended early when he was shut down in August because of a second flexor tendon that required surgery to be fixed.
Sheets sat out last season recovering from three procedures done to his elbow, including Tommy John surgery. The beat up 33-year-old has said he will only return to the baseball if he can pitch at the top of his game, but his last season resulted in an ERA over 4.5 and only four wins in 20 starts.
So what's the top of his game right now?
Expecting him to transition back into the majors with ease is ridiculous. The Ben Sheets of 2008 is gone. If he signs with a team he will be no better than a glorified fifth starter.
The once well-known Brewer can bring some stability to the Phillies' struggling rotation, but he could falter just easily. The later is more likely and unless his asking price is low don't be surprised to see Amaro Jr. stick with what he's got.
The 90-game winner can bring a fresh arm to the rotation, and take some of the pressure off Lee and Hamels, but really that's about it. Signing Sheets is irrelevant because at best he is going to give Philly a .500 record with a sub five ERA and at worst another scapegoat for their lackluster season.