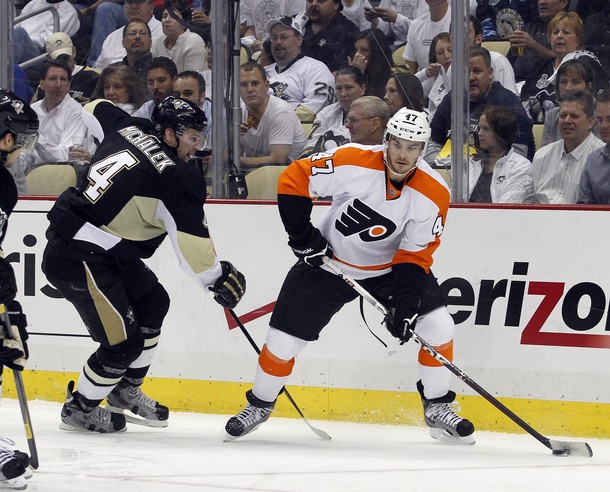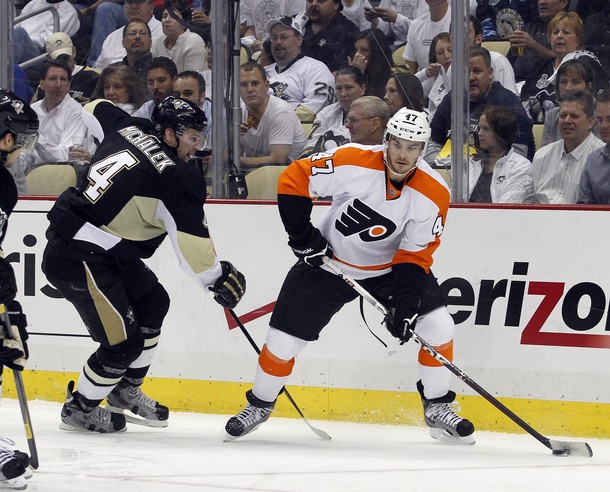 Eric Wellwood showed Flyers' fans what elusive speed was as he flew up and down the ice on a nightly basis.  The sixth round pick had nine points in 25 games last year before virtually disappearing during the playoffs.
Don't hold his first playoff showing against him. The two-way forward's ice time dropped drastically leaving him only six minutes in Game Five against the Devils. People are going to say that playing for two championship-winning teams in Windsor and a playoff team in the Adirondack Phantoms should have prepared him for the NHL playoffs, but neither can be comparable to playing in the Stanley Cup Playoffs against elite talent.
He had 27 total NHL games under his belt before going pointless in 11 playoff games. It isn't time to give up or send him back to the minors, the 22-year-old showed a lot of promise during the season and is continuing to make himself a better player.
He has been working on his strength during the offseason, which should result in better play along the boards and make his puck possession improve significantly.
Wellwood is one of the most conditioned players on the ice, and his agility never ceases to amaze. Whether living in his older brother Kyle's shadow or being the third guy on one of the greatest lines the OHL has ever seen (playing with Adam Henrique, Taylor Hall ), he is a player who has been underestimated his entire career and that only makes his drive stronger.
Wellwood is an intricate piece to Philly's team as a two-way penalty killer, and excelled in that role last season. He finished the regular season with a +12 rating, and despite not scoring one goal finished with only a -1 rating at the conclusion of the playoffs. He isn't going to put up outrageous numbers, but may have a few 50-point seasons before his career is done.
With small build and an excess of speed, Wellwood said he is looking to Claude Giroux and Danny Briere to improve his offensive game. Learning from two of the Flyers' best offensive producers and seeing time on a line with one of the NHL's most clutch players should add to the Windsor born forward's knowledge of the best places to be in the offensive zone.
Briere makes a living sneaking around defenders and reappearing in the slot and Wellwood has the size and speed to utilize that strategy. Expect his defensive game to stay strong and his offensive skills to improve with experience.