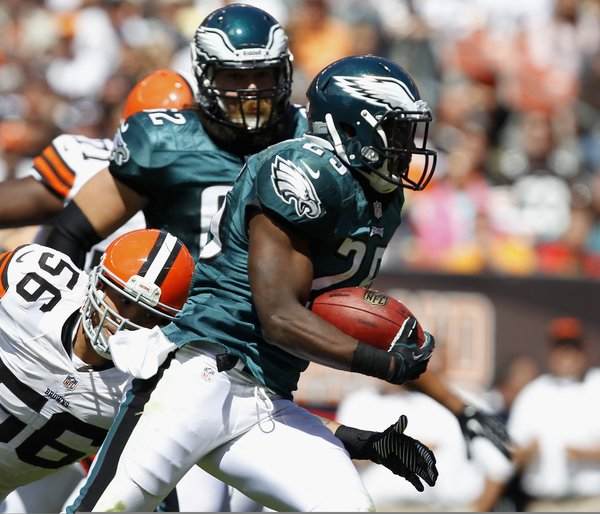 I'm not sure what the game plan will be this week for the Baltimore Ravens, but it should feature LeSean McCoy and the team's running game.  There's no way the Eagles should come out and put the ball in Michael Vick's hands and let him start throwing the football all over the place.
Andy Reid and Marty Mornhinweg have already given the game plan to Vick and the other quarterbacks, that happens on Tuesday. It will be unveiled to the rest of the team this morning.  I've talked about the ability of Reid and Mornhinweg to design an elaborate offensive game plan, but I haven't focused on their inability to make adjustments to it during the game.
On Sunday, they let that strength become a weakness when they refuse to abandon the game plan when the situation changes.  If Vick had been on his game, the Eagles could have thrown for 500 yards against the Browns, but that's irrelevant because Vick was off his game and McCoy was piling up big yardage.  You must deal with the situation at hand.
Reid and Mornhinweg have to be disciplined and know when they must give up on the passing game because their quarterback is throwing interceptions every other throw.  The defense was playing well and the running game was working.  They should have talked to rookies Bryce Brown and Chris Polk at halftime and informed them that they each would carry the ball five to ten times in the second half.
The Birds should have taken the football out of Vick's hands and grounded the ball with with McCoy and the rookies.  If Vick and the Eagles hadn't been turning the ball over, the Browns would have never been able to score.  The defense was playing great and McCoy was ripping through the Cleveland defense.
I know they don't want to burn McCoy out but they kept all these running backs around for situations like the one on Sunday.  They don't want to forced to give the ball to McCoy too many times in a game, so he won't be burned out at the end of the season.  Brown and Polk should have carried the ball at least five times each in the second half of the Cleveland game.
Nothing has changed with Reid and Mornhinweg.  Yes, they do a great job of putting together a game plan before game day, but they struggle with in-game decision-making.  This wasn't a tough decision.  It was obvious that Vick was struggling and not properly seeing the coverage.  They should have taken the ball out his hands and saved him from himself.