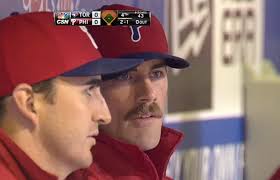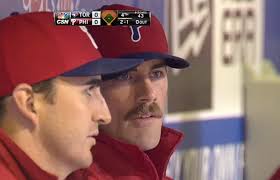 Starting Pitchers
Cole Hamels: The ace of the staff. He's been sharp through out Spring Training, and should be primed for another big season. Also, he's grown one heck of a mustache.
Cliff Lee: The team hopes the lefty will bounce back from a disappointing 2012 campaign and become a dominant anchor in the rotation once again.
Roy Halladay: After an alarming spring, does the former ace have any magic left?
Kyle Kendrick: He's going to have his share of ups and downs. Not an ideal fourth starter, but the team could do much worse.
John Lannan: He's got decent career numbers, but he's rarely going to take a game deeper than the sixth inning.
Relievers
Jonathan Papelbon: He should continue to consistently shut the door when the team hands him the ball in the ninth inning.
Mike Adams: Adams should be the answer to last season's eighth inning woes.
Chad Durbin: Reliable veteran should be a valuable piece to this bullpen.
Antonio Bastardo: Phillies won't ask him to do more than get lefties out in order to restore his confidence.
Jeremy Horst: Lefty put up good numbers a year ago, will have a chance for a larger role.
Phillipe Aumont: Centerpiece of the 2009 Cliff Lee trade will finally have his chance to impact the big league roster.
Raul Valdes: Veteran was effective when called upon in 2012, and can pitch multiple innings.
Infielders
Jimmy Rollins: Still one of the best all-around shortstops in baseball, despite his frustrating approach at the plate.
Chase Utley: Will be available on Opening Day for the first time in three years, but his poor Spring Training is cause for concern.
Ryan Howard: The team desperately needs him to return to being a great run producer.
Michael Young: I'm not impressed with Young. I don't expect him to hit more than .260, and his defensive skills are a concern as well.
Freddy Galvis: Versatile utility man who can still improve offensively.
Kevin Frandsen: Played very well late last season, hopefully he'll continue to be a valuable member of the bench.
Catchers
Erik Kratz: Phillies hope they can get by with Kratz until Carlos Ruiz returns from suspension.
Humberto Quintero: Veteran will hold a roster spot until Ruiz returns.
Outfielders
Domonic Brown: His big spring has given the team and fans a reason to hope that he can still fulfill his potential.
Ben Revere: Phils' hope he's the answer in centerfield.
John Mayberry Jr.: It's hard to hold on to hope that Mayberry can be anything more than a fifth outfielder at this point.
Laynce Nix: If he stays healthy, he can be a nice piece off of the bench.
Ender Inciarte: Ruben Amaro loves his Rule 5 guys…hopefully Inciarte can offer the team a little more than what fellow Rule 5 picks David Herndon and Michael Martinez did in recent years.