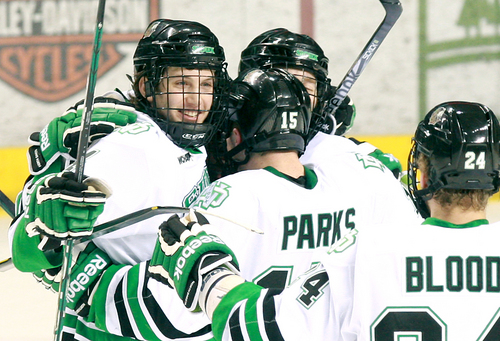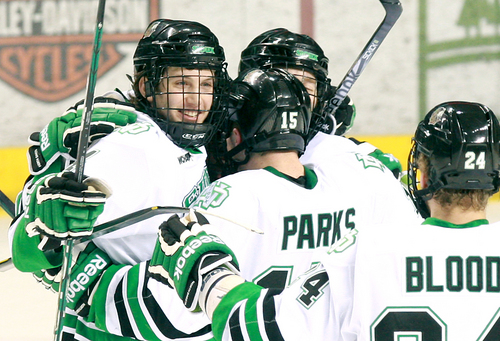 "March Madness" refers to, for 99% of the population, the NCAA Men's Division I basketball championship that culminates in the "Final Four."
For hockey fans, though, the term refers to the NCAA Men's Division I hockey tournament that features the sixteen best teams in the nation among all Division I conferences.
Two Philadelphia Flyers prospects- forward Michael Parks (2010) and defenseman Shayne Gostisbehere (2012)- made it to the tournament with their respective teams, the University of North Dakota and Union College Flying Dutchmen.
As of last night, UND's season has ended at the hands of Yale University while Union College humiliated Boston College 5-1.
Parks, a sophomore, began the season with a lower body injury that limited him to just 25 games in the regular season. He played on UND's second line once he returned, but found himself bumped to the third line by the time the tournament began.
Parks finished the season with 7 goals and 8 points. With top line seniors Danny Kristo (Montreal) and Corban Knight (Florida) graduating to the pro leagues next season, Parks will be expected to provide more offense on the top two lines along with fellow sophomore Rocco Grimaldi (Florida).
Gostisbehere finished 5th in goals and points in the Eastern Collegiate Athletics Conference among defensemen. His 7 goals and 25 points fell just shy of his defensive partner, senior Greg Coburn, who finished 2nd in goals (8) and tied for 3rd in points (26).
Gostisbehere scored the fourth goal in Union's 5-1 drubbing of BC on the powerplay.  He had an impressively strong game that highlighted his speed and puck moving capabilities.
Union takes on Quinnipiac University later this evening. It will be interesting to see if the Flyers make any signings next week following the outcome of the game, as both Coburn and Quinnipiac goaltender Eric Hartzell have attended Flyers' training camps in the past. Both players would be decent depth pick-ups, and signing Coburn could always help persuade Gostisbehere to turn pro early.
The Union-Quinnipiac game will be aired Sunday evening at 6:30 p.m. on ESPN.