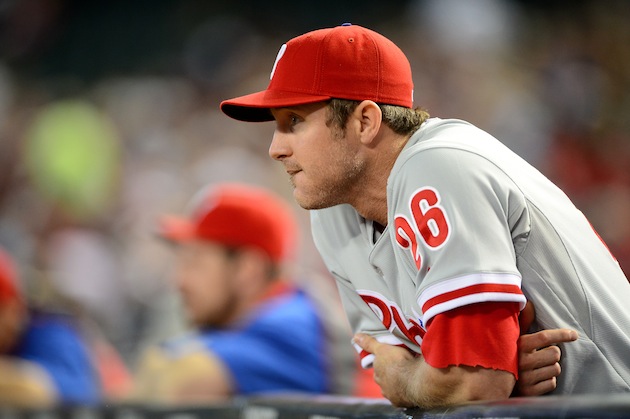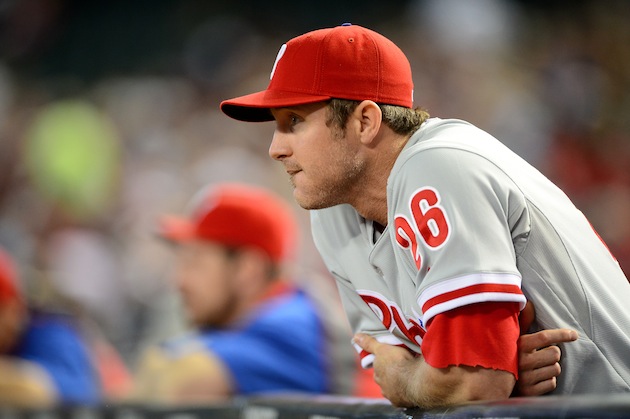 The Philadelphia Phillies were unable to start the season with a victory on Monday night, falling to the Braves 7-5 in Atlanta on Opening Night.
The team got a disappointing performance from Cole Hamels, who lasted just five innings while allowing five runs on seven hits. Hamels had erratic control throughout the night, and just made too many mistakes. He gave up three home runs, constantly had to work his way out of jams, and pitched just one scoreless inning.
The good news tonight was the performance of Chase Utley, who went 3-5, with a homer and a triple, and drove in three runs. When the team was down 4-0, it was Utley who breathed life back into the club with a solo shot in the fourth inning, and a two-run single with the bases loaded in the fifth.
Utley's two-run hit in the fifth inning set the table for an even bigger inning, placing runners at first and third with no outs, but Ryan Howard was unable to deliver. Howard offered an absolutely feeble at-bat, going down on three pitches while swinging and missing wildly at a breaking ball from Luis Avilan. Moments like that are why people in Philadelphia lose their patience with Howard. There's too many times when he just gives away at-bats to lefthanded pitchers. No one is going to come through with every opportunity they have to drive in runs, but he's got to give a better effort than that.
Howard was able to drive in a run later in the game with an RBI groundout.
I thought Ben Revere had a good showing at the plate tonight. He went 1-4, but he made the most out of his at-bats. He worked out an 11-pitch walk in the fifth inning and later scored, and also stole a base earlier in the game. If Revere can consistently work a pitcher and get himself on base, he's going to help this team a lot.
Chad Durbin's first regular season appearance in his second stint with the Phillies wasn't a pleasant one. Durbin faced three batters, and failed to record an out, and was responsible for the final two Atlanta runs that scored. The Phillies lost a lot of games last season because the bullpen was unable to stop the bleeding, and Durbin's failure tonight certainly was one of the major reasons they lost this game.
Jeremy Horst and Phillippe Aumont were able to shut the Braves down after Durbin left the game. The two young relievers combined for three scoreless innings.
Charlie Manuel started John Mayberry Jr. in right field on a hunch tonight. Mayberry rewarded his manager by going just 1-4, and leaving three runners on base, including an opportunity where he grounded into an inning-ending double play with two men on in the second inning.
Final Thoughts
This wasn't the start to the season that the Phillies wanted, but the team showed some encouraging signs in the loss.
We saw tonight how having Chase Utley and Ryan Howard back in the lineup from Day 1 is going to make a difference. On any given night, either of them has the potential to go off and carry the offense. Utley did that tonight, and Howard is going to have his share of games where he makes a difference.
The Phillies offense was able to chase Tim Hudson from the game before the fifth inning was over, and they chipped away at the Atlanta lead throughout the game. Its nice to see the offense put together a game where they're consistently threatening to score. If they can do this consistently, they'll be hard to beat.
This loss falls on the shoulders of Cole Hamels. Hamels didn't pitch like an ace tonight, and allowed the Braves to hit him early and often. With question marks throughout the rotation, every start from Hamels (as well as Cliff Lee) takes on increased importance. This team needs their aces to come out and perform as advertised. Hamels didn't do that tonight, and the Phils are 0-1 because of it.