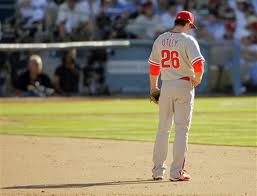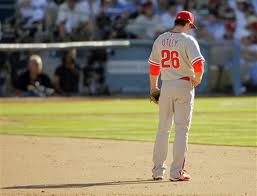 The Philadelphia Phillies had their two-game winning streak snapped on Thursday night, falling 6-4 to the Dodgers. Their record drops to 38-42.
Jonathan Pettibone gave the team a "quality start", lasting six innings and allowing three runs on four hits. Pettibone did put the team in an instant 3-0 hole in the first inning, but settled down to retire the final 15 batters he faced.
Chase Utley went 3-5 with a double and a solo home run.
Domonic Brown went 1-4 with a solo shot.
Delmon Young went a perfect 4-4, cranking his average up to .250.
Ryan Howard posted another 0-for, failing in all four of his at-bats.
Ben Revere was back in the leadoff spot, and responded with a three-hit game.
As good as the bullpen was last night, they were brutal and cost the team the game tonight.
Justin De Fratus suffered his second loss of the season, allowing two runs in just two thirds of an inning. The rookie gave up two hits and two walks.
Antonio Bastardo got the final four outs of the game, but also allowed a run himself.
Final Thoughts

I just want to take a little time to talk about the Earth-shattering move that Ruben Amaro made this afternoon.
The Phillies acquired infielder John McDonald, who is batting an impressive .053 (just 2-38 on the season). He's 38-years old, and supposedly was brought in for his ability to play all of the infield positions and his great leadership abilities.
I'd almost rather they waste the last roster spot on Michael Martinez. Come on Ruben, this is ridiculous. I'm sure John McDonald is a nice guy, but what exactly is he going to bring to the table that's in any way significant? What, his "leadership"? You mean to tell me that this team can, in any way, be inspired to perform better because of a 38-year old infielder that can't hit triple digits in his average?
You know, heaven forbid this team try to shake things up by doing something that might actually work. The season is slipping away with every loss, and if this is to be the last hurrah for Charlie Manuel and guys like Chase Utley and Carlos Ruiz, doesn't the organization owe it to themselves to do all that they can to find some kind of winning combination?
Guys like Darin Ruf at least have a chance to make an impact, but they're rotting in the minor leagues, and if they're given a chance this season it won't be until after the trade deadline when the team has fallen out of contention and sold away some of their key veterans at the trade deadline.
With all due respect to John McDonald, the very idea of trading for a guy like him at this point in this season is a joke.