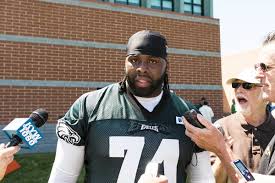 He may be the toughest and baddest player in the NFL.  Meaning if they were to have a battle between every player in the league to see who was the strongest, quickest and toughest, I wouldn't have a problem putting my money on Eagles left tackle Jason Peters.  He defies most of the rules which apply to most of the players in the league.
He's one of the freaks.  Peters is 350 pounds but he can run under 4.9 in the forty-yard dash.  He has the quickness of a man much smaller than he is, but is strongest to pick a big man up and body slam him like it's not big deal.
He can block two defenders on one play without breaking a sweat.  Peters has the ability to single-handedly cave in one side of a defensive line.  This is why his return to the Eagles lineup is so important.  It's one of the reasons, LeSean McCoy is talking about "being more dominant".
"I don't think there is a player like him in the world to be honest with you," head coach Chip Kelly said yesterday after practice. "Someone that big, that fast, that athletic. I catch myself in practice just kind of going, 'Wow.' He's 350 pounds and he runs like he is a tight end. He's an exception to every rule, so I don't think studying guys who have had Achilles injuries and saying, 'That guy would be like Jason.' He didn't have any ill effects when he was here during the spring and he hasn't shown anything, he's not getting any extra treatment or anything like that. He's been cleared 100 percent."
"We kind of, as a staff, look at each other all the time when he does something. We just kind of look [and say], 'Wow.' He's a pretty amazing athlete for a guy that size."
There were two big questions that Peters needed to be asked.  One involved football the other did not.
The football question concerned what affect in any, the Achilles tendon tear will have on him as a player.  Will he be the same dominating guy he was before he got hurt?
"What (do) you mean?" Peters responded when he was asked if he would be able to return to Pro-Bowl form. "I am that player. I don't play any less than I played (in 2011). I'm going to go out there and give it 100 percent and let the fans and coaches vote. That's not even my goal. My goal is to get a division championship and get to the playoffs and go deep."
"I was just anxious to get out here. Felt good OTAs, Day 1 of training camp felt good, now I'm just waiting for the first game."
"The first day is always the roughest day," Peters said. "It's going to take a couple days to get used to all the stuff we're doing, but it was a good first day.
"I'm just glad to be back out after missing a year. Felt good today. A little rusty but that's why you go to training camp. I'm going to work on it every day and try to get better."
We'll have to wait until the real games start before we can really assess whether he has lost anything.  The big guy looked good to me, but it's still very early.  He did his footwork needs to improve after day one.
The other question concerned his arrest for drag racing.  Peters got in contact with his head coach immediately after incident and they had a conversation just between the two of them.  Neither will divulge what was said during the conversation, but the arrest was reduced to a speeding ticket.  Peters was then told by Kelly to forget about it and get ready for training camp.   "It wasn't nothing major," Peters said. "It was a ticket."
Now all the focus is back on football and the big left tackle is eager to prove to everyone that his game is still on the same level that it was in 2011.
"I guarantee we win more than four games," Peters said before heading to take a shower. "That's probably the worst we could have done is win four last year. But I guarantee we're going to win more than four this year."