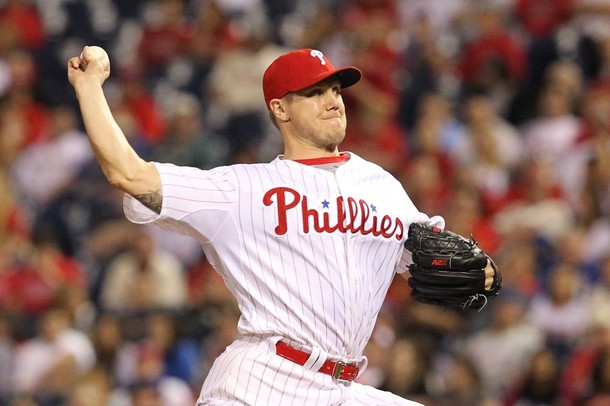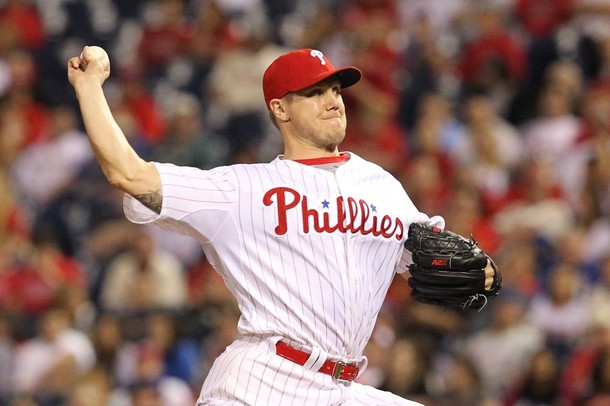 The Philadelphia Phillies lost their second straight game on Thursday night, falling to the Giants 2-1. Their record drops to 50-58.
Cole Hamels anchored the team tonight, tossing eight scoreless innings. Hamels scattered seven hits and allowed just one walk. He struck out five and lowered his ERA to 3.87.
Hamels did have to pitch out of trouble on several occasions. The lefty got Hunter Pence to ground out with runners at second and third in the first inning, and then got Jeff Francoeur to ground out with runners at second and third in the fourth.
As if his stellar performance on the mound wasn't enough, Hamels also had to go out and get himself his only run of the night with a two-out RBI single in the fifth inning.
Jimmy Rollins went 1-4 with his second triple of the season in the eighth inning.
Rollins was thrown out at home after Michael Young hit a ground ball to short, depriving the Phillies of a valuable insurance run.
Cody Asche got another start at third, and went 1-4.
Laynce Nix got a start in right field over Delmon Young, and went 1-4 with a single, and also came around to score the team's only run.
Jonathan Papelbon blew the save in the ninth inning. The closer allowed four straight singles, allowing two runs to score.
Papelbon allowed two runs on four hits and one walk, finishing the inning by forcing a double-play.
It was just the third appearance for Papelbon since the All-Star break, and the first save situation since then as well.
The Phillies didn't go down without making things interesting in the ninth inning. Delmon Young led off the frame by reaching on an error, and then Cody Asche was able to reach base with a bunt single. Giants' closer Sergio Romo then hit John Mayberry with a pitch to load the bases with no outs. Laynce Nix was naturally unable to do anything to get a run home, flying out to Hunter Pence in right. Carlos Ruiz also failed to come up with a productive at-bat, flying out to left. Erik Kratz was the team's last chance, but he too was unable to come through.
Final Thoughts

It has been encouraging to see Cole Hamels regain his old form over the last month.
We've seen Hamels go through peaks and valleys throughout his career. Sometimes he's brilliant, and pitches like one of the top 10 pitchers in all of baseball. Other times, he's frustratingly inconsistent and struggles.
Hamels has never been able to sustain himself when he pitches great. You never really know what kind of year to expect from Cole. He can pitch at extremely high levels as he did in 2008 and 2012. Or he can just as easily turn in an up-and-down year like he has this season and in 2009. The fact that he's never been able to run off two or three great years in a row is what has really kept him from receiving the same level of respect and attention on a national level that Roy Halladay and Cliff Lee have. That's not to say that Cole Hamels isn't respected around the league, but rather that his name has never carried the same weight of a Halladay or Lee, and never will unless he can do away with the sub-par seasons.
One thing that has been consistent for Cole however is his hard luck. Throughout his career through good years and off years, the run support has never consistently been there for the lefty. Tonight not only was the offense MIA, but so was his closer.
Jonathan Papelbon wasn't interested in pitching effectively tonight, making absolutely certain that he had not only blown the save but also earned the loss. Papelbon just wasn't sharp at all, and got knocked around by the San Francisco lineup in an ugly ninth inning. In the closer's defense, he had only seen the mound twice in the last two weeks (thanks to the team's eight-game losing streak), and any pitcher that doesn't see some kind of regular work isn't going to be as sharp as they normally are when finally called into action. But there was no excuse for Papelbon to be this bad. He's one of the game's most highly-paid relievers for a reason, and he has been around long enough that he shouldn't let a bit of a layoff impact him this badly.
Finally, let's talk about the bats. It's absolutely unbelievable how inefficient this team is with runners at second and third and less than two outs.
The Giants practically gift-wrapped the game for the Phillies in the bottom of the ninth, after Sergio Romo allowed the first three batters to reach base. Bases loaded, no outs, and these guys can't even get one run home to tie the game?
Unbelievable and unacceptable.
Granted, Laynce Nix is about as useless as they come, Carlos Ruiz is a shell of what he was a year ago, and Erik Kratz can't be counted on to do as much when he's stepping to the plate with two outs…but this is not the first time we've seen this offense fail this ridiculously bad with such golden opportunities to score runs. Collectively, this team has got to be one of the worst in all of baseball at situational hitting.
Even though this team is already well out of the playoff picture, a loss like this is still absolutely gut-wrenching to watch. To watch a starter toss eight strong innings only to have his night spoiled by the inefficiency and incompetence of his teammates in a single inning? Awful, just awful.